How One Store Gave This Girl The Best Gift Ever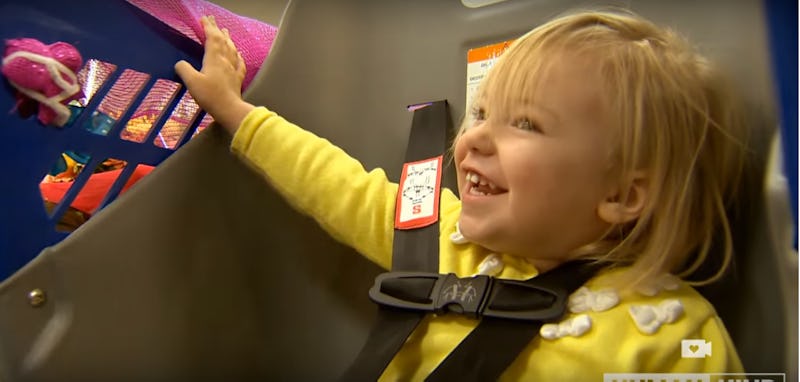 Grocery shopping was once an insurmountable challenge for Melody Leach of Loveland, Colorado. Melody's daughter Beatrice was diagnosed with cerebral palsy when she was eight months old. Now almost three, Beatrice is unable to ride in a traditional shopping cart. Heading to the store meant that Melody would have to push Beatrice in a wheelchair with one hand while carrying a basket with the other. But now, Melody and Beatrice can finally shop in comfort: Their local grocery store, King Soopers, recently gave them a shopping cart designed for children with special needs. Needless to say, it's meant the world to the mother-daughter duo.
"She can't see very well and she can't crawl, she can't talk yet, and she's legally blind," Melody told 9 News. "She's had seizures in the store — and they happen more frequently when she's doing something physically demanding like sitting in a wheelchair." Melody was also disappointed that Beatrice was unable to really experience the grocery store on their quick visits, since these outings are typically both fun and educational for toddlers her age.
When Melody spoke to King Soopers assistant store manager Mike Myers about the problems she and her daughter were having, he contacted upper management and asked them to order a special cart for Beatrice. A YouTube video captures the emotional moment when the store's staff presented the cart to the Leaches, complete with balloons, flowers, and a sign reading "Beatrice's Cart."
Myers says he was particularly sympathetic to Beatrice because he had a childhood friend whose brother had cerebral palsy. "It just makes the shopping experience better for this one shopper in particular and anyone who has special needs and needs that cart. Now, it's available for them," he said. Although the cart was originally presented to Beatrice, it will be made available to any customer who needs it, including a friend of the Leaches, Will Woolhether, a five-year-old with autism and epilepsy. "Will has really bad behavior, so he couldn't be left to walk with me. It will help us to be able to walk through the store peacefully," said his mother, Lauren.
The cart itself, called Caroline's Cart, is the brainchild of Alabama mother Drew Ann Long. When Long's daughter Caroline outgrew traditional shopping carts, she learned that there were no special needs carts on the market. She founded Parent Solution Group, LLC, designed the cart, patented it, and found a company to manufacture it. Moms, getting it done.
The cart, which won the 2013 Da Vinci Award for Transportation and Mobility, features a specially-contoured seat designed to support riders with low muscle tone, a locking brake for safe loading and unloading, and a five-point harness that can secure a person of up to 250 pounds. The carts are already available in many grocery stores and Targets across the U.S. and Canada.
So far, they've been getting a fair amount buzz, and bringing a whole lot of happiness to families across the country who have children with special needs.
Isn't it time every store had one of these carts? To see if there are any Caroline's Carts available at a store near you, check out the interactive map on their website.
Image: Humankind/YouTube