Caleb Chafee Dishes About His Dad's Campaign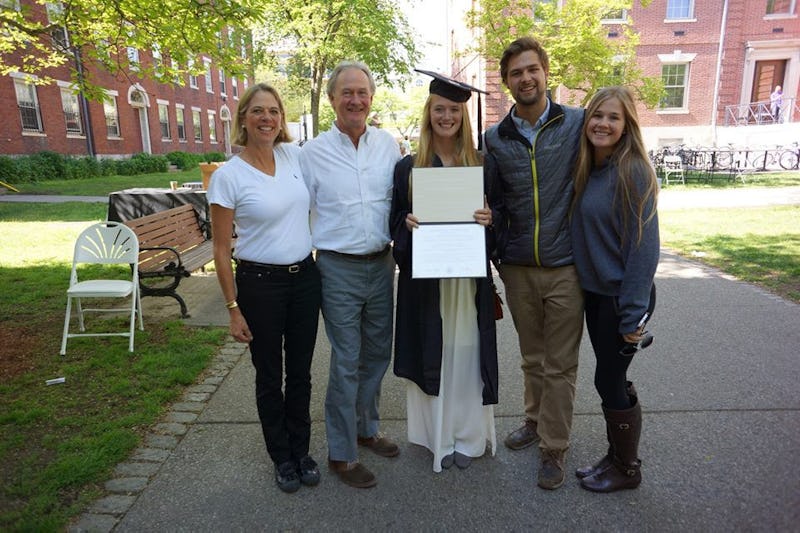 On Friday, former Rhode Island Governor Lincoln Chafee dropped out of the presidential race after a lackluster performance in the first Democratic debate and difficulty gaining support from voters. Chafee announced his decision at a conference in Washington, telling assembled press: "As you know, I have been campaigning on a platform of Prosperity Through Peace, but after much thought, I have decided to end my campaign for president today." Chafee's primary goal in running for president was to spread his anti-war message. I talked to Chafee's son, Caleb Chafee, about what the campaign achieved — and where it went wrong.
Caleb, 21, is currently studying abroad in Melbourne, which forced him to watch his pop's (as he calls him) bid for president from afar, only offering moral support and occasional campaign ideas long-distance. Although he wasn't able to be fully involved, he's disappointed that Lincoln's "Prosperity Through Peace" campaign is over. "I tried to encourage him to stick it out a little bit longer," Caleb tells Bustle, "but I think he had hit his point. I think he always knew that it was a long shot to try to win it, but he knew that it was just time — it was the right time to get out."
Lincoln had a difficult time fighting his way into the national spotlight, and continuously polled at zero percent of support among Democratic voters. But it was a very small operation in comparison to the campaigns of Bernie Sanders and Hillary Clinton — he raised just over $15,000 in the third quarter, compared to Sanders' whopping $26 million and Clinton's $28 million. He even drove himself to Iowa and New Hampshire from Rhode Island, according to Caleb, and in case your geography skills are lacking, a road trip from Rhode Island to Iowa takes almost 20 hours.
Watching the Democratic debate from Australia two weeks ago, Caleb thought his dad's opening and closing statements were good, but didn't feel that he had a stellar performance overall. "I think he could have done a lot better," Caleb says. "I think he didn't reach anywhere close to his potential up there, but I don't blame him. I mean, a presidential debate stage ... I probably would have just trembled my way to the bottom of the podium."
Caleb thinks his pop's platform didn't register well with the country partially because his campaign focused more on long-term plans than immediate relief. "He kind of has an outlook that's not really four or five years in the future — he's looking at like 50, 60 years. So sometimes, when he's got that vision so far ahead, it's hard to communicate those ideas in the present. And I think a lot of that gets lost in translation … he's a couple steps ahead."
Despite its limited reach, Caleb feels the campaign was successful in adding a different ideology into the mix. "I think he accomplished a lot in pushing the message out there for anti-war, and getting the peace message in the Democratic party — something that I think the party should embrace a little bit more, considering the robustness of the Republican party and their war drum."
The Chafees won't be moving into the White House anytime soon, but Caleb says that he's proud of his dad nonetheless.
According to Caleb, Lincoln was most disappointed by the media's coverage of his run for president — from mispronouncing his name to clinging to his love for the metric system to not allotting him much time in the debate. "He felt like he was misinterpreted," Caleb says. "There are a lot of things that I think probably just wore him down after a while. He wasn't getting the respect or the credit that he deserved."
So what's next for Lincoln? In his announcement speech, he said, "I pledge all my energy towards a big 2016 victory for Democrats across the country," meaning he'll probably help out with the Democratic campaign until the election. Although he's always been involved in politics, Caleb thinks this might have been his last run for office. "He might be looking forward to relaxing."
Images: Courtesy of Caleb Chafee (2)