13 Funny Quotes About The Holidays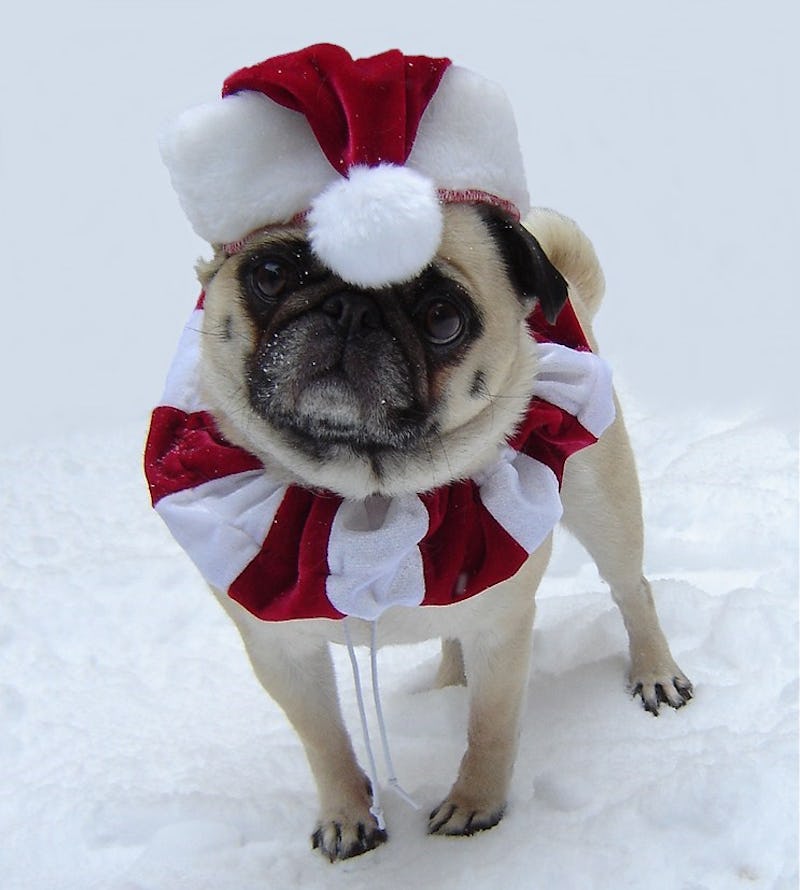 As magical and amazing as the holiday season is, it can also be ridiculously stressful. That's why it's more important than ever to remember to laugh in the face of packed shopping malls and traffic by enjoying a few funny holiday quotes. We can all survive the holidays if we take a breather every once in a while.
My family celebrates Christmas, and my boyfriend's family celebrates Hanukkah, so I've been doing holiday double duty for a few years now. And as much as I love all the traditions and food and booze and family time, it can be a bit overwhelming on my introvert's heart. I mean, even celebrating one set of holiday traditions can be tough, but two? I'm sure I'm not the only one who has to take a few moments to remember why we put ourselves through all this.
Keeping your sense of humor during the craziness of the holidays will be a big help in keeping you happy and sane while you have to answer why you and your boyfriend aren't married yet 100 different times. Believe me, as much as the holiday season is made out to be this sacred, joy-filled extravaganza, there is still plenty to laugh about.
1. "Once again, we come to the holiday season, a deeply religious time that each of us observes, in his own way, by going to the mall of his choice." — Dave Barry
2. "Mail your packages early so the post office can lose them in time for Christmas." —Johnny Carson
3. "At Christmas, tea is compulsory. Relatives are optional." —Robert Godden
4. "I stopped believing in Santa Claus when I was six. Mother took me to see him in a department store and he asked for my autograph." — Shirley Temple
5. "Most Texans think Hanukkah is some sort of duck call." — Richard Lewis
6. "The proper behavior all through the holiday season is to be drunk. This drunkenness culminates on New Year's Eve, when you get so drunk you kiss the person you're married to." — P. J. O'Rourke
7. "Christmas is the season when you buy this year's gifts with next year's money." — Author Unknown
8. "One of the most glorious messes in the world is the mess created in the living room on Christmas day. Don't clean it up too quickly." — Andy Rooney
9. "For Christmas this year, try giving less. Start with less attitude. There's more than enough of that in the world as it is — and people will usually just give it back anyway!" — Anne Bristow
10. "I bought my brother some gift wrap for Christmas. I took it to the gift wrap department and told them to wrap it, but in a different print so he would know when to stop unwrapping." — Steven Wright
11. "Santa Claus has the right idea. Visit people once a year." —Victor Borge
12. "What I don't like about office Christmas parties is looking for a job the next day." — Phyllis Diller
13. "One thing I learned from drinking is that if you ever go Christmas caroling, you should go with a group of people. And also go in mid-December." — Louis C.K.
Looking for more holiday cheer? Check out Bustle on YouTube.