How To Be The Star Of Every Holiday Party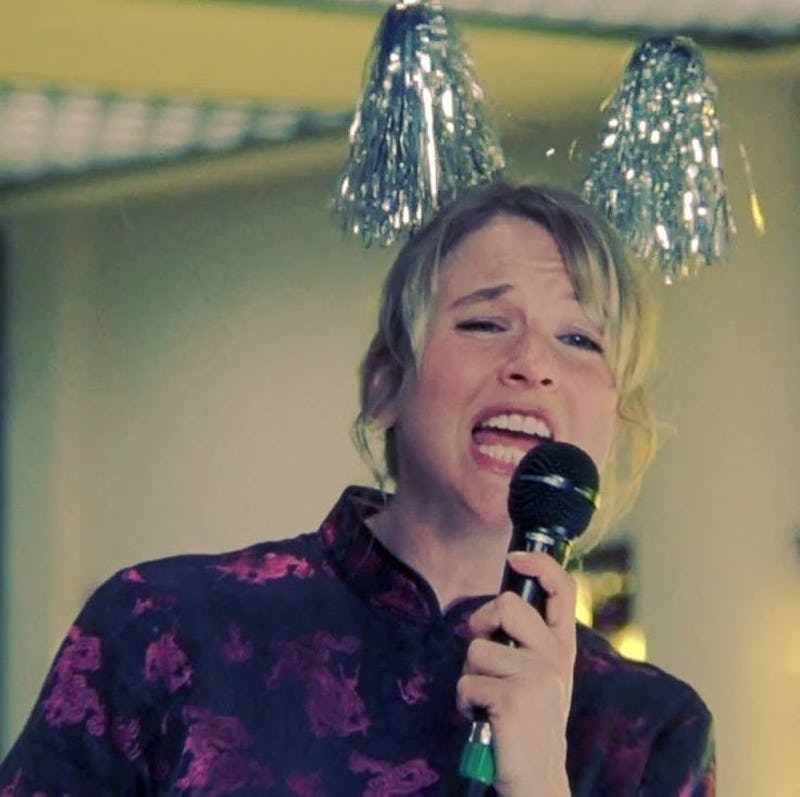 Tucked neatly between Thanksgiving and New Year's Day with joyous stops along the way for Hanukkah and Christmas, mid-December marks the middle of the holiday season (though American retailers and radio stations are trying to take it 365, baby!), which means you're probably knee-deep in eggnog and awkward conversations — aka trying to figure out what to do at holiday parties — right about now. Sure, the phrase "holiday party" connotes fun, but we all know they're booby-trapped to expose our personal flaws (i.e. drinks too much, shy, unable to feign excitement for a crappy gift). You've probably already got a few such shindigs under your seasonally expanding belt, and perhaps you're not thrilled with your performance so far. *sheepishly raises hand*
Maybe you received straightforward feedback like, "You put the 'X' in Xmas, don't come back next year!" or perhaps you lost count at the open bar, and now have a sneaking suspicion that you told your boss you wrote a poem about him. Or, maybe you wanted to be the life of the party, but the only mingling you managed was when you tripped over the Christmas lights. It's OK, with a little over a week of soirees until Santa's sleigh ride, plus the New Year's Eve bonus round, there's still time to turn this ship around before the ball drops on 2016!
Just follow these five (and a half) easy-as-Christmas-pie steps to transform yourself into the twinkling holiday party star you've always wanted to be.
1. Bring A Gift
Didn't you get the memo about Christmas? Gifts are important! If it weren't for the exchange of material goods, how would we put a dollar sign on love, admiration, and how much we don't want to be labeled a jerk? Someone near and dear to you (or a really close enemy) has opened their home or the back room of a local restaurant to you, and the least you can do is bring a bouquet of flowers, some cheap champs, or a store-bought pie. Ten bucks for menschmensch status? That's better than a Black Friday deal!
2. Alternate Drinks With Compliments
We all know the age-old Christmas party conundrum: You should bring booze (unless you're going to my parents' house), but not get hammer timed. Why, you ask? Because you work with these people... or hang out with their kids, or do something else of a respectable nature, and you don't need to let it all hang out. Unless it's a tight-knit bash, a little mystery has a lot to be desired. Leave people wanting more, thinking "I bet she'd be fun to get drunk with!" instead of acting out a sloppy five-act play that leads them to believe they misjudged you. I know what you're thinking — how? Compliments. Genuine, heartfelt compliments. Between each drink, find 10 things to compliment genuinely. That's the key word that will slow you down, and keep your holiday party game on point.
3. Flirt With Caution
Flirting is fun! And yes, we can all agree that twirling your hair and laughing in an unnatural octave usually results in some pretty flattering attention. However, holiday parties may not be the best place to test your current power of attraction, because by nature, they're ripe with family, friends, and co-workers, people you already know — and anyone who looks like a stranger probably isn't all that far removed.
4. Dress Festively
You know the colors, you know the style, you have no excuse. But remember, the most important part of fashion is confidence. Whether you're wearing an ugly Christmas sweater (like these dope Drake-inspired yarn gems) or your best red cape, whip and nae nae around the party like you own the place. A good rule of thumb is: What Would Kathy Lee Do?
4a. Wear A Tiny Hat
Do you want to own whatever holiday party you make an appearance at? I said, DO YOU WANT THE ABILITY TO OWN ANY HOLIDAY PARTY?! That's what I thought. If you heed none of my other advice and take only this one itty-bitty tip, you will #FTW every Christmas party within seeing distance. I mean, doesn't this cat look super approachable? If you wear a tiny hat, you can straight up leave your personality at home because 1) people will want to ask you about it, 2) people will want to touch it, and 3) people will want to take pictures with it (and you!). It's foolproof, so just go to the dollar store already.
5. Don't Play The Trump Card
The rest of these pointers are evergreen, but this last one applies to 2016 only (at least we better all hope so): Do not, I repeat, DO NOT use Donald J. Trump as a conversation starter, no matter what side of the aisle your fellow party-goers are on. It's guaranteed to kill the vibe. Trust me, I get the temptation, he's an easy target, but talk about literally anything else. You have this weird rash on your elbow? Great! Depressed because it gets dark earlier? Awesome! If you're strapped for material, go to the bathroom and skim through a magazine, but for god's sake, Donald J. Trump is a non-starter.
Now go and make merry at your holiday parties, young grasshoppers!
Looking for more holiday cheer? Check out Bustle on YouTube.
Images: Universal Pictures; Giphy (6)