How To Write A Resignation Letter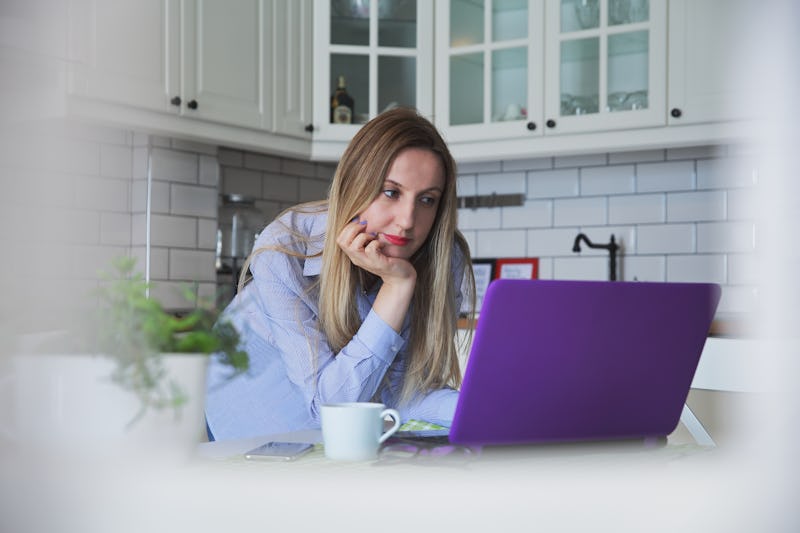 aydinmutlu/E+/Getty Images
Many people start the new year making resolutions to find a better job, kickstart their careers, or just make more money. But, some of these resolutions might require you to leave the job you're currently at — which means you probably want to figure out how to write a resignation letter.
Quitting your job or leaving your current gig for a new one is always a bit nerve wracking. Even if you dread going to work every day, it can still feel weird to actually start job searching, and envision yourself at a new company. Heck, even if you loved your previous job, change is usually an anxiety inducer — but stay calm, you're gonna do great. I've had my fair share of jobs in my 10 years of working — great ones, where I was sad to leave, and awful ones, where I couldn't wait to quit — but leaving has always required the same ritual. Talk it over with your loved ones, weigh the pros and cons, and toss and turn a little. Then, commit and write the resignation letter.
Whether you've written a resignation letter a dozen times before and just want a little refresher, or you're a newbie who needs a step-by-step in saying goodbye, here's a breakdown of how to write a resignation letter.
Part one: Address it properly
How you address your letter and who you address it to largely depends on the company and boss you work for. If you work for a small company and/or are on friendly terms with your boss, you can address your resignation directly to them as "Dear (First Name)." If you work for a large company and you're on more formal terms with your boss, stick with "Dear Mr./Mrs./Ms. (Last Name)."
A standard resignation letter usually has you put your full name and address, as well as the full name of your boss and the address of the company at the top of the letter. Do this for a physical letter, but it's not always necessary for an email.
Part two: Keep it simple
Much like the cover letter you originally used to apply for this job, the first part of your resignation letter should be kept short and to the point. You can start it with wording similar to "It is with great regret" or "After much thought" depending on how you're actually feeling about leaving the job. Then, simply state what position you're resigning from and the effective date — two weeks from the date of the letter is the accepted norm. The first part of your resignation letter should only be one to two sentences maximum.
What not to do here: while you're announcing that you're leaving your job, do not lay out all the reasons why. If you have some constructive criticism that you think will be helpful going forward, you can discuss it directly with your boss or supervisor in person. Otherwise, vent all your frustrations to your friends or significant other later (as if you haven't already).
Part three: Say thank you
Even if you hated your job, it's still good to stay in your boss' good graces in case you need a reference or a connection in the future. The best way to do this in your resignation letter is to say thank you. If you don't have a lot of nice things to say, you can keep it short with a sentence or two about why you liked working there or what you learned from the job. You don't need to wax poetic or lay it on too thick — just be honest and concise.
Part four: Assure them of cooperation
After thanking your boss and company, add a line about how you plan to help with the transition. Whether it's putting all your files on a flash drive or writing a guide on how to use a specific software, you can quickly lay out how you plan to help whoever gets the job after you before you leave. Just don't go over the top — you'll only have a week or two, after all.
Part five: Keep communication open
To wrap up, include a sentence or two about how you can be reached in the future. If you're sending a resignation email, include links to your LinkedIn page or personal email, for instance. This way, you keep the door open in case you ever want to get hired by that same company again, or you want to stay in touch with your boss for any reason.
Part six: Say goodbye
Finish your letter with a sign off that matches the tone of how you addressed the letter. If you're on a first name basis with your boss, you could go with "Warm regards." And if you're on formal terms, use "Sincerely." For physical letters, put your handwritten signature at the bottom.
Images: aydinmutlu/E+/Getty Images; Giphy