23 Galentine's Day Gifts For Your Squad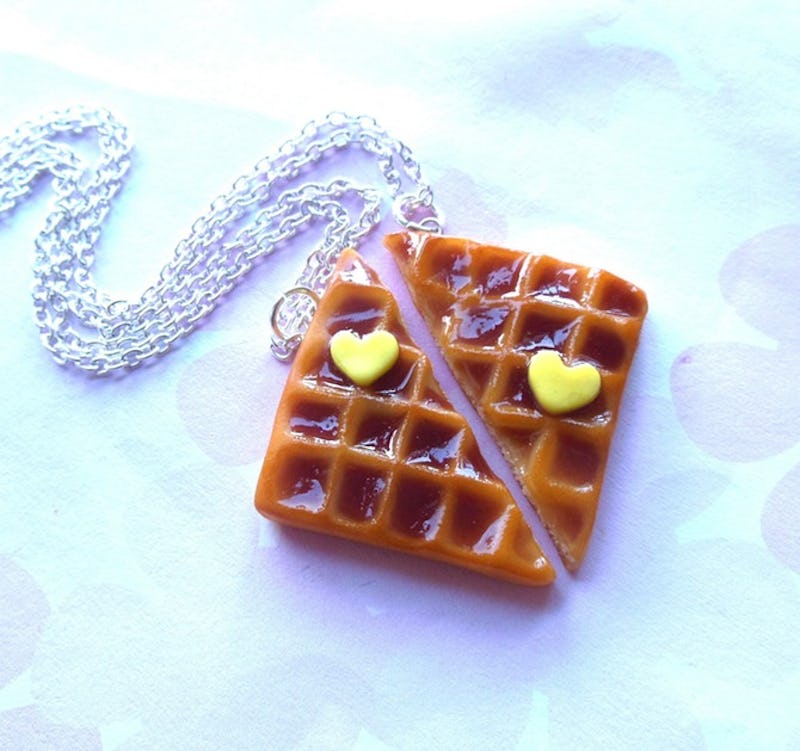 While some of us have celebrated Valentine's Day with our girlfriends for years, we have Amy Poehler's character on Parks and Recreation to thank for introducing us to Galentine's Day. No matter if you're single or taken, taking the time to celebrate Valentine's Day with the real loves of your life is important — and you should have the Galentine's Day gifts to match the occasion.
Female friendship is hard to come by for a lot of us. For me — as an anxious, introverted, workaholic living in one of the unfriendliest cities in America — finding a few women I connect with and like is an incredible feat. I call myself lucky to count three amazing ladies as my best friends and a handful of cool female acquaintances as part of my girl gang. And even though I'm in a serious relationship, I always want to make time for my girlfriends, especially on holidays that tend to highlight people's romantic lives. Even if you only have brunch with your besties and then spend the rest of the day with your significant other, turning Valentine's Day into Galentine's Day is empowering and fun.
And if you can't decide on a Galentine's Day gift, wine is always an acceptable option.
1. Uteruses before duderuses mug
By far, one of Leslie Knope's best quotes about putting your friends ahead of boyfriends.
Uteruses Before Duderuses Mug, $16, etsy.com
2. Wine label
Personalize your Galentine's Day dinner or movie night with this adorable wine label. It comes in a digital file, so you can print as many as you need!
Galentine's Day Wine Bottle Label, $6, etsy.com
3. Beer labels
If your girls are beer drinkers, slap a few of these Galentine's Day labels on your favorite six pack. You could also print a few extra labels so they can all take a commemorative beer home.
Be My Galentine Beer Labels- Set of 6, $7.99, etsy.com
4. Treat yo self bag
This canvas bag is perfect for groceries or a beach day. Also, as a constant reminder to "treat yo self."
Treat Yo Self Tote Bag, $16, etsy.com
5. 'Sisters In Law'
Leslie Knope would approve gifting your friends a book about some other amazing ladies on Galentine's Day. I think we can all be thankful for women like Ruth Bader Ginsburg and Sandra Day O'Connor.
'Sisters in Law: How Sandra Day O'Connor and Ruth Bader Ginsburg Went to the Supreme Court and Changed the World,' $15.94, amazon.com
6. Crystal earrings
A lot of people give and receive jewelry on Valentine's Day — and there's no reason why you can't give your girlfriends something sparkly. These crystal earrings are pretty and cool and you could get a pair in all your friends' favorite colors.
Faux Druzy Crystal Earrings, $8, etsy.com
7. Paper flowers
Like jewelry and chocolate, flowers are also a Valentine's Day staple. For Galentine's Day, you could opt for paper flowers instead — they'll definitely last longer.
Red and Hot Pink Paper Flowers- Set of 20, $24, etsy.com
8. Kitten bouquet
If flowers aren't you or your bestie's jam, then this kitten bouquet is perfect for Galentine's Day. So. Much. Cuteness.
Plush Kitten Bouquet, $49.99, thinkgeek.com
9. Art print
As much as Leslie loves waffles and working, she'll always love her friends more. We can all take a page — or an art print — out of her book.
Waffles Print, $10, etsy.com
10. Girl tribe tank
Wear your girl tribe status with pride. Get one for your squad to wear out on Galentine's Day.
Pink Social Girl Tribe Dark Gray Racerback Tank, $38, etsy.com
11. Reader's journal
If you and your gal pals plow through books, you guys can use this journal to document your favorites. It'll be perfect for when you all join Emma Watson's feminist book club.
Well-Read Women: A Reader's Journal, $14.95, uncommongoods.com
12. Personalized wine glass
Hosting a wine-filled Galentine's Day (of course you are)? Gift your besties a personalized wine glass to make it extra special.
Gold Dot Personalized Wine Glass, $14, etsy.com
13. Scarf
With El Nino and the incoming polar vortex, a good scarf will be much appreciated by all your Galentines. Plus, how pretty is that color? I don't even like pink and I need it.
Light Pink Infinity Scarf, $25, etsy.com
14. Travel mug
Leslie and Ann will always be friend goals in my eyes. Arm your bestie with this mug to help get her through Valentine's Day, and any day.
Travel Coffee Mug, $14, etsy.com
15. Bad ass bitch candle
Candles may seem a bit generic, but this is a candle specifically for all the bad ass bitches in your life. You can pick between seven natural scents to give them extra personalization.
Ms. Betty's Original Bad Ass Bitch Scented Soy Candle, $18, etsy.com
16. Chakra bath salts
Bath salts are a great way for your bestie to relax after a stressful day. These chakra salts help with a variety of things like restoring confidence, intimacy, and peace of mind.
Chakra Bath Salts Set, $22, uncommongoods.com
17. Waffle necklace
Nothing says friendship quite like waffles — at least for Leslie and Ann. I love that the butter is shaped like a heart on this friendship necklace pair.
Best Friend Square Waffle Necklaces with Heart Shaped Butter, $19.99, etsy.com
18. Spa kit
We love farm fresh food, so why not farm fresh spa kits? The soap, bath truffle, lotion, and lip balm are all made from natural ingredients like goat's milk, beeswax, and shea butter.
Farm Fresh Spa Experience Tin, $32, uncommongoods.com
19. R2-D2 teapot
Just like R2-D2 is always there for C3PO and Luke Skywalker, this teapot will always be there when your bestie needs a cup of tea. Perfect for a geeky Galentine's Day.
R2-D2 Ceramic Teapot, $39.99, thinkgeek.com
20. Cookie cutters
Spend Galentine's Day baking a slew of delicious treats with your friends. These cookie cutters can be used for cookies (duh), brownies, tarts, and even little pizzas.
Wilton From The Heart Nesting Cookie Cutter Set, $6.31, amazon.com
21. Male tears flask
So, it's probably vodka or tequila in there and not really male tears. That's the best part of Galentine's Day — no fragile masculinity or misogynist complaining to deal with.
Male Tears Flask, $16.50, etsy.com
22. Cross stitch
Another Knope classic, this wise quote is immortalized in cross stitch form. Give it to your crafty friends as a reminder of your camaraderie.
Ovaries Before Brovaries Cross Stitch, $32, etsy.com
23. Hair ties
Even grown women need cute hair ties. These custom Valentine's Day ties could easily be gifts for your Galentines.
Valentines Day Favors, $20.99, etsy.com
For more ideas, check out Bustle on YouTube.