First Is The Worst, Second Is The Best...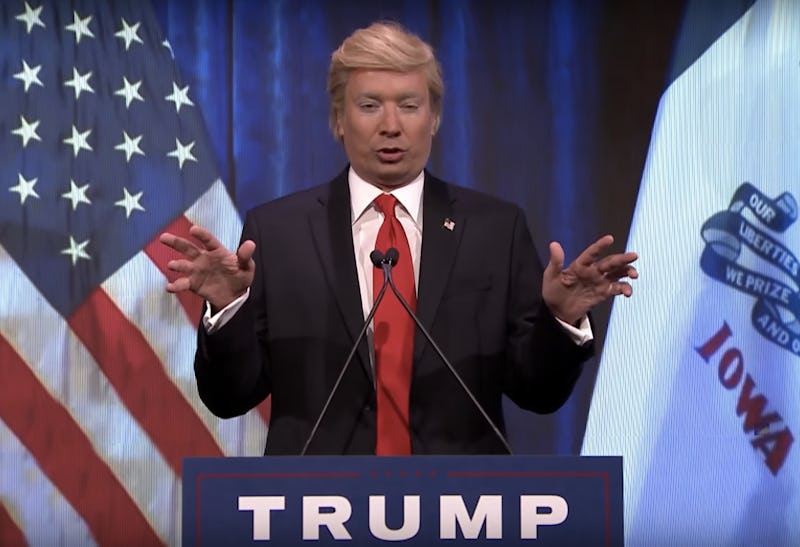 After an embarrassing loss in Iowa on Monday, Trump took the humble route in his exit speech, but Jimmy Fallon-as-Donald Trump, on the other hand, wasn't afraid to declare himself the champion of second place on The Tonight Show Wednesday. Sporting the famed wispy pompadour and sour puss face, Fallon pointed to a familiar children's playground rhyme as proof that coming second to Ted Cruz in the Iowa caucuses was in the stars all along. "First is the worst, second is the best, third is the one with the hairy chest," Fallon declared, that third being Marco Rubio. (Whether Rubio actually has a hairy chest is TBD.)
Still don't believe it? After all, Trump famously tweeted back in 2013 that "no one remembers who comes in second place." But Fallon makes a compelling argument on why it's good to be #2. From R2-D2 to twins Emily and Haley on The Bachelor, things are just better in numbers of two. The argument is convincing enough that maybe, just maybe, Trump is hoping for second in Tuesday's New Hampshire primary.
Ha, who am I kidding. Coming in second in New Hampshire could actually precipitate a full-on meltdown of trumped up magnitude. But then again, two second place finishes, by Fallon's argument, would be the ultimate two-peat win.
Image: The Tonight Show Starring Jimmy Fallon/NBC