This Map Proves Clinton Supporters Should Worry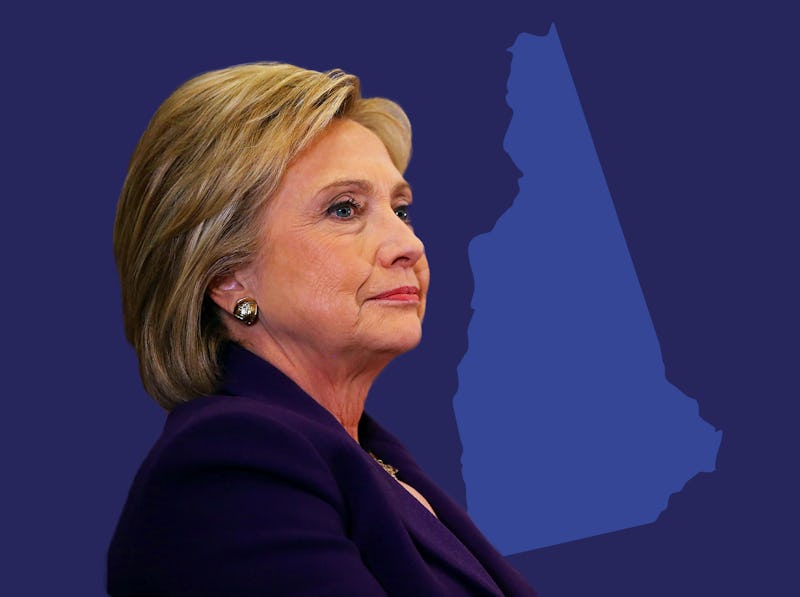 Bernie Sanders was expected to come out on top Tuesday, but Hillary Clinton's New Hampshire primary performance should worry her campaign — and here is the map to confirm those concerns. Clinton did far worse in the Granite State on Tuesday than she did in 2008. While Clinton won the New Hampshire primary in 2008, you know how that campaign for the presidency ultimately panned out: Barack Obama stole her thunder in the coming weeks and earned his spot in the White House for the next eight years.
The New York Times' Nate Cohn began tweeting the disparities between Clinton's 2008 and 2016 primary performances in New Hampshire as the polling data came in, noting how the Clinton of today paled in comparison to the Clinton past. "In the counties completed so far, it was Obama 39, Clinton 37 in 2008. Tonight it's Sanders 60, Clinton 39," Cohn tweeted just before 9 p.m. ET. He also noted that, overall, Democratic turnout in New Hampshire was 13 points lower than it was 2008. Still, the big concern is not for the Democrats but specifically for Clinton who, as Cohn noted, was "running well behind her '08 tallies among the NH-VT border." He included a map that should stir fear in the hearts of all Clinton backers.
New Hampshire and the United States are definitely feeling the bern.
Image: Caroline Wurtzel/Bustle