Watch This Woman Dance With The Obamas
by Claire Elizabeth Felter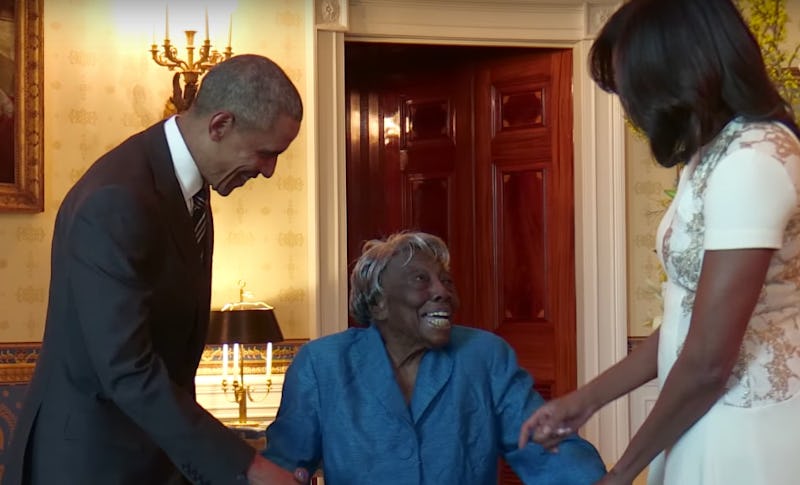 Plenty of Americans have had their opportunity to walk the halls of the White House while on tour, but not everyone gets the chance to cross paths with the president and the first lady during his or her trip to the capital. Another opportunity that doesn't present itself to just anyone is reaching one's 100th birthday. One woman, who has called Washington D.C. home since 1941, made it to the latter milestone a few years back. It's a hang sesh with America's commander-in-chief that didn't happen until Monday. Thankfully, cameras were present to witness the event, because you can't miss the video of 106-year-old Virginia McLaurin visiting the White House, and showing the world just how excited everyone should be to hang with the Obamas.
The get-together was planned as a part of the White House's Black History Month celebrations, and McLaurin appeared quite pleased at her being invited to spend some time with Barack and Michelle Obama. The centenarian may have been a bit too excited, actually. Following her introduction to president Obama (and some ridiculously adorable hand holding), McLaurin could hardly stop herself from racing across the room to meet the First Lady. "Slow down now. Don't go too quick..." the president told McLaurin. "Well you gotta... you slow down!"
The meeting quickly turned into a dance party. While holding hands with both Barack and Michelle, McLaurin began to move her hips and shift her feet about. The president took notice. "She's dancing," Obama announced to the room. "What's the secret to still dancing at 106?"
Really, though, Mr. President, would you have expected anything less from a happy 106-year-old woman in a dazzling turquoise skirt suit? MObama didn't appear to mind, as she took to snapping her fingers and shimmying.
McLaurin, who is known as Grandma Virginia among family and friends, wasn't too shy to tell the Obama duo that she thought she'd never live to make it inside the White House. She wasn't afraid to express her elation, either.
And I tell you, I am so happy. A black president. A black wife. And I'm here to celebrate black history. Yeah, that's what I'm here for.
McLaurin later told NBC's Ron Allen that alongside the assumption that she would never stand inside the White House was the belief that an African-American president would never be living inside the residence. "After I found out it was a black president, and I didn't think that would ever happen," McLaurin said. "And I really wanted to meet him."
McLaurin has probably heard her fair share of criticisms, comments, and compliments over her more-than-100 years of living. There probably haven't been too many statements more awesome than the first lady's announcement during the celebration: "I want to be like you when I grow up."
Image: The White House/YouTube