5 Chemical-Free Ways To Color Your Hair Naturally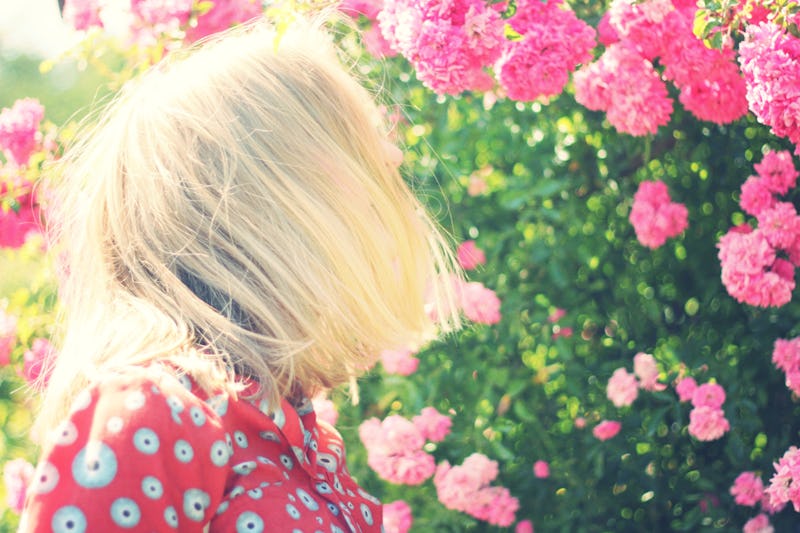 You've probably heard the saying "if you wouldn't eat it, don't put it on your body." Well, there's certainly nothing edible about the peroxides, ammonia, and parabens found in hair dyes, which might have you searching for natural ways to dye your hair. Leaving the chemicals behind in favor of using things you might already have in your kitchen cabinet could be life-changing and who knows, might work better than your go-to method.
Switching up your hair color is probably one of the first things that come to mind when you want to revamp your look. These days, it's like we're stuck in a Katy Perry music video, as hairstyles in any color of the rainbow are becoming the norm. Going from bombshell blonde to ruby red, or from chestnut brown to royal blue, is a surefire way to add drama to your look. However, all of that frying and dying can cause some serious hair damage if you overdo it. Opting for natural solutions instead may save your luscious locks from the dangers of chemical-ridden dyes.
Like I said, your kitchen cabinets are probably already filled with everything you need to play stylist. Whether you want to darken your hair or try an unnatural color, it can all be done with a few household ingredients. Check out these natural hair dyes when you want to make over your tresses.
If You Want To Go Darker
Coffee is your go-to ingredient if you're looking to go darker with your hair color. Here's how to do it: Brew a strong coffee, preferably espresso, and let it cool. Next, mix two cups of leave-in conditioner with one cup of your brewed coffee and two tablespoons of coffee grounds. (Opt for organic coffee if you're really up for keeping things au natural.) Apply the mixture to clean hair using a spray bottle. After, cover your hair with a shower cap and leave your coffee dye to set for about an hour.
When that's done, rinse, but don't wash your hair once the mixture has settled. Once your hair dries, you should see a difference, but may need to repeat the process a couple of times depending on how deep of a color change you desire. Although your new color may only last for a few days, a 20-minute coffee rinse may revive your dark 'do at anytime.
If You Want To Go Lighter
Take your organic DIY salon to the next level by highlighting your hair with lemon juice. You'll need three large lemons (that are juiced), two bags of chamomile tea, a teaspoon of ground cinnamon, and a tablespoon of almond or coconut oil. First, boil one cup of water and add the tea bags. While you allow the bags to steep and cool for a few minutes, squeeze your lemons until you have 1/3 cup of juice. Strain out any seeds. Pour the juice, along with the brewed tea into a spray bottle. Add in your measured cinnamon and almond oil, seal your spray bottle, and shake it up.
Spray throughout your hair on the areas you'd like to lighten. Finish off the process by slapping on sunscreen and heading outdoors to bask in some rays — the sunshine will lighten your strands! The coconut oil should condition your hair, while the cinnamon and chamomile reduce the acidity of this lightening process. Amazing, right?
If You Want To Go Red (Or Pink)
Dying your hair with beets is a great way to add a temporary red tint to your tresses. Mix up two juiced beets, a tablespoon of fresh ground ginger, and two teaspoons of olive oil. As the beets work to make you a redhead, the ginger and olive oil will add shine and moisture to your strands. The beets mixture may stain your hands and clothing, so wearing gloves and an old tee will save you some trouble. Massage this homemade dye into your scalp, and then work the rinse from the ends of your hair to your roots. Let the mixture sit for about an hour before rinsing it out.
Maybe becoming a full-blown ginger suits your fancy more. If so, you can add carrot juice to achieve a reddish orange look. Going heavier on the carrot juice will make for more of a copper tone, while using more beet juice in your ratio will create a deeper red.
Want more fashion and beauty tips? Check out the video below and subscribe to Bustle on YouTube!
If You Want To Go Black
The intense pigmentation of henna makes it a great ingredient for naturally dyeing hair. Combined with indigo powder in a two-step process, henna can give you a deep, blue-black hair color. The length of your hair will determine how much henna you need. Be sure to wear old clothes, gloves, and cover important surfaces with newspaper. (Henna will stain — you've been warned!) To protect your face and neck from stains, apply vaseline around your hairline before you begin dying.
Start the process by mixing a 100-gram package of henna powder with a 1/2 cup to one cup of water until the mixture has a yogurt-like consistency. Note that natural henna powder should be green in color. You may drop in a tablespoon or two of coconut oil or honey to the mixture if you'd like to add a conditioning agent to your dye. Cover the henna with plastic wrap and allow it to sit for 12-24 hours. This will allow the dye to release. The longer the henna paste sits, the more pigmented your color will be.
Begin applying the mixture to your hair in small sections. Once all of your hair is coated, cover your head with a shower cap and allow the henna paste to sit for about an hour. Rinse your hair afterwards, but not with shampoo.
Now for the indigo! Mix 100 grams of indigo (or more depending on your hair length) with water until it reaches a thick, yogurt consistency. Let the mixture sit for about 15 minutes, until the paste turns to a deep black. Apply the indigo to your previously hennaed hair, making sure to coat it from the roots to your ends. Cover your head again and allow the paste to sit for about an hour. Finish by rinsing your hair clean. You may also go in with conditioner after the initial rinse.
Refrain from shampooing your hair for a day or two, as the henna and indigo will need about 48 hours to oxidize. The result? Beautiful, black strands.
If you're feeling uber adventurous, apply the henna alone to your roots and the indigo-over-henna combo to the bottom half of your hair for a red to black ombré (or the reverse). You can also create an auburn to deep brown hair dye with henna and indigo blended together, rather than applied separately in two steps. The possibilities are endless.
If You Want An Unnatural Color
Using food coloring to dye your hair is the perfect way to test out an unnatural hair color. The process is simple and if you don't like your end result, the color will only last for about a month. All you need is food coloring in whatever hue you'd like and conditioner.
To create your dye, stir a few drops of food coloring into a half cup of your usual conditioner. Continue adding coloring until you get your desired shade. Use a toothbrush to comb the dye evenly into your hair, whether it be to your roots, ends, or all over. Cover your hair with a shower cap or plastic bag and allow the dye to sit for about five hours. Rinse with water when the process is over. Avoid washing your hair for a couple of days afterwards to allow the color to fully set. Keep in mind that this color may only show up as a tint or colored rinse on dark hair. To achieve your desired color result, consider lightening your hair using the lemon juice method first.
The next time the urge to dye your hair is too strong to fight, back away from the box dye. All you need to give your hair a natural makeover is around the corner at your local grocery store.
Images: Pexels (5); Ben Waardenburg/Unsplash