9 Ways To Make Your Birkenstocks Waterproof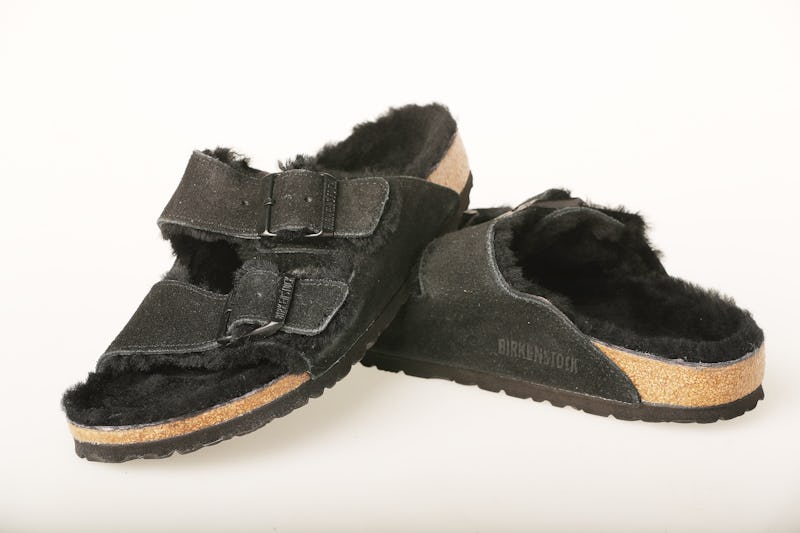 Steve Russell/Toronto Star/Getty Images
Birkenstocks have been around for well over two decades now, and while I still can't figure out why their style is timeless, I am certain I've uncovered the secret to their inability to age. Waterproofing your Birkenstocks ensures that your clogs or thick sandals last until the next time they're uber trendy again.
According to the Birkenstock website, each style from the classic shoe brand is made out of suede leather lining, which not only makes the shoe timeless, but also is healthy for the foot. The company also does not use artificial dyes, which their website says allows the fabric to "breathe." And the buckles, arguably the most important accessory on the shoe, are made in-house and "receive multiple powder-coatings or goes through a galvanising[sic] process."
When water is applied to suede or leather, the lifespan of our shoes can decrease, much like how our skin ages if we forget to apply sunscreen in the sun. Jackie Porter, a marketing assistant at Birkenstock USA, says overall, they do not recommend wearing the shoes in locations wearers know they will get wet. "The cork footbed will absorb water in wet conditions, which results in the cork drying out. This will make the footbed of the sandal vulnerable to chipping and cracking over time," Porter says.
She stated the cork will never be "fully waterproof," but there are ways to help protect against the damage. Take a look at a handful of ways to make your Birkenstocks almost waterproof.
100 Percent Organic Hand Poured Beeswax, $7, Amazon
This method is easy. Simply rub the beeswax all over your shoe, then melt it on with a blowdryer. It will look like you just layered your shoe in Chapstick, but it will dry clear. Then, you can jump around in all the puddles your heart desires. Warning: This method does have the risk of making your shoes stiff.
2. Wax-Based Polishes
Kiwi Shoe Polishes and Balms Small Polish Paste Tin, $3, Target
If you haven't noticed by now, wax is a great water-resistant substance. This polish is a one-step method to ensuring your shoes can last through rain storms and an unexpected snow storm. The best part about wax polishes is that while they typically protect the material, they can also repair old wounds to the shoe.
Nikwax Leather and Suede Waterproofing Waterproofing Spray, $11, Amazon
Although testers theorize the spray does not completely cover the shoes (and leaves random spots uncovered), this spray should leave a water-repellent coating on your suede or leather. It is important to note, however, that you need to make sure you get a spray that is safe on your shoe material. There are various sprays for leather, suede hide.
4. Mink Oil
Wolverine Mink Oil with Cleanser, $5, Construction Gear
Mink oil is also water-repellent, hence why it's a great secret ingredient in false lashes. However, it's also known to potentially ruin leather. Proceed with caution with this oil. It's best to test a small portion of your shoe and then determine whether to coat the entire Birkenstock or not.
Arm & Hammer Pure Baking Soda 2 lbs, $1, Target
Apparently this mixture is comparable to an elixir to fixing all life's problems (though not quite on the same level as coconut oil). Stir the elixir together, then apply to your shoes with a toothbrush. Once the entire shoe is covered with the elixir paste, wash it off with cold water and allow the shoes to dry overnight.
Yes, this is normally for toilets, but a hiking website recommended this method for waterproofing shoes efficiently, so it must be true. Plus, it's inexpensive. The hiker-turned-blogger stated he bought his wax toilet ring for $3 at a hardware store. Before applying the wax, wipe off the shoes until clean. Place them in a warm setting (the sun is fine,) and apply the wax with your fingers or a cloth. Place them in the sun to set and wipe all the extra wax away!
Supreme Silicone 9 oz. Crystal Clear Granite and Marble Caulk, $9, Home Depot
Yahoo recommended combining silicon caulk and mineral spirits. The silicon forms a protective layer over basically all materials. The site size you can use this on backpacks, furniture or "anything you can think of getting wet."
Birkenstock Cork Sealant, $7, Amazon
Again, Porter stated the cork can never be fully waterproof, but a cork sealant can protect against water damage to the cork surface of the shoe. "This breathable sealant can help protect your footwear from wet conditions but making sure you reapply the sealant when needed is crucial," Porter says.
Madrid Silver Birko-Flor, $30, DSW
According to Porter, the EVA sandal, which is a part of the Birkenstock Essentials collection, is made to be waterproof. This is the one Birkenstock type of sandal that can get wet without breaking down!
Now that you know all of the waterproofing tricks, may you and your pair of Birkenstocks have a long, happy life together!
Images: Steve Russell/Toronto Star/Getty Images; Courtesy Of Brands