7 Amazing Post-Boozy-Brunch Activities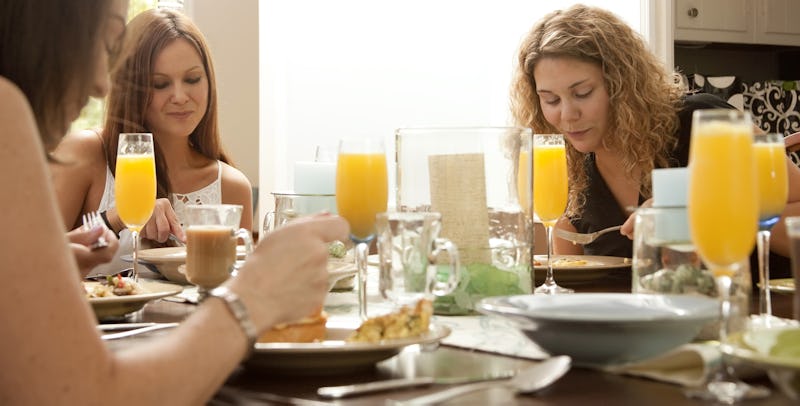 Boozy brunch is the perfect way to kick off (or end) a weekend. So you can imagine our horror upon hearing that bottomless brunch will now be illegal in New York City. On Monday, the New York City Hospitality Alliance sent out a press release informing everybody of a little-known New York State law which prohibits "selling, serving, delivering or offering to patrons an unlimited number of drinks during any set period of time for a fixed price." Who knows if restaurants will actually follow the rule, but after this weekend, New Yorkers may be seeing considerably fewer drunken Sunday afternoons.
Shock. Horror. Denial. Drunken acceptance.
There's nothing better than getting together with a group of hungover pals for some Bloody Mary's, mimosas, and, um, food. Last weekend at drunk brunch (known as drunch to us professionals), I was sipping my fifth Bloody Mary and revisiting my home fries. As I picked up the potato that had fallen into my cleavage and surreptitiously ate it, my friend asked, "What should we do next?"
What indeed? Faced with the classic post-drunch conundrum of what to do with your 2-pm-on-a-Saturday buzz, here's a guide to getting the most out of your post-boozy brunch.
SEE A MOVIE
The great thing about going to the movies buzzed is that you allow yourself to see movies you might not see sober. For example, I saw Vampire Academy after drunch last weekend. Not only would I have never (soberly) been able to find the courage to pay $13 to see a mediocre teen vampire flic, but I wouldn't have enjoyed it nearly as much as I did.
I laughed. I cried. I even found it complex and well-written. None of that would have been possible without drinking five mimosa's prior.
Take A LONG WALK
If you went for drunch on a day it's not polar-vortexing, go out and aimlessly explore the city. No destinations, Google Maps, or transportation (besides your feet) allowed. Newly fortified, you could very well walk for miles and not even realize it. The exercise can even help mitigate that early-evening hangover.
Make Friends With Dogs
There has never been a more rewarding free activity than lurking around a public dog park, stupidly grinning and petting the dogs that come over to smell you. Clearly, a slight buzz will heighten your enjoyment of this activity, and, considering you probably lost your debit card in your post-drunch travels, you'll appreciate how entirely free this activity is. (Note: Make sure not to steal any dogs.)
WORK THAT BOOTY
It can be really fun to get your freak on at a Burlesque-inspired dance class when you're drunk. Record videos of you and your shimmying pals for future memories, trying your hardest not to send overtly sexy Snapchats. Some dance studios offer free classes on Friday and Saturday, so do some prep before brunch to see what's available in your area. You can also just dance in your living room.
VISIT A FOOD MARKET
If you did drunch right, when you leave — presumably three or so hours later — you'll have the munchies. Or, if you're not quite hungry yet, you should definitely consider buying snacks for later, since you'll be flopping on your bed and watching Hulu in just a few hours time.
While there aren't too many outdoor farmer's markets in the colder winter months, investigate indoor food markets in your neighborhood. (The best ones will have lots of free samples.) In the summer, farmer's markets are the perfect post-brunch spot to prowl for sexy, single, raw-cheese-loving singles.
CONTINUE DRINKING, DUH
Clearly, this is an option. But if you do keep going, make sure to hydrate along the way.
Search "Daytime drinking" on Yelp and find bars near you that have daytime drink specials. If you have plans to go out later that night, why bother going home to rest? Deep down you know that if you go home, you'll pass out and refuse to leave the house again. Besides, you already look cute.
GET CULTURED
Visit a museum, ya drunken bum. Many museums have free days on the weekends, so do your research beforehand. (If you're in NYC, check out this handy list.) Considering many renowned artists produced works under the influence of substances, seeing art drunk might allow you to appreciate and admire the art in a whole new way.
Just be careful not to cause a scene.
Image: Catherine Murray/Fotolia