15 Vegan Dessert Recipes For Passover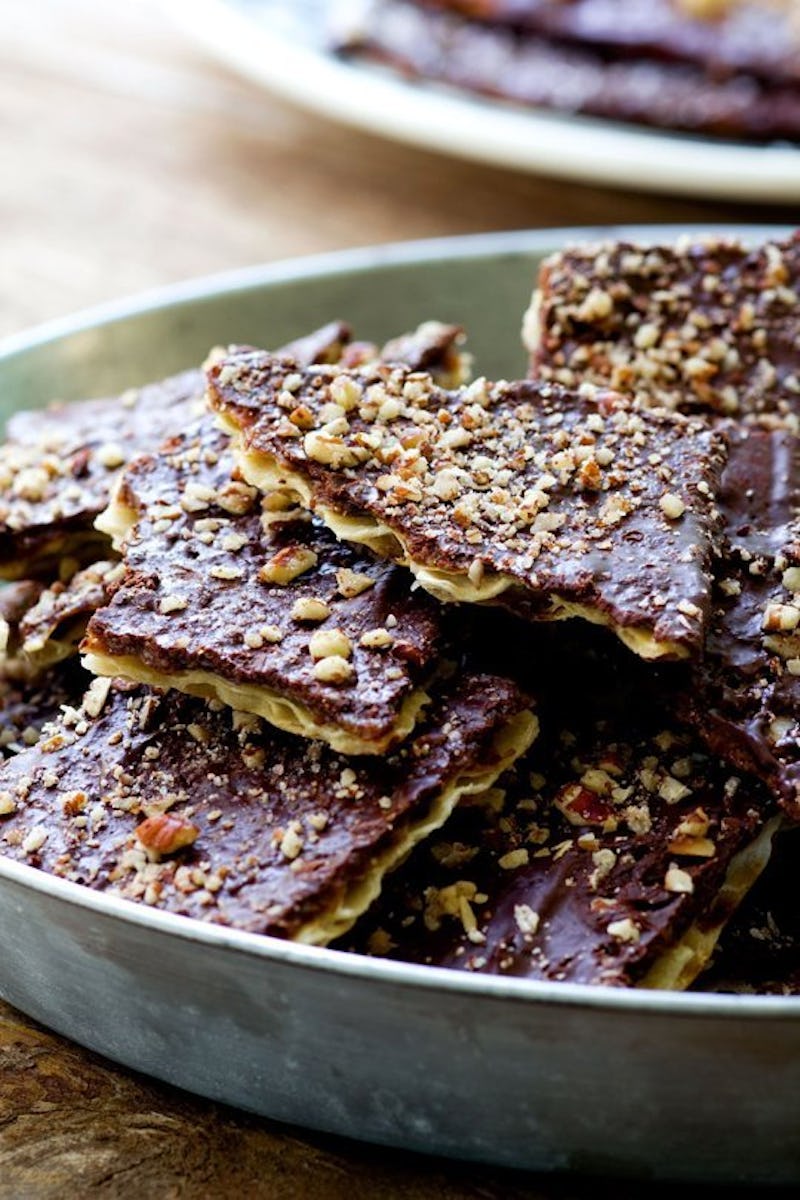 If you have family and friends coming over for Passover, or if you have been tasked with bringing dessert, it can be a challenge for any vegan. This year you don't have to sweat it, because I have a whole list of vegan Passover dessert recipes everyone will swoon over, regardless of if they're vegan or not.
Dessert is the one part of any meal I simply cannot skip. Even for holidays, it doesn't matter how much I eat at dinner, there's always room for dessert. I'm pretty sure there's a whole separate stomach somewhere in my body that is solely dedicated to those chocolate-packed desserts and frozen treats that I can't get enough of. I'm sure there are other people out there who can relate to this, right?
Many people presume that vegan desserts can only be tasteless and boring without all the dairy they're used to. You and I both know they are completely wrong. There are so many vegan desserts out there that people would never guess in a million years are vegan. So surprise everyone at Seder with a delicious vegan treat, and just see if they can even guess it's vegan before you tell them. I dare you.
1. Chocolate Caramel Matzo Brittle
This chocolate caramel matzo brittle is the best accompaniment for post-dinner coffee and cocktails. Even though the recipe from The Kitchn isn't originally vegan, you can make it vegan by substituting margarine for the butter.
2. Passover Cake Bites
Don't be afraid to get a little messy with these rich, decadent balls of chocolate cake. Tori Avey makes this four-ingredient recipe ridiculously easy to recreate at home just a couple of hours before Seder starts.
3. No-Bake Chocolate Macaroons
No need to spend time waiting on the oven to produce some seriously delicious treats to wrap up Seder with. Oh She Glows makes heavenly no-bake chocolate macaroons that are completely vegan and take only a few minutes to pull together.
4. Matzah Bark
Sometimes you need something tasty and sweet not only to wrap up a meal, but also as a snack while you prepare dinner. Simple matzah bark from What Jew Wanna Eat is a party of flavors and texture to keep you satisfied either right before or after the big meal.
5. Coconut Chocolate Pudding with Coconut Flakes
This chocolaty pudding made with coconut milk is a dangerous discovery. You won't be able to stop at one bowl of this sinful coconut chocolate pudding from The Kitchn.
6. Smoky Almond Chocolate Bark with Sea Salt
Smoked almonds bring an extra level of flavor to this three-ingredient bark from Couldn't Be Parve. Even though you can't add bacon, you get that smoky flavor from the nuts that'll have your friends and family begging for the all-too-simple recipe.
7. Lemon Almond Meal Scones
If you aren't all about the rich and decadent desserts, end the meal with a bright and light option like these lemon scones from Ari's Menu. They are just enough to satisfy your sweet tooth without giving you a sugar overdose.
8. Persian Saffron Pudding
For a more exotic, elegant dessert, go for Tori Avey's Persian saffron pudding. It's smooth, colorful, and full of surprising flavors no one will expect to fall in love with, but they will.
9. Double Dark Chocolate Coconut Macaroon Tart
If you want to up your macaroon game this year for Passover, turn that delicious coconut macaroon flavor into a stunning tart like this one from Oh She Glows. Your grandma and grandpa will be fighting over the last piece.
10. Chocolate Pretzel Peanut Butter Candy
A little chocolate candy at the end of a giant meal can go a long way. With an epic feast in front of you, Couldn't Be Parve has a recipe for a vegan candy that will give you a sweet fix and you can easily send some home with everyone.
11. Passion Fruit & Coconut Macaroons
Spring is a wonderful excuse to start using passion fruit in your desserts. Green Kitchen Stories incorporates it into their coconut macaroons for a fruity take on the classic cookie.
12. Pomegranate Tarts
These tarts use pomegranate seeds in the perfect crust, the soft curd, and even as a final finishing touch. Couldn't Be Parve knocks it out of the park with rich pomegranate flavor in each of these individual tarts.
13. Vegan Dark Chocolate Mousse
Classic dark chocolate mousse is known as a classic for a reason. It's a crowd-pleaser everyone loves, and now it's made vegan, courtesy of Tori Avey.
14. Kedurei Shokolad (Israeli Chocolate Balls)
These little balls are made out of crushed cookies and chocolate, giving them a nice crunch with a solid roll in sprinkles. Your guests won't be able to stop popping these balls from Couldn't Be Parve in their mouths.
15. Coconut Macaroon Thumbprints with Raspberry Chia Seed Jam
These cute little thumbprint cookies from Oh She Glows sneak in a burst of berry flavor that makes them better than any traditional coconut macaroon you'll ever taste.
Happy Passover!
Images: The Kitchn; Tori Avey; Oh She Glows; What Jew Wanna Eat; The Kitchn; Couldn't Be Parve; Ari's Menu; Tori Avey; Oh She Glows; Couldn't Be Parve; Green Kitchen Stories; Couldn't Be Parve; Tori Avey; Couldn't Be Parve; Oh She Glows