I Recreated The Makeup I Wore For My Senior Pic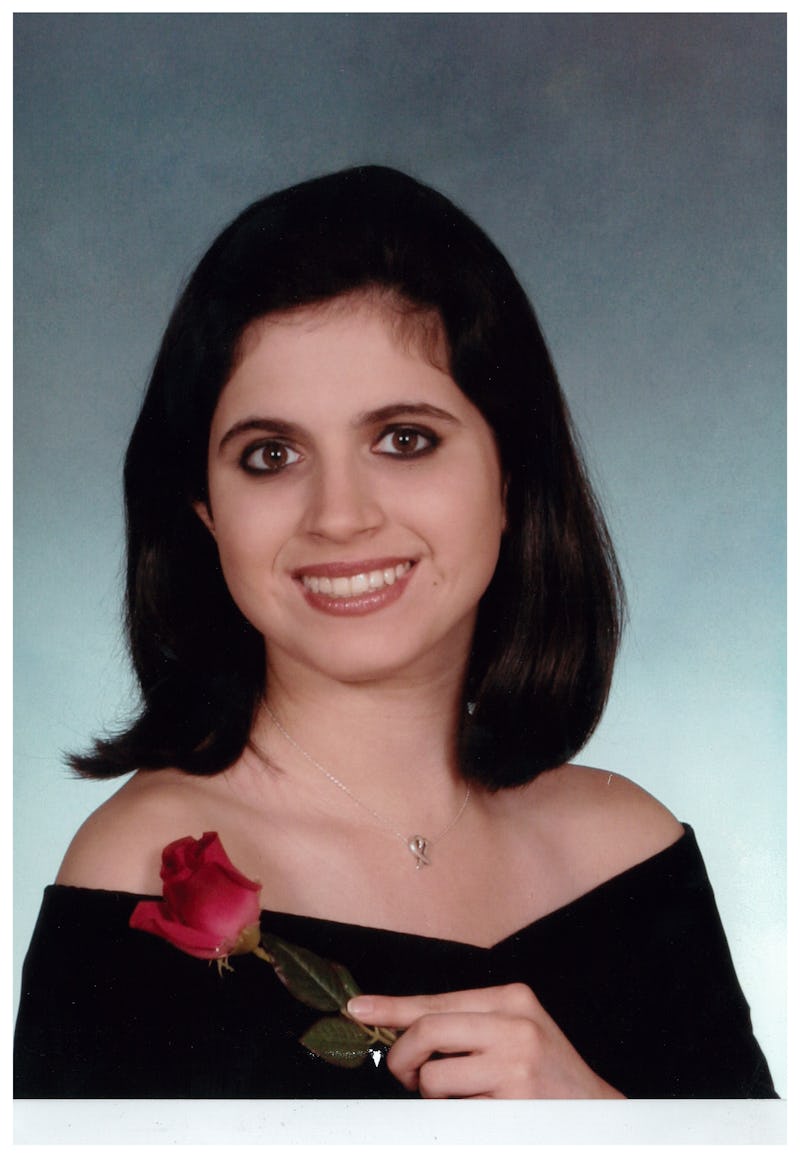 Time really does move at lightening speed. It's strange to think that the year 2006 was only 10 years ago. I mean, reality TV (Flavor of Love anyone?) was still in its prime, MySpace was still a top social media platform, and Motorola was the hot phone brand everyone had to have. Boy, have things dramatically changed since then.
The year 2006 is especially weird for me to think back on. I was one year away from graduating high school, which meant eagerly filling out college applications, and getting ready to kiss high school the hell goodbye. But, it also meant taking that dreadful senior portrait, a photo everyone seems to regret years later. And, of course, I was no exception, as the photo still serves as a reminder of all the cringe-worthy beauty choices I made back then.
I still can't quite understand what made me enjoy such a massive amount of eyeliner and brown lipstick I wore back then. But to indulge in the memories (or nightmares, if you will) of my now 10-year-old high school photo, I decided to recreate the look that forever haunts me. So, grabbing all the eyeliner pencils and brown lipsticks I could find, here's how the whole thing looks a decade later.
The Evidence
Umm... yeah. Let me explain. Back in 2006, I really wasn't into beauty trends like I am now. Of course, I still had an Allure subscription, wore Estee Lauder's Beyond Paradise perfume, and raided my local CVS for any makeup steals I could find. But still, I was pretty inventive when it came to makeup application. I mean, this was the mid to late '00s, where everyone used tanning beds, wore Lancome Juicy Tubes, and had over-plucked eyebrows. But of course, there was me, who managed to look like a first edition Posh Spice doll, even though the whole '90s thing was over and done with.
Breaking down the look itself, it's safe to say I went a bit overboard. Aside from caking on too much foundation and concealer, I wore brown lipstick, even though it hadn't been a thing since 1995. Plus, the amount of eyeliner I wore seriously made me look like a raccoon. I couldn't wait to put it all on my face again.
The Products
An unexpected challenge of recreating my look from 2006 was that makeup has gotten way better in the past 10 years. Gone are the heavy foundations, chalky bronzer, and sticky glosses, as illuminating foundations (hello, strobing!) and matte lipsticks have definitely taken over. But, even with better products now on the market, recreating my routine wouldn't be particularly hard, since my overall nude, black, and brown palette could easily be found in lots of modern products.
Starting with the face, I definitely would need something full-coverage. Tinted moisturizers didn't do it for me back in 2006, as I always had to be as airbrushed as my favorite soap stars on One Life To Live. To get that imperfection-free face, I decided to use the Laura Mercier Candleglow Soft Luminous Foundation ($48) and Dermelect Redness Rehab Conceal + Correct ($38), as concealer and foundation were always stashed somewhere inside my backpack.
To get the dark and dramatic eye of my youth, I definitely would need some liner and mascara to help me out. I reached for the Touch In Sol Style Neon Super Proof Gel Liner ($16) and the Maybelline New York Lash Sensational Luscious Waterproof Mascara ($6.59), as both products are sultry and dramatic enough for that teenage eye I was totally going for. To give my eyes even more definition, I usually used some dark shadow to help fill in any cracks from my liner. The NYC New York Color Lovatics By Demi Eye Shadow Kit ($5) was the perfect fit.
Finally, I definitely needed some brown lipstick to complete my senior portrait face. Unfortunately, the metallic brown lipstick I got in a Christmas makeup set from Lord & Taylor is no longer in stock. But thankfully, Kylie Jenner has made brown lips a hit again, so it wouldn't be too hard to nab a color similar to the one I once used. Grabbing Winky Lux Meow Matte Lip Velour ($14), I was ready to time travel back 10 years, and recreate this clearly questionable look.
The Hair
As you probably tell, I am not a natural blonde by any means. But I wasn't allowed to dye my hair back in 2006, so I always tried to keep my hair somewhat trendy with cuts instead.
Now, I'm pretty sure my shoulder-length hair was somewhat inspired by Jessica Simpson's 2006 VMA hairstyle, since we all were obsessed with Jessica back then. Luckily, 10 years later, my hair eerily is the same length it was back then, so to get the same look in 2016, I would just blow dry and style to get a similar finish.
Of course that wasn't challenging, especially since styling my hair to The Killers' Hot Fuss, proved to be a nostalgic experience. Sure, the album came out in 2004, but I was still listening to it over and over again (got the scratches to prove it) in 2006. I'm proud to report that I still know all the words to "Mr. Brightside."
The Makeup
Since the hair was so easy, I was most excited about recreating my makeup. To start, I put both my foundation and concealer on my face, and began blending away with my fingers. I didn't have the fabulous brushes and blending tools I have now into adulthood, so you can only imagine the stains on my jeans and tops. I didn't have access to a mattifying face compact back then either, so indulging in an old 2006 hack, I grabbed a blush brush and dusted some baby powder (yes, baby powder) on my face, to keep the oiliness and shine down.
Before I learned how to properly apply on a cat-eye, I would line both my upper lid and my waterline with some heavy black liner. Of course this made me look like a Hot Topic queen of the mall, but I didn't really care back then. And I was certain this was the look I was going to wear for the rest of my life.
Once it came to applying on my eye-makeup today, I was trying not to scream. Not only did my heavy liner and shadow make me look like a post-hangover boozer, but too many products all together took up a lot of time to apply. In comparison, my modern look usually takes 10 minutes or less.
Finally, it was time for some brown lipstick. Back then I really liked frosted or metallic variants of any brown shade, but being that 2016 is more about a matte look, this was something I was glad to get away from. Now my modern WinkyLux color wasn't as dark as my high school shade of choice, but it still gave me that brown tone I was looking for. Plus, just one swipe really helped the overall look pop.
Altogether my face definitely looked the way it did in 2006, but I'll be the first to admit that I am still not a fan of the look today. I felt that my face looked a little flat, since I had to skip out on the blushes and highlighters I normally use. And although I still wear heavy makeup in 2016, I've definitely toned it down a notch from the crazy amount of makeup I used 10 years ago.
Would I Wear This Again?
Reviving a makeup look from a decade ago definitely was an interesting task. It really did bring back waves of nostalgia from a time I long since forgot. But while indulging in old memories was heartwarming overall, I'll admit that this is one beauty look I'd never dare to wear again.
Not only did I find it very unflattering and heavy on my face, but it took up more time than that of my normal routine. Thankfully we live in age with better makeup, as the new fleet of tools and products weren't anywhere as dreadful as the ones I used to use. But, still the look speaks for itself. I mean, taking it all off required two squeezable packs of coconut oil.
However, would I try this experiment again in the next 10 years? Absolutely.
Images: Courtney Leiva (6); Giphy (1)