Urban Decay' Is Revamping Its Lipstick Line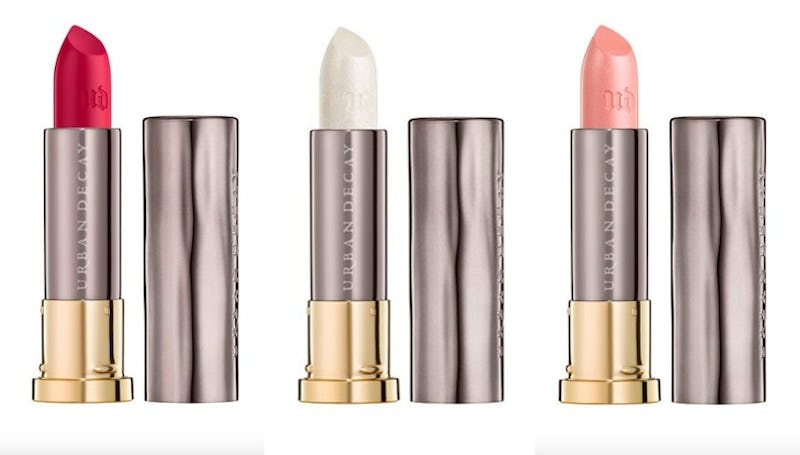 You probably have already seen that Urban Decay's lipsticks are on sale pretty much everywhere, and now it's clear why. The company is wiping out its entire lipstick collection and replacing each and every shade with an entirely new line. That's right, Urban Decay is launching Vice lipsticks, which will change not only the look but the feel of your favorite existing shades as well. This brand's lipsticks are about to get the big makeover, just in time for summer.
I'd have to agree with Refinery29's Meg McIntyre when she says that the makeup company has totally lost it. It's out with the old and in with the, err, old actually. If you're a diehard fan of Urban Decay, then the packaging will look pretty familiar to you. It's actually a throwback to one of the brand's first ever designs, according to Refinery29.
What won't be a throwback is the new formula. The line will have six different finishes — Mega Matte, Comfort Matte, Cream, Metallized, Sheer, and Sheer Shimmer — and a new blend of vitamins C & E, aloe vera, and avocado, Refinery 29 reports. You don't have to wait much longer to get your hands on this range either. A rep from Urban Decay confirmed to Bustle that every single one of the Vice lipsticks will be available on the brand's website starting June 5. So mark your calendars, beauty lovers!
Brace yourselves for some more exciting info, because these lovely little lipsticks are only $17 each, compared to the usual $22 price of Urban Decay's current lipstick offerings. While buying the entire 100-shade collection probably isn't an option, you'll still save five whole dollars on each individual product. That's a pretty great deal, if you ask me.
The Vice Collection will be available wherever Urban Decay products are currently sold.
I don't know about you, but the anticipation is killing me!
Images: Courtesy Urban Decay