Where To Buy A Cheap Prom Corsage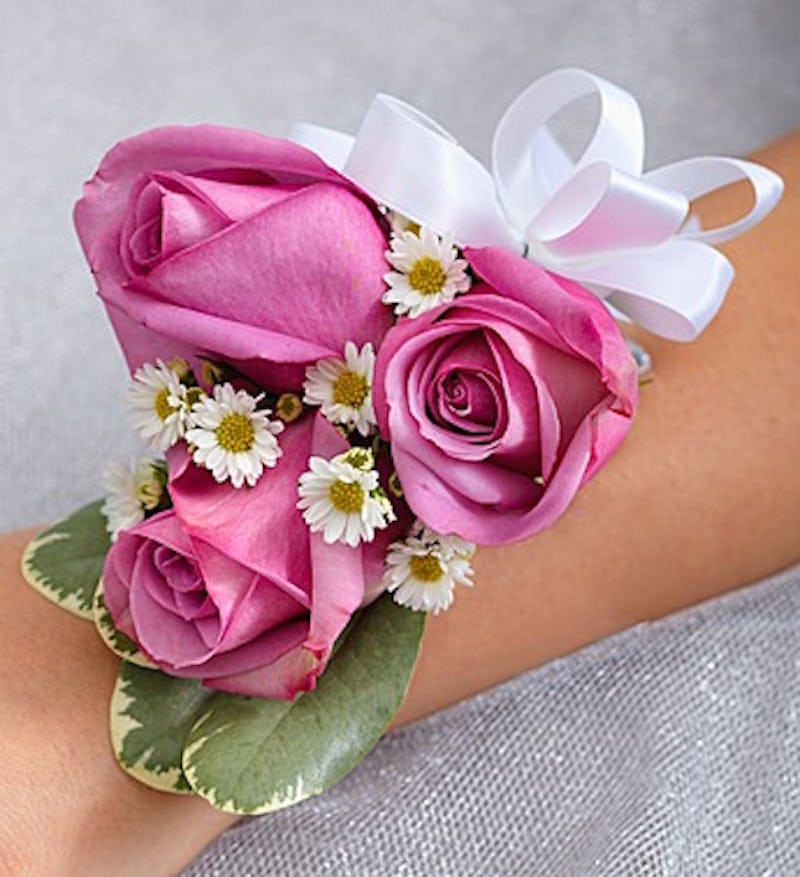 Newsflash: For growing naturally in the ground (thanks mama earth!), flowers are freaking expensive. Fortunately, I've scouted out where to buy a cheap prom corsage so you can rock some floral bliss on your special night without breaking the bank. Every corsage below clocks in under $50!
Of course, if you have enough time and are feeling crafty, one of the easiest ways to cut costs on a prom corsage is making your own. Flower Moxie made an epic YouTube tutorial for how to create the perfect DIY wrist corsage with a slap bracelet, a plastic adapter (brilliant), a few small zip ties, and a satin ribbon.
As for what flowers to use, Flower Moxie recommends "spray roses, ranunculus, button mums, and carnations ... as well as many types of greenery!" Additionally, 1-800-FLOWERS.com expert Julie Mulligan provided a few tips on flower pairing, telling me "Roses + Berzelia Berries + Waxflower" work to create a bright boho look, while "Hydrangea Clusters + Rice flower + Monte Casino" come together for a soft, romantic vibe.
But if you know for sure that there is no way in hell you're going to try to make your own prom corsage, I totally understand! Scroll on for great budget-friendly-ish corsage picks.
Purple Elegance Corsage, $25, 1800Flowers
Loving the burst of spring feels happening here.
Succulent Corsage Bracelet, $15, Etsy
How minimalist stunner is this?!
Dark Blue Corsage, $32, Etsy
This edgy punk-vibe corsage comes with a matching bouttoniere.
Beloved Blooms Corsage, $20, Teleflora
Pretty and pink just reached a whole new level.
Want more fashion and beauty tips? Check out the video below and subscribe to Bustle on YouTube!
Sheet Music Flower Corsage, $15, Etsy
For all the band members out there!
6. Purple Promise Wristlet
Purple Promise Wristlet, $38, Teleflora
A bit of a splurge, but well worth it.
Succulent Wildflower Corsage, $27, Etsy
I can't even get over this forest feels perfection.
Yellow And Aqua Wrist Corsage, $18, Etsy
Bright, fun, and quirky!
Mint Succulent Bracelet, $45, Etsy
This is actually clay, so it lasts FOREVER.
Images: Courtesy of Brands