11 Beauty Products You Need After A Long Night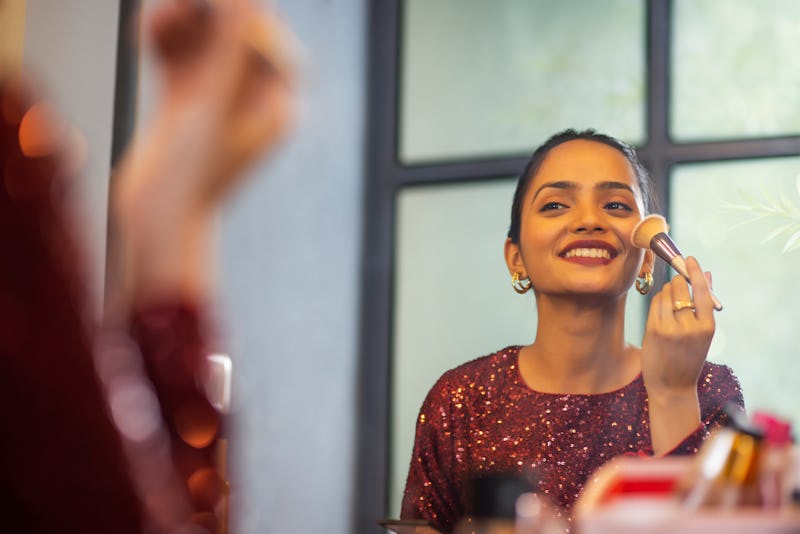 IndiaPix/IndiaPicture/IndiaPicture/Getty Images
No matter how hard we try, sometimes getting the sleep we want (and deserve!) isn't always possible. (And isn't it always those nights when you try to log as many hours as possible that you end up lying awake half the night?) But thankfully there are plenty of makeup products to help you look well-rested even when you're totally not. Because if you stayed up way too late binging some Netflix, it's still nice to look like you got a blissful eight hours of sleep even when you only had a measly four.
Sure, there are other little tricks to help you look and even feel refreshed after a sleepless night. Try splashing a little cold water on your face to quickly reduce any puffiness, bring a glow to your cheeks, and actually wake yourself up a little in the process. Also, be sure to stay hydrated so your skin appears plump and bright. Of course, if you're not really one for cold water in the face first thing in the morning, there are other solutions right in your makeup bag. Here are 11 makeup products that will quickly and easily help you look like you had the best night's sleep even if you didn't.
Laura Mercier Foundation Primer in Radiance, $38, Laura Mercier
If you're lacking that lit-from-within glow, fake it with an illuminating primer. Wear it alone or mix it in with a sheer-coverage foundation to avoid makeup that appears too flat or heavy.
Reveal Concentrated Color Correcting Drops in Pink, $38, Algenist
If you have certain areas that are looking particularly sallow or dull, target them with a brightening color corrector for a more refreshed look. Try blending a pink or lavender corrector over high points of the face such as the forehead, cheeks, chin, and nose before applying your foundation.
MAC Prep + Prime Highlighter in Radiant Rose, $27, Mac Cosmetics
If your under-eyes like to divulge when you haven't had enough sleep, try using a salmon or pink-toned concealer. Draw and fill in upside-down triangles under your eyes (and don't forget to apply some on your lids as well) before blending it in with your ring finger or a damp makeup sponge. If you're prone to creasing, make sure to set your concealer with a translucent or brightening powder. Your skin will look instantly lifted.
Shiseido The Makeup Eyelash Curler, $20, Nordstrom
One of the easiest things you can do to look more wide awake is to curl your lashes. Start at the base and pump your way up to the tips of your lashes for the most even curl.
Larger Than Life Long-Wear Eyeliner in Rue Bonaparte, $26, Nars Cosmetics
Another way to make your eyes look brighter is to use a white or nude eye pencil in the waterline. This helps create the illusion that your eyes are bigger.
24/7 Glide-On Eye Pencil in Sabbath, $20, Urban Decay
If your eyes are still a little red and sleepy, use a navy or blue eyeliner to tightline. By running some liner in one of these shades along your upper waterline, not only will it add some definition to your lash line, but it will also help cancel out any redness to make your eyes appear whiter and brighter.
7. Pink Cream Blush
Sonia Kashuk Creme Blush in Petal, $10, Target
Just a pinch of bright pink blush on the apples of your cheeks will add that flush of vitality that says you totally had your beauty sleep last night. Try blending a cream formula with your fingers or a stippling brush for the most natural look.
Stila Eyeshadow in Kitten, $18, Macys
Another easy way to brighten and open up the eyes is to slap on a little champagne shadow, as the lighter, shimmery color will help reflect light. Just pat a layer on the lids using a finger or shader brush and gently buff up into the crease using a blending brush. You can also dab a little on the inner corners for even more highlight.
Instant Light Natural Lip Perfector in Candy Shimmer, $26, Clarins
A swipe of reflective, pink gloss will help add a little color back into your lips while also making them appear plumper. Both are signs of a restorative night and good health.
Diorshow Iconic Overcurl in Over Black, $30, Dior
Using a t rue-black mascara twill help add contrast to your lash line to make your eyes look even whiter and brighter. Try a curling formula to further help your eyes appear bigger and more awake.
Hourglass Ambient Lighting Powder in Luminous Light, $46, Nordstrom
A totally matte complexion or heavy makeup won't help you appear more well-rested if you're feeling tired. Instead, try a light dusting of a finishing powder that will give your skin that little something extra so it looks healthy and bright.
Nobody will ever know you only clocked, like, two hours of sleep last night.
Images: IndiaPix/IndiaPicture/IndiaPicture/Getty Images; Courtesy of Brands