14 Perfect Margarita Recipes For Cinco De Mayo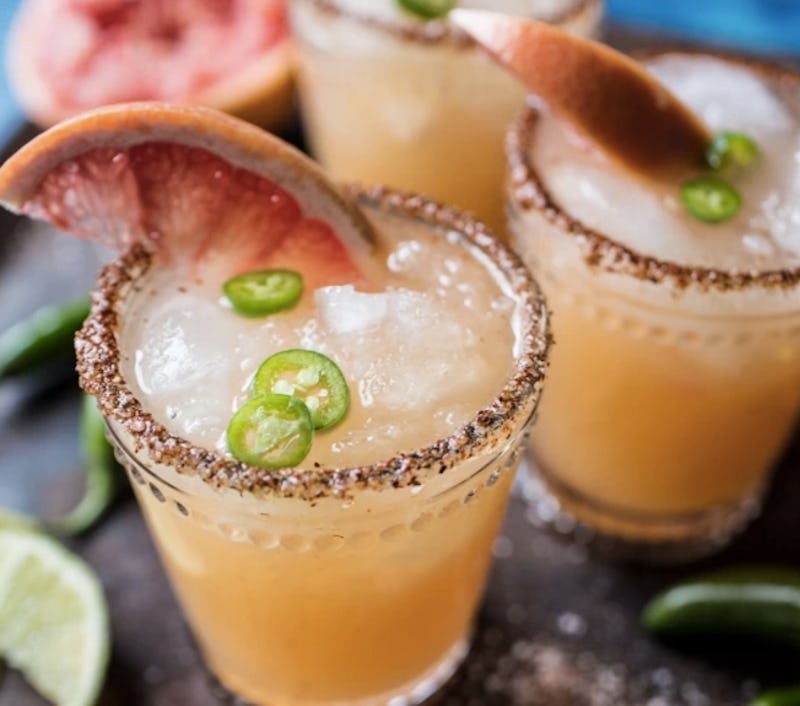 It's all about Cinco de Mayo up in my house. Being a taco fiend and a downright Mexican food aficionado is one thing, but the best part of Cinco de Mayo is pushing the envelope with some insane Cinco de Mayo margarita recipes.
I love my Mexican food, but no matter how much I eat, I'm never truly satisfied unless I have a smooth margarita nearby to sip right alongside my feast. I used to always go with the classic top shelf margarita with no salt, extra limes, and a double shot of tequila, but after years of the same thing, you just get a little burnt out. You know what I mean, right? There are only so many times you can eat or drink the same thing before you start to get over it.
Instead of pulling out that ho-hum margarita recipe that you've been using for the past decade, get your foodie act together and up your Cinco de Mayo game. These insane margarita recipes are ripe with inspiration and will seriously wow the crap out of anyone you serve them to. From sweet to spicy, creamy to salty, you'll find the best of the best margarita recipes right here in this roundup. Get ready to party, people.
1. Spicy Watermelon Margaritas
Summer and watermelon go hand in hand, but Cookie + Kate kicks it up a notch by adding some serious spice to this margarita recipe. You'll be refreshed and your mouth will be stinging with every cool sip.
2. Strawberry Bottomed Pineapple Margaritas
It's like an enhanced pineapple upside down cake, except with strawberry, tequila, and a pineapple simple syrup that only How Sweet It Is could make look sexy; because Cinco de Mayo equals all the tequila and fruit.
3. Spicy Rosemary Rhubarb Margarita
I've been really into adding savory herbs to my cocktails recently, and this rosemary rhubarb combination from Adventures in Cooking hits my sweet spot just right. It will pair perfectly with the taco bar feast you have (or should have) planned for Cinco de Mayo.
4. Orange Blossom Margarita
If you're looking to get a little classy with your margarita, may I suggest this elegant orange blossom recipe from Tori Avey? This ain't your ordinary margarita, that's for sure.
5. Kiwi Margaritas
Kiwi in a margarita; it's so wrong it sounds right. How Sweet It Is nails this margarita recipe, highlighting, in my opinion, one of the most underrated fruits out there.
6. Spiced Apple Margaritas
I know apples are supposed to be a more fall fruit, but have you ever had a crisp, cold apple on a hot summer's day? It's pure heaven, just like these spiced apple margaritas from Cookie + Kate. It's the ultimate refreshment that no one will see coming for Cinco de Mayo.
7. Spicy Grapefruit Margarita
I am a girl that says bring on the heat, and this refreshing spicy citrus twist on the margarita from Half Baked Harvest has my mouth watering already. It would be the perfect accompaniment to some freshly grilled fish tacos, I'm just saying.
8. Strawberry Sriracha Margarita
OK, I was a little skeptical about adding Sriracha to anything other than food, but Domestic Fits has me changing my mind with this insane margarita recipe. Seriously, you make anything spicy and I'm doomed.
9. Mango Jalapeno Margaritas
One of my favorite salsa combinations is a mango jalapeno salsa, so How Sweet It Is putting that combination into a margarita is basically a dream come true. Sweet, spicy, and anything but ordinary.
10. Roasted Blueberry Basil Margaritas
I am literally running to the store to grab some blueberries and basil the moment I finish this, because this margarita from How Sweet It Is sounds too good not to try tomorrow for Cinco de Mayo. The roasted blueberries are what put it over the top for me. Seriously, so genius.
11. Spicy-Cool Blood Orange-Jalapeno Margaritas
Fresh citrus and spicy jalapeno pair perfectly in this margarita recipe from The Kitchn. You'll be craving Mexican food right after the first sip, so have the enchiladas ready.
12. Coconut Creamsicle Margaritas
If you want something creamy and cool to provide relief for whatever spicy dish you're planning on making for dinner, this coconut creamsicle margarita from How Sweet It Is is the one to go with. That creaminess will tone down all the spice.
13. Spicy Roasted Shishito Pepper Margarita
Instead of heading for jalapenos and habaneros, give your margaritas an extra layer of flavor with roasted shishito peppers from The Kitchn. The extra spice and smoky flavor will blow minds.
14. Salted Watermelon Margarita Popsicles
Booze, dessert, and watermelon, all in one recipe from How Sweet It Is. Enough said.
Bottoms up!
Images: Cookie + Kate; How Sweet It Is; Half Baked Harvest; Adventures in Cooking; Tori Avey; How Sweet It Is; Cookie + Kate; Half Baked Harvest; Domestic Fits; How Sweet It Is; How Sweet It Is; The Kitchn; How Sweet It Is; The Kitchn; How Sweet It Is