15 Vegan Tacos To Properly Celebrate Cinco De Mayo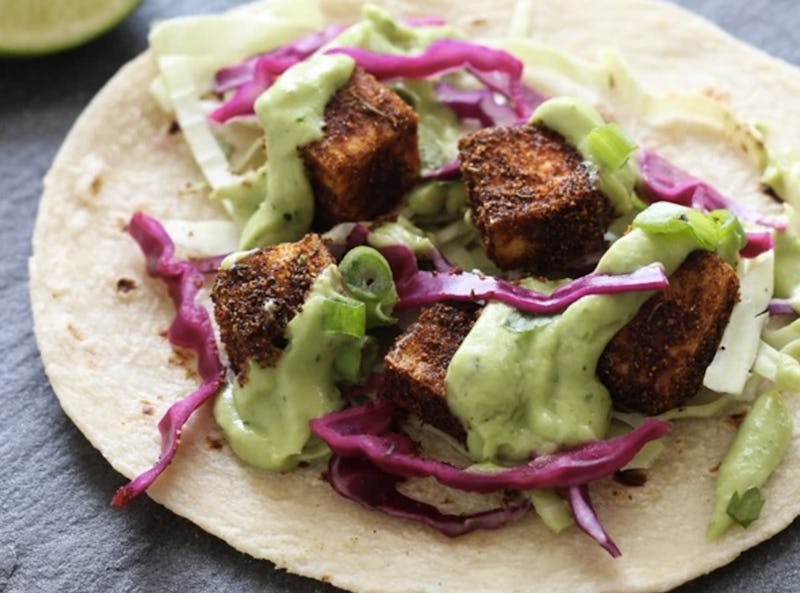 Are you a vegan feeling like you can't properly celebrate Cinco de Mayo? This is where I come in, because I've rounded up the best vegan Cinco De Mayo taco recipes out there for you to properly celebrate with. No one should feel left out on such an important holiday (read: excuse to load up on the Mexican food).
Yes, everyone knows the traditional taco. It's filled with meat and cheese, and piled high with sour cream and all the toppings we know and love. What about the non-dairy, non-meat eating folks out there? Just because you choose to be vegan doesn't mean you should miss out on a holiday that is normally covered in cheese and slathered with extra guacamole.
Thank goodness for endless food blogs dedicated to every different dietary need out there, am I right? This Cinco de Mayo you can fly that vegan flag high because you'll have a plethora of incredible, finger-licking good vegan taco recipes to choose from. These recipes are so good, I bet you'll have your meat-eating friends coming over to your side for vegan tacos after they take one look at their drab, boring tortillas. Get ready to stuff your faces, vegan friends. After you read through this list, your mouth will be watering.
1. Veggie Tacos with Avocado-Tomatillo Sauce
These veggie tacos from Love & Lemons are easily made vegan by skipping the light sprinkle of cheese on top. Just be sure to make extra avocado-tomatillo sauce, because that stuff will go fast.
2. Ultimate Green Taco Wraps with Lentil-Walnut Taco Meat
You can stay vegan with these green taco wraps from Oh She Glows. The lentil-walnut meat will give you just the right amount of texture you'll be craving from that missing crispy taco shell.
3. Quinoa Black Bean Tacos with Creamy Avocado Sauce
Sub out that ground beef filling for this quinoa black bean vegan option from Cookie + Kate. You'll get all the fiber, and these bad boys are ready in less than 30 minutes. Talk about a Cinco de Mayo weeknight miracle.
4. Portobello Tacos with Vegan Jalapeno Sauce
I love the meatiness of a good Portobello, but this vegan jalapeno sauce from Love & Lemons really puts these vegan tacos over the top. It'll become your new favorite condiment for everything.
5. Ultra-Easy Vegan Taco Salad
Ditch the traditional tacos and opt for a taco salad instead. A bowlful of this deliciousness from Healthful Pursuit with a margarita is the ideal way to celebrate Cinco de Mayo.
6. Vegan Lentil Cauliflower Tacos
No one will miss the meat with these tacos from Tori Avey. They are hopped up on insane amounts of flavor from all the spices you mix the lentil and cauliflower with.
7. Kale and Black Bean Tacos with Chimichurri
Chimichurri is the miracle sauce for vegans around the world, whether it's on crispy tofu or on these kale and black bean tacos from The Kitchn. All those bold flavors will have you reaching for an extra sip of that refreshing tequila blanco.
8. Roasted Butternut Squash Tacos
If you don't already love butternut squash, you will after one bite of these extremely vibrant tacos from Cookie + Kate. All that color popping off the plate really lets you eat with your eyes first, before you shovel it all in your face the moment it hits the plate.
9. Crispy Blackened Tofu Tacos with Avocado-Lime Crema
Crispy tofu is the best vegan taco filler in my opinion. Making Thyme for Health blackens the tofu for extra bold flavor, which all gets cooled off with that dreamy, creamy avocado-lime crema. Swooning over here.
10. Healthy Beefy Tacos
Keep these "beefy" tacos from Averie Sunshine (don't worry, it's not actual beef being used here of course) vegan by using vegan sour cream and vegan cheese for the toppings. The real trick will be pretending like it's beef when you're serving your non-vegan friends.
11. Healthy Loaded Vegan Nachos
Sometimes only nachos can give you the taco fix you're looking for on Cinco de Mayo. Love & Lemons has a loaded vegan version that's not only healthy, but full of different textures and flavors, just like any non-vegan nacho plate would have.
12. Naked Vegan Tacos with Corn Relish and Cilantro-Lime Slaw
Being naked on Cinco de Mayo just became a whole lot more acceptable. These naked tacos from Willow Bird Baking are a clever way to create a quick, healthy meal. Cinco de Mayo is on a weeknight this year, after all.
13. Sweet Corn & Black Bean Tacos
A little sweet corn gives you an extra burst of flavor in these tacos from Cookie + Kate. To make vegan, just skip the feta crumbles and substitute in some pickled jalapenos for that extra tang.
14. Roasted Vegetable and Black Bean Tacos
These roasted vegetable tacos from Prevention RD are packed with vegetables; perfect for all the summer produce you've started stockpiling.
15. Mango Habanero Black Bean Tacos
The addition of mango and habanero is a spicy sweet lover's dreams come true. The bright hit of fruit plus the lingering spice from the peppers make these tacos from Love & Lemons a true standout for my Cinco de Mayo menu.
Grab a margarita and get cooking!
Images: Love & Lemons; Oh She Glows; Cookie + Kate; Love & Lemons; Healthful Pursuit; Tori Avey; The Kitchn; Cookie + Kate; Making Thyme for Health; Averie Sunshine; Love & Lemons; Willow Bird Baking; Cookie + Kate; Prevention RD; Love & Lemons