I Followed Dita Von Teese's Beauty Advice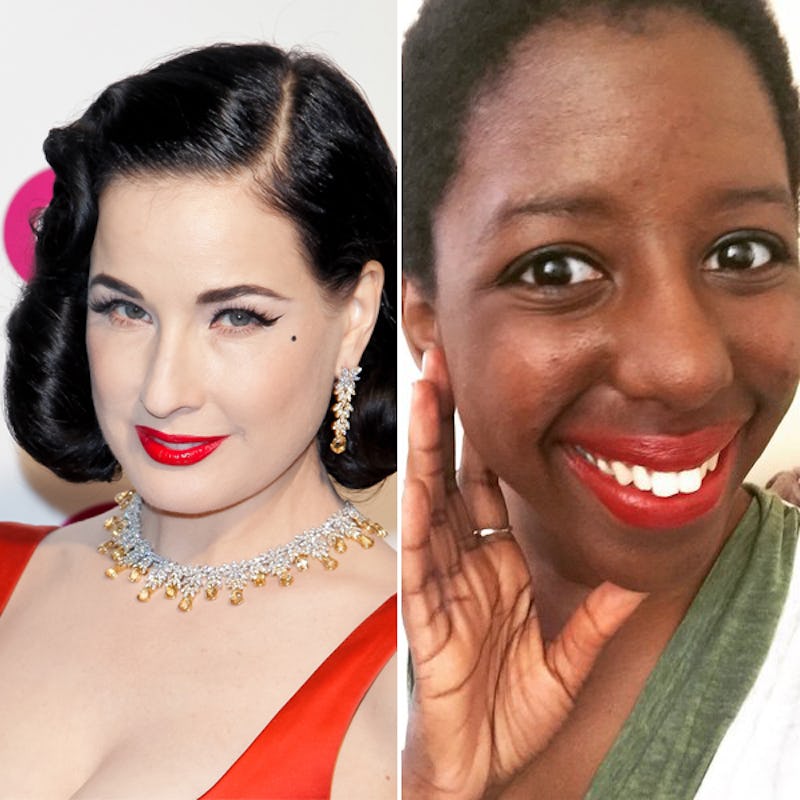 I started wearing makeup regularly a few months ago, right after my 20th birthday. I stopped chemically relaxing my black hair and started growing my curly, natural African 'fro, and started to embrace my beauty and femininity in revolutionary ways all thanks to one woman: Dita Von Teese.
In December 2015, the beauty guru, burlesque dancer and feminist icon released a beauty and style book called Your Beauty Mark . I pre-ordered the 400 page book, since Ms. Von Teese has always been an inspiration and comfort to me. I was excited to see what she had to teach me personally.
In her beauty bible, she addresses the question of whether or not her signature vintage-y look can really translate onto a face of color. She replied with a resounding yes, saying cat eyes and red lips look beautiful on every ethnicity and that she can't think of anyone who doesn't look good in red.
After I devoured every page of detailed makeup and grooming tips, I wanted to find out what it was like to live the Dita lifestyle — for seven days at least. A week of red lipstick, luxurious bubble baths and lace underthings sounded pretty darn good to me.
This is what happened when I fully committed to living life the Dita Von Teese way for an entire week.
Day One: "When You're Feeling Blue, Wear Red."
Von Teese's most iconic feature besides her jet black hair, (which she dyes herself from her natural blonde), and pale skin is her ruby red lips. And the quote above from American designer Pauline Trigere sums up the mood-boosting qualities rocking crimson can have.
Von Teese swears by lip liner, a product I'd never used previously, so that's where I began. She recommended that lip liner beginners start slow by tracing the outline of your natural lip with either a nude color or red liner. I decided to go with Colourpop's Rooch Lip Pencil, a darker red to complement my skin tone that would help me see the line better. I smudged the lip liner the first time and had to restart, but the second time was much steadier. Dita was right, it really did help me get a more defined look!
After watching a video detailing Dita's 3 Favorite Red Lipsticks, I decided to get one of her recommendations, Maybelline Colorsensational Lipcolor in Red Revival. Its bright color saturation and affordable price had me sold.
Maybelline ColorSensational Lipcolor in Red Revival, $6, Amazon
After applying the lipstick, which felt just like coloring inside the lines as a kid — so fun — I had my final look! #Fierce.
I reapplied the lipstick twice during the day to keep it super vibrant. As Von Teese instructed, I removed the layer I had on completely and started with a fresh coat each time. Though this method was a bit time consuming, I was able to avoid the cakey look lipstick gets when you just keep layering it on.
Overall, I found that red lipstick does improve your day. I felt powerful and ready to take on whatever life threw my way. I got compliments from baristas, friends, and even one random woman on the subway. It made me feel like a million bucks. The only downside was how much red lipstick tends to get on everything. I'd only worn it previously to parties or formal events, so wearing it all day did leave lip prints on cups of coffee, pastries, and my boyfriend's cheek (that one may have been on purpose). But that's also part of the charm to red lipstick: You leave your beauty mark everywhere you go.
Day Two: Make Every Bath A Beauty Bath
After a long day of college classes and work I decided to follow Von Teese's advice and take a luxurious bath. The first step was to remove my makeup — Von Teese stresses the importance of doing this every night, no matter how crazy your day was — for which I used Pacifica's Coconut Water Cleansing Wipes.
Pacifica Cleansing Wipes, $6, Ulta
Von Teese also talks extensively about protecting one's skin and exfoliating and nourishing it twice a day, so I applied Lush Cosmetics' Love Lettuce Face Mask. The exfoliating almond mask is known to open up clogged pores, remove debris and dead skin using French lavender oil, seaweed, and honey.
I really enjoyed putting aside time to show a little love to my skin, especially since I've been breaking out a bit this past week. The mask helped bring out a lot of blackheads that were hidden deep in my skin and was able to remove the dirt and debris from my face.
For the actual bath I decided to go with Lush Cosmetics' best seller, Sex Bomb, due to its bright pink aesthetic and snazzy name, both of which felt very Dita. With its soothing sage, ylang ylang and soya milk, this bomb was the bomb. The sweet smell of lavender in the bathroom was a great aroma to sit and relax in as well.
Sitting in my bright pink bathtub was a dream. At first I put the water way too hot and had to cool it down, but once I found the perfect temperature I felt amazing. Von Teese says the best temperature for a bath is between 90-102 degrees Fahrenheit.
I felt like a mermaid floating in the water, I haven't taken a bath since I was a little kid. The only downside was that Sex Bomb doesn't make bubbles, but the silky milk left my skin feeling warm and smooth. Following Von Teese's advice I put candles in the bathroom and put on some quiet music to set a relaxing mood. I used an exfoliating loofah to clean and put a medium size damp towel around my neck to get comfy.
I figured out it's easier to shave in a tub, so I did that too. After the bath, I slipped into a robe and a pair of comfy slippers before moisturizing my face and hands with unscented lotion.
What an exciting day and relaxing night it's been! I learned that some of life's most enjoyable pleasures are reminiscent of childhood, whether it be coloring in the lines of your lip or soaking in a warm bath. I couldn't wait for the rest of the experiment.
Day Three: A Vitamin A Day...
I started off my day with two Von Teese things I'd never tried previously: a 12 oz glass of lemon water and a Puritan's Pride Vitamin B12 tablet. Let me tell you, I had the most energetic day of my life.
I hadn't gotten much sleep the night before due to studying for an upcoming test, but heading to class today I didn't feel groggy and unfocused at all. I was skeptical at first, thinking that lemon water could not be that much different than regular water. But according to Von Teese, it helps stimulate the senses and wakes you up naturally, while the lemon is high in Vitamin C, a natural diuretic that keeps you super hydrated. I also had a bowl of oatmeal with natural sweeteners like cinnamon, honey, banana slices and almond nuts — one of Von Teese's faves. It was scrumptious.
I've never taken vitamins before, but taking the B12 gave me a natural sense of energy, and kept me alert in all my classes. The lemon water was deliciously refreshing, and it was great to make time for breakfast this morning. Since I felt more productive and awake I was smiling more, talking to people more and overall more happy with my day. Starting my day on a good note helped the rest of the day be fantastic!
Day Four: Love the Skin You're In
After a long day, it was time for another Von Teese-approved skin care routine. I've been starting to break out this week because midterms have me stressed out.
In her book, Von Teese says she doesn't like to recommend specific beauty products because everyone's skin is different. What works for her likely won't work for everyone. I personally have combination skin, and break out the most around the dry areas on my cheeks.
Von Teese does, however, recommend specific routines that work regardless of the products you're using. I haven't really gotten into the habit of washing my face at night, but I'm sticking to it this week. Von Teese says to use circular motions and upward movements when you wash to get the blood flowing, get more skin elasticity, exfoliate dead skin cells, and nourish the face.
I took more time than I usually do scrubbing to really dig in deep. The circular motions really helped me go slowly and be more thorough. I splashed my face again with warm water and patted it dry. I used to rub it with a towel, but Von Teese taught me that can damage and irritate skin.
I moisturized immediately after with a non-greasy lotion, something that is not optional for premium skin care according to Von Teese. I'd heard good things about Lubriderm Advanced Therapy Lotion, so I grabbed a bottle of that earlier in the day. I absolutely loved the way it made my skin feel! It's rich with Vitamins B5 and E and lasts 24 hours, which makes it perfect for nourishing during a good night's sleep.
Lubiderm Advanced Therapy Lotion, $7, Walgreens
Dita loves green, black, and oolong tea, so I made myself a cup of Rishi's Jasmine Pearl Tea before bed. I am a tea fanatic who loves drinking the stuff at any time, and right before bed put me in a calm and happy place. After completing this nightly regimen I was ready for my beauty sleep — a recommended seven hours by Von Teese standards.
Day Five: Candy Apple Princess
This weekend was Mother's Day, so I had to take the Amtrak train back home to St. Louis to celebrate. But that didn't stop me from having a Dita-friendly night!
One of Von Teese's greatest delights are her half-moon nails. They are typically painted red with a little half moon of bare nail or another color painted at the bottom of it, because she'd rather be caught red or dead. Von Teese loves a candy apple finish like that of a slick paint job or a vintage hot rod car, so I decided to mix that with my love of pink.
I followed these instructions to make my own half moon nails. I usually get my nails professionally done, but wanted to try this one out on my own. The supplies were cheap and easy to find. I used OPI's Got the Blues For Red and Sinful Colors' Soul Mate for the pink moon. I felt like a little candy apple princess by the end.
OPI Got the Blues For Red, $10, Amazon; Sinful Colors Soul Mate, $2, Jet
Going through the process slowly but surely on the shaky train was a welcome challenge. I loved seeing my nails burst with beautiful color as I created my little moon. The hint of bright color at the bottom of my nails is a little treat, and it was so enjoyable to create a new style for my nails.
Day Six: Contour Queen
I was super excited for day six because I would get to try highlighting and contouring for the first time! In her book, Von Teese talked about importance of accentuating and dramatizing one's features to get a more glamorous look.
I started off by finding different contour methods on Pinterest, and this one helped me the most. I have an oblong face so I highlighted and contoured with dark and light foundations after I applied a base.
I thought it would be a complicated process but it was just really fun. I loved finding the sharpest parts of my face and drawing over them; it felt so professional and I got to know my face type a lot more. I was worried about blending but even that turned out to be just fine.
I felt so lovely! I added Sephora's Water Lily Cheek Ink Gel and L'Oreal's Divine Wine Lipstick as a final touch and the result was gorgeous. I really liked using contouring to give my favorite features some extra love.
Sephora Cheek Ink Gel, $7, Sephora; L'Oreal Divine Wine Lipstick, $7, Amazon
Day Seven: Pilates Break
I woke up early on day seven to do a quick Pilates routine (Von Teese's fave) before starting the Mother's Day events with my sister. I hadn't done Pilates in about a year but I was ready to get back into it!
I started off with doing a 10 minute meditation exercise with the app, Headspace. It helped to clear my head, calm my nerves, and prepare me for the workout.
After that I did 15 minutes of stretching. Von Teese really emphasizes the importance of stretching in her book. She says to listen carefully to one's body and release any muscle tension or stiffness. I didn't realize how calming stretching can be, nor did I realize just how much tension and stress had built up in my body this past week.
My muscles were loose and I was ready to move on to the Pilates/yoga portion. Von Teese has been doing Pilates three to four times a week since 1999. I put some of the moves she illustrated in the book to good use, flowing from Cobra to Downward Facing Dog to Child's Pose.
Exercising in the morning was something I haven't done before, and it helped me feel limber, energized and ready for my day. It only took about 30 minutes to get through everything. I was a bit sleepy when I woke up but the extra surge of endorphins helped me have a great day with my family!
After finishing my Pilates routine, it was time to shower and try out my new perfume. Von Teese says that perfume is the veil of glamour that enhances a woman's beauty. Von Teese spends a whole chapter in the book on perfume, talking about its allure, primal nature, and the way it triggers memories and emotions for us.
Von Teese also talked about how our body odor and hormones change throughout our life, and so should our perfume. For the past two years I've been rocking Japanese Cherry Blossom, but I recruited my boyfriend to help pick a scent for me that he liked and thought I would not choose on my own.
He ended up getting Body Fantasies' Pink Vanilla Kiss Fantasy, and I actually really like the smell. The warm scent of vanilla had earthy, rich tones, different from the light florals I'm used to wearing. I totally understood why he would like it (My little Earth sign Taurus), and I really liked it too. I wore it all day today for Mother's Day and got compliments at church and brunch.
Day Eight: The Show Must Go On
For a final bonus day of my Dita Week, I decided to put everything I learned this week into one Von Teese extravaganza! I started the morning with some lemon water, blueberry breakfast biscuits, and a Vitamin B tablet. Then I did a 15 minute meditation exercise and some light stretching before class.
I also woke up early enough to contour and put on my red lipstick.
Yesterday I splurged at David's Tea and got a tea sampler and cute mug for my morning commute. I chose organic blueberry jam tea for day eight.
After class and work I decided to take a second bubble bath, this time using Lush's Intergalactic Bath Bomb. It made my skin feel silky smooth, and I loved feeling like an actual space mermaid staring into the glittery cosmos!
For the final part of the experiment, after a week of living like Dita, I wanted to explore my beauty mark. Von Teese is a burlesque performer, glamour queen, and innovator. Her performances are about conjuring a beautiful fantasy and exploring her individual version of sexy.
I did my makeup in delicate pinks and dark browns, some of my favorite colors. My lipstick is Colourpop x KathleenLights' Lumiere, a smooth and supple lipstick that stays on the whole day and keeps my lips hydrated.
Von Teese says that whether your stage is in the theater like her or in everyday life it's all about smoke, mirrors and desire. If you don't feel sexy or beautiful all the time, fake it until you start to believe it.
Dita Von Teese was born Heather Sweet and was able to transform herself into the person she is onstage and in real life now. She never strayed from her true beauty mark, and just added a bit more sparkle, hairspray and makeup to who she already was. That's what I've learned the most from this journey: The glamour and beauty lies within you. The lipstick, the bubble baths, the makeup, and the sparkle are just fun tools that help bring out your happiest, healthiest self.
For my final Dita purchase I decided to indulge myself on some lingerie (hey — it was on sale!). This Victoria's Secret Babydoll Dress is my favorite dusty pink color, plus it's lacy, delicate and sweet — just my style! It's what I feel comfortable in, and what makes me feel beautiful.
As fashion editor Diana Vreeland said, you don't have to be born beautiful to be wildly attractive. Dita Von Teese is an icon for believing her unique beauty to be wildly attractive, and recreating that mindset is possible. I did this Dita experiment for a week and already feel exponentially more beautifully me. I feel rested, energized, fresh faced, better skilled at makeup and more confident to try new things. Von Teese is a bona fide evangelist when it comes to beauty. She has the faith, and now I do too.
Images: Getty Images; Charlene Haparimwi