7 Underwear Hacks Every Woman Should Know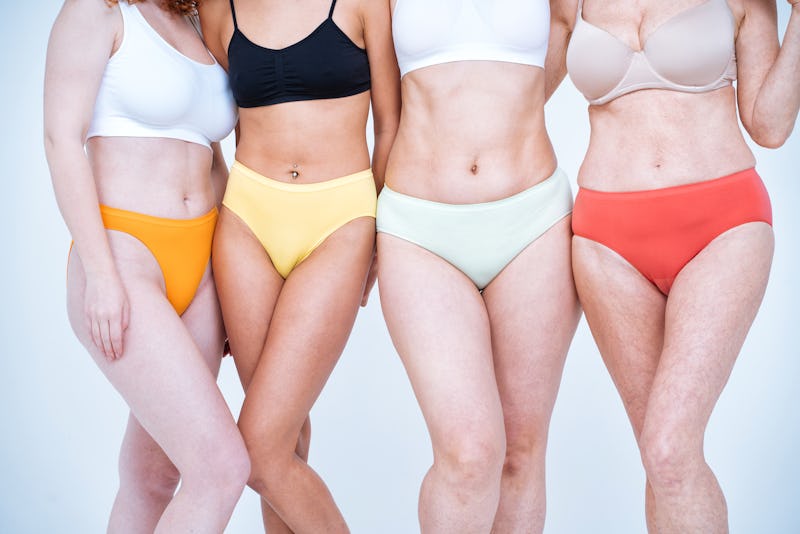 Fabio Formaggio / EyeEm/EyeEm/Getty Images
Although some form of undergarment is pretty much an essential in most individuals' daily lives, it can be surprisingly difficult to figure out the underwear tips and hacks that can make these intimate essentials work for you. No matter what your body shape or size, chances are you've had some trouble at one time or another finding the perfect undergarments for your unique needs and preferences.
As someone with a large bust, I've spent many a frustrated hour in lingerie store dressing rooms trying to find the right cup size and level of support. Maybe you're endlessly searching for a pair of non-thong panties that won't leave lines under clothes, or a strapless bra that won't slip, even after hours of dancing. Luckily, there is help for everyday underwear conundrums like these.
I contacted lingerie guru Summer Orona at lingerie destination Curvy Couture via email to get an expert's opinion on common underwear mistakes to avoid, and advice on solving prevalent lingerie issues. She shared with me her best tips and advice for finding the right kind of underwear for your body and needs, while backing up some of my own go-to solutions. Read on to discover seven helpful hacks that every woman and bra-wearer should know to make lingerie work for them, courtesy of a professional undergarment wrangler.
1. Support Your Bust With A Fitted Band
Primadonna Madison Full-Cup Bra, Sizes 32D - 46H, $126, Brayola
When it comes to getting support from your bra, look to the band to do most of the heavy lifting. Orona says, "The weight of your bust should be supported mainly by the band. Test it! When trying on a bra, try slipping the straps off your shoulders (the cups should stay in place)."
This spares your shoulders from the ache of supporting your bust via bra straps. So, if you've been wearing a loose or saggy band, try sizing down to give yourself the lift you need, and give your back a break. Need a quick way to tell if your band is too loose? If it rides up in the back, you probably need a smaller size.
2. Strapless Styles Should Fit More Snugly
Strapless Sensation Multi-Way Push-Up, Sizes 34C - 42H, $65, Curvy Couture
Oh, strapless bras — so useful for bare-shouldered dressing, so difficult to get right. Who hasn't suffered the frustration of a strapless bra that just won't stay put?
According to Orona, the trick is to make sure that your strapless fits quite snugly, and doesn't hurt to wear under an equally fitted top in order to help keep it up where it belongs. This strapless wonder from Curvy Couture has hidden silicone for extra grip, and interior boning for lasting structure and shape. In my own personal experience, finding a strapless bra with a longline shape is also helpful, especially for larger bust sizes.
3. Give Your Shoulders A Break With Different Strap Styles
Maidenform One Fab Fit Extra Coverage Lace T-Back Bra, $21, Amazon
If you have a large bust, you might wear supportive bra styles and be fastidious about selecting the correct band size, but still feel fatigue in your shoulders at the end of the day. I know I've been there.
One solution to this issue is to switch up the part of your shoulders and back that are providing lift to your chest with different strap configurations. Racerback, criss-cross, or even longline/strapless styles can give overworked muscles a break by shifting the weight of your breasts to other, less-overworked areas.
Try a few different designs to find out which ones work best for you, and switch up your straps when you need a little quick relief.
For more helpful tips and tricks, check out this playlist, and be sure to subscribe to Bustle's YouTube page for more inspo!
4. Play Up Your Cleavage With Criss-Cross Straps
Purple Passion Plunging Balconette, Sizes 34C - 42H, $69, Curvy Couture
Need a little extra va-va-voom for a sexy date night or a pinup-inspired look? Criss-cross straps will subtly shift the support structure of your bra to enhance cleavage. You can also try more traditional push-up bra styles like the Foxy Lace Balconette — one of Curvy Couture's most popular styles.
While you should never feel pressured to achieve a certain idealized "feminine" body shape, if you love a retro-inspired hourglass silhouette, or just enjoy mixing up your looks and playing with different styles, these options can help you experiment.
5. Buy Bras That Fit On The Loosest Adjustment
Elomi Amelia Spacer T-Shirt Bra, Sizes 34G - 46FF, Brayola
When you're shopping for a new bra, little details can make all the difference. Since the elastic in a bra's band will naturally relax and loosen over time, make sure that when you're trying on different styles, they fit you correctly at the loosest band adjustment. With wear and washing, you'll probably need to eventually use the tighter adjustments, so give yourself the extra room to do so.
6. Avoid Slipping Straps With Full-Coverage Styles
Wacoal Retro Chic Bra, Sizes 32C - 36I, $65, Amazon
If, like me, you have narrow or sloped shoulders, you most likely know the frustration of trying to keep bra straps in place over a long day. Orona says that the best way to manage this problem is by sticking to full-figure styles with close-set straps. The wide-set shape of balconette bras will just exacerbate slippage.
This is also a great reason to use multi-way bras with criss-cross strap options, or racerbacks, where straps are naturally pulled to the center of your back. Avoid the distraction and uneven support of straps that never want to stay in place, and focus on styles with straps designed to hug your shoulders all day long.
7. Buy Bonded-Edge Briefs To Stay Panty-Line Free
Foxy Lace Panty, Sizes 6 - 24, $24, Curvy Couture
While I'm occasionally irritated by the public furor over avoiding panty lines (oh no, people will know you're wearing underwear! Like a human being! The horror!), I do understand the desire for a sleek, no-show look under formal outfits or business-wear, when you might want to keep your undergarment situation to yourself.
If that's the case, try panties with bonded edges at the leg openings for grip that won't slip. These sexy lace skivvies are an excellent option, and they're also double-lined for lasting comfort and support.
Finding the right undergarments for your wardrobe conundrums can be hard work. Luckily, there are quite a few smart solutions available for even the most frustrating underwear issues.
Images: Fabio Formaggio / EyeEm/EyeEm/Getty Images; Courtesy Brands; Courtesy Curvy Couture