9 Pubic Hair Trimmers To Tend To Your Bikini Line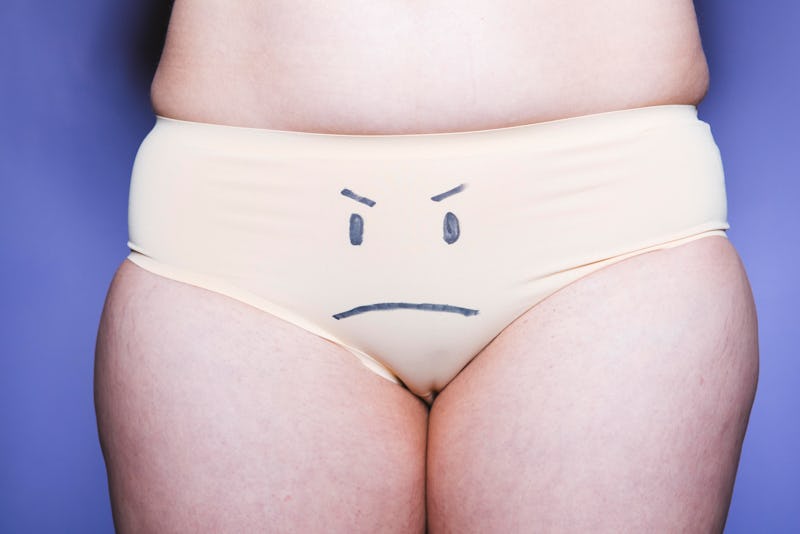 Let me begin by saying that I am a big advocate for big '70s bushes and I always will be. That said, summer is upon us and if your body hair is as dark as mine, you may be contemplating investing in a pubic hair trimmer — just to neaten up the edges for when you hit the beach. I say this not because I adore policing people's body hair, but because I've seen enough friends dry shave their bits in a last minute bikini panic, and I've had enough.
If you're a fully fledged, pubic hair-owning person in your 20s, you should be treating your privates with a bit more respect. Although coconut oil may solve many of your hair removal problems, dry skin troubles, and deep rooted emotional issues, it's usually easier (and smarter) to tackle the area with some additional care and attention.
Of course, if you're a braver person than me and don't care about the stray pubic hair pottering about on your thigh or the padded effect your bush may give your bikini bottoms, then I congratulate you. You have reached a level of not caring that I have yet to achieve, and you can save the money you might spend on a pube trimmer and put it towards another jug of sangria. If you are like me, however, here are nine of the best options on the market for trimming your pubic wig.
1. The Little Lilac One
Panasonic Bikini Trimmer And Shaver, $18.90, Amazon
In all the pubic trimmer lists that I've ever researched, this one has come up in all of them. Considering it's Amazon's number one best-selling bikini trimmer, this is one of the best pube whackers you can get. Plus, it doubles as a shaver so if you want your bits completely clear, you can do that as well.
2. The Silky Smooth One
Braun Silk Epil Lady Shaver, $47, Amazon
Usable on both wet and dry bits, featuring three attachments, and totally cordless, the Braun Lady Shaver is offering you a whole new world of pube removal. Essentially, you can remove your pubes wherever you want and however you want with this product. But I'd recommend not doing it in a public place if you don't want to be arrested.
3. The Chic AF One
Cleancut Personal Shaver, $46.07, Amazon
This personal bikini trimmer and shaver is going out of its way to look chic and trendy with its minimalist metal packaging. It's the kind of product you can hide in your bag and probably pass off as a vibrator if anyone asks about it.
4. The Purple One
Philips Bikini Trimmer With Shaving Head And Comb, $13.79, A mazon
I never knew I needed a pubic comb in my life. But Philips clearly did, and now I definitely want one.
5. The Full Kit
Styles II Mini Lady Shaver, $29, Amazon
Who doesn't want a pubic trimmer than you can charge with your laptop? Personally, I appreciate when a product comes with a million accessories that I probably don't need. It makes me feel more important.
Want more beauty tips? Check out the playlist below, and be sure to subscribe to Bustle's YouTube page for more hacks and tricks!
6. The Comes-With-A-Stand One
Creation Springs Women's Wet/Dry Electric Shaver And Bikini Trimmer, $29.95, A mazon
I really like that this one comes with its own little altar of importance. This product is specifically designed for sensitive skin, which will help immensely if you're using it on your private parts.
7. The Pretty As A Peach One
Quattro For Women Trimstyle Razor And Bikini Trimmer, $15.99, Amazon
This two-in-one product will let you "shave, trim, and transform yourself with just a flip of the handle," which sums up everything you could really need from a pube trimmer, right?
8. The Scary Looking One
Panasonic Women's Electric Shaver With Pop Up Trimmer, $18.99, Amazon
I call this shaver and trimmer "scary looking" as a compliment. I've been using beauty products for long enough that I know if a product looks terrifying, it's probably the best one for the job.
9. The All-In-One
Conair Ladies All-In-One Personal Groomer, $19.99, Amazon
Here's another personal groomer that comes with a handy, self-important stand for itself. Purchasing an all-in-one product may be really impractical when it comes to head hair, but it makes for a way more helpful tool when it comes to your pubic hair.
Remember to be unashamed of the natural beauty of your pubic hair, but to take care when tending it in the way that feels most comfortable to you. I for one am sick of using scissors that I stole from high school six years ago, and you should be, too.
Images: Andrew Zaeh/Bustle (1); Courtesy Brands