9 Surprising Tips For Better Hair & Skin Overnight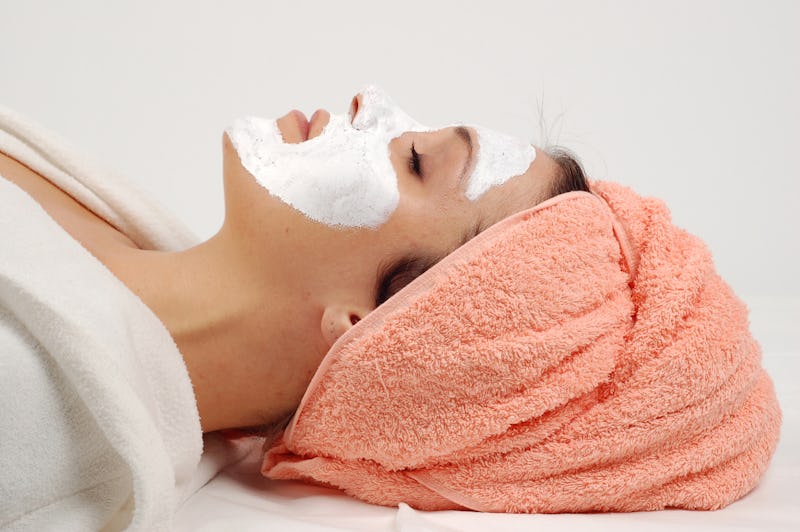 You could be doing so many things in those eight hours of sleep I hope you're getting every night — so why not multitask? Make your products work overtime so you can wake up with better skin and hair just from sleeping. By incorporating a few expert-approved tips into your evening beauty routine, you'll wake up feeling refreshed.
By letting your overnight beauty treatments work while you sleep, they'll have more time to do their thing (meaning, you'll wake up looking like you just left the spa). If your skin is feeling weighed down and tired, a simple before-bed peel will help you wake up with brighter, fresher skin. When your fingernails are looking a little worse for wear, give them the royal treatment while you sleep with some hand cream formulated with avocado and almond oil. And if you hate standing in the shower waiting for your hair mask to work its magic, apply a coconut oil treatment before you go to sleep, and just let it hydrate your hair all night.
By taking a little extra time to treat yourself before you go to bed, you'll find that waking up with clearer skin in the morning and and getting healthy hair overnight isn't the far-off dream it seems. So go ahead, and try all of these tips to wake up looking and feeling incredible.
A Gentle Pumpkin Peel Gives You Radiant-Looking Skin By Morning
Pumpkin Face Mask Glycolic Acid Peel , $24, Amazon
Dr. Jeannette Graf, Assistant Clinical Professor Dermatology at Mount Sinai Medical Center, told Stylecaster that it's good to do a light peel before bed, followed by a moisturizer and good night's sleep. This one's a great fit for your evening routine because it's formulated with 12 percent glycolic acid, which gently sloughs away the dead skin cells that dull skin's natural brightness in the morning. With vitamins E and C, in addition to moisturizing neem oil and rejuvenating rosemary, your face will look and feel refreshed come morning. Why the crucial peel step before bed? "The peel takes off light-absorbing dead skin, leaving behind a gorgeous glow of healthy radiance," Dr. Graf said.
Refresh The Skin Around Your Eyes With Vitamin C Herbal Eye Cream
Mario Badescu Ceramide Herbal Eye Cream, $18, Amazon
The product every woman should consider trying before bed? "A good quality eye cream," Skin therapist Jocelyn Petroni told Byrdie. Turns out, your delicate eye socket area never really rests at night, which is why Mario Badescu's herbal eye cream is an important way to hydrate the sensitive area that doesn't have oil glands of its own. This eye cream is made with carnation and rosehip oils to help the dry, tired skin around your eyes look more wide awake in the morning. The cream also has vitamin C, which helps even out skin tone and reduce the appearance of dark spots from UV damage.
Hair Absorbs Hydrating Coconut Oil Better While You Sleep
Rapunzel Coconut Oil For Hair Growth, $14, Amazon
Sleep expert Dr. Idzikowski told Cosmopolitan UK that sleep is the optimum time to use hair treatments, as they're better able to penetrate hair overnight. Add Rapunzel's coconut oil to the lengths of your hair, which will protect your hair and seal in moisture to prevent frizzy, dried-out fly-aways from springing up. This coconut oil also contains argan oil, which is also able to give your hair a luminous, shiny finish.
Exfoliate with Alpha Hydroxy Acid Before Bed To Improve Collagen Production
Paula's Choice Skin Perfecting 8% AHA Gel Exfoliant, $28, Amazon
Exfoliating with alpha hydroxy acid (especially if you have dry-to-normal skin), helps your skin cells turn over faster. The step is absolutely essential in nightly routines for the best possible skin results, said Julie Hafer, owner of Beauty Ethics Spa, to Southern Living. The top-rated Paula's Choice gel exfoliant helps correct uneven skin tone for a brighter, more radiant complexion, in addition to improving collagen production, so your skin stays firmer for longer. Plus, chamomile and green tea calm down irritated skin, and its fragrance-free formula makes it a good fit for most skin types.
A Microfine Thermal Spring Water Mist Helps Pores Lock In Moisture
Avene Thermal Spring Water Spray, $17, Amazon
Jessica Wu, a dermatologist and the author of Feed Your Face, told Refinery29 that she recommends delivering water right back to the skin after cleansing it by spraying it with a microfine mist. This particular spring water spray formula is clinically proven to soften and soothe irritated skin. A mist of this all over, right after washing your face and before applying your moisturizer, will help boost hydration for happier looking skin. One thrilled user said of the spray, "...let me tell you, I want to bathe in it. And no, not all of these products are created equal (in my experience). Avene is hands down the best."
Apply Retinol At Night to Minimize Visible Sun Damage
Rahda Beauty Retinol Moisturizer Cream, $19, Amazon
"Be sure to take care of your skin at night by applying a moisturizer before bed," dermatologist Amy Derick told SheKnows. She recommends applying a retinol moisturizer like Rahda Beauty's retinol cream at night, as retinol can damage skin if applied before you go out in sunlight. Its ability to increase cell turnover for a brighter complexion (and less visible sun damage) means new skin cells are taking shape, and the cream's jojoba oil, shea butter, and tea tree oil work to soothe skin for less irritation when you wake up.
Treat Breakout-Prone Skin To Moisturizer Specially Formulated to Not Block Pores While You Sleep
CeraVe Moisturizing Lotion, $8, Amazon
Applying the CeraVe moisturizing lotion all over your body before bed will help you wake up with hydrated skin that's free of breakouts, splotchy redness, or other irritations. The formula is non-comedogenic (so it won't clog touchy pores on your chest or back), and beauty editor Lexie Novak told Allure, "I put this lotion on head to toe, morning and night. It's crazy moisturizing but is also lightweight." It's non-greasy, too, so it won't leave a residue after it soaks into your skin all night long.
Prepare Your Hair Before Bed, Then Just Add Volume
Schwarzkopf OSIS Dust It, $10, Amazon
Waking up with flat hair is a pain, so prep your hair before you go to bed. Lifestyle blogger Lara Eurdolian told Health that she sleeps in two loose buns, then applies Osis Dust It for added volume when she needs it, saying "...the powder soaks up excess oils and adds lift to roots." This light control mattifying powder makes your hair look refreshed and voluminous (even when you have second or third-day hair), so you can spend less time showering and more time sleeping.
Avocado and Almond Help Heal Your Nails While You Sleep
OPI Avoplex High Intensity Hand and Nail Cream, $10, Amazon
Nail artist and expert Holly Falcone told Good Housekeeping that she likes to use a mix of almond and avocado oils to keep her cuticles and nails hydrated while she gets some rest. The OPI Avoplex cream has both of her favorite ingredients (plus shea butter and cocoa butter for extra hydration), so your nails feel less brittle in the morning and hands are more moisturized. It's important to remember to care for your fingers at night (in addition to face and hair), as the skin on the back of your hands is especially thin and susceptible to sun damage.
Bustle may receive a portion of sales from products purchased from this article, which was created independently from Bustle's editorial and sales departments.
Photos: Fotolia (1); Amazon (9)