MAC's Unisex Brant Brothers Makeup Line Is Growing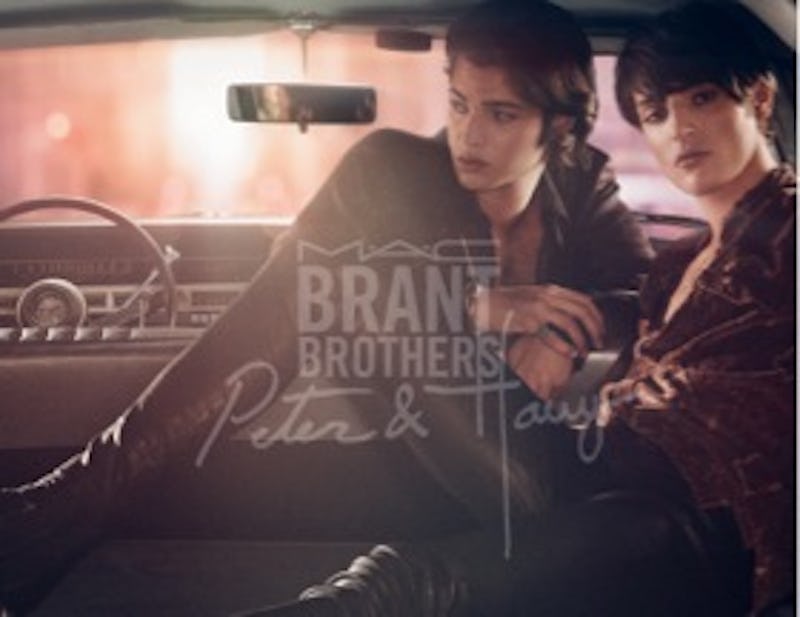 If you're a firm believer that makeup is for everyone, then this beauty launch is for you. MAC Cosmetics and Harry and Peter Brant are teaming back up for an expanded unisex makeup line. After breaking into the beauty industry late last year, the two brothers are back at it with yet another modernized product launch. What's in the MAC x Brant Brothers collection, you ask? Get ready for all the staples you need for one up-to-date makeup look.
With the men's beauty industry more popular than ever before, it only makes sense that the launches continue to roll. I can't think of anyone better to keep the beauty scene rolling than the Brant Brothers. Sons of Stephanie Seymore, and Peter Brant, these rich kids know a thing or two about looks great. They already completely killed it with their first MAC Cosmetics collaboration filled with a brow finisher, a cream base, and a concealer palette, and now they back at it with a collection even bigger than before.
The new collection has 14 new products and is a big step up from their first three-piece collection. This time the line has everything from volcanic ash infused skincare to your classic beauty staples. How's that for expanding? That's not even the best part either. All the products are unisex, so you can share the new products with every single one of your friends.
While the line will be launching in stores on June, three of the skincare items — Mineralizer Volcanic Ash Exfoliator ($29), Mineralized Charged Water Moisture Eye Cream ($35), and Mineralized Water Charged Moisture Gel ($40) — will only be available online on May 26. Here's a rundown of the entire collection, so you can plan accordingly.
1. Flat Contour Brush ($21)
That's right, this collection has way more than just makeup. The brothers are giving you all the makeup tools you need to work with the collection.
2. Angled Brow Brush ($36)
Because what's an eyebrow product without a great brush to go with it?
3. Brow Set ($17)
A clear brow setting gel to keep your brows looking on-point all day long.
4. Eye Kohl In El Dorado ($17.50)
This nude color is perfect for making your eyes seem bigger and brighter for spring.
5. Eye Kohl In Paragon Pearl ($17.50)
Metallics are in for spring, so this gorgeous gold eye pencil is fit for anyone looking to create a modern look.
6. Eye Kohl In Smolder ($17.50)
No collection would be complete without a basic black liner.
7. Eyeshadow Quad ($33)
With a mix of pearl and satin shades, this quad has all your basics in one sleek container.
8. Brow Gel Creme In Neanderthal ($16.50)
It's the year of the brows! It only makes sense that a modern collection would feature the eye staple.
9. Pro Longwear Lipstain Marker In Bitren Lip ($21)
This dirty coral lipstick is so gorgeous for summertime.
10. Pro Longwear Lipstain Marker In Boysenberry Blush ($21)
This mix of plum and red is perfect for any cooltoned skin.
11. Pro Longwear Lipstain Marker In Sunset Boulevard ($21)
This is anything but your typical nude. It's a mix between brown and coral is so incredibly unique.
12. Pro Longwear Lipstain Marker In The Jamie ($21)
The final lipstain of for all you mid-toned beauty lovers out there.
13. Pro Sculpting Cream Duo In Tryphaena And Cleopatra ($33)
A highlight and contour all in one little on-the-go palette? Yes, please!
How fabulous is this packaging?!
Not that's a collection that everyone can love.
Images: Courtesy MAC Cosmetics