15 Things To Bake In Under An Hour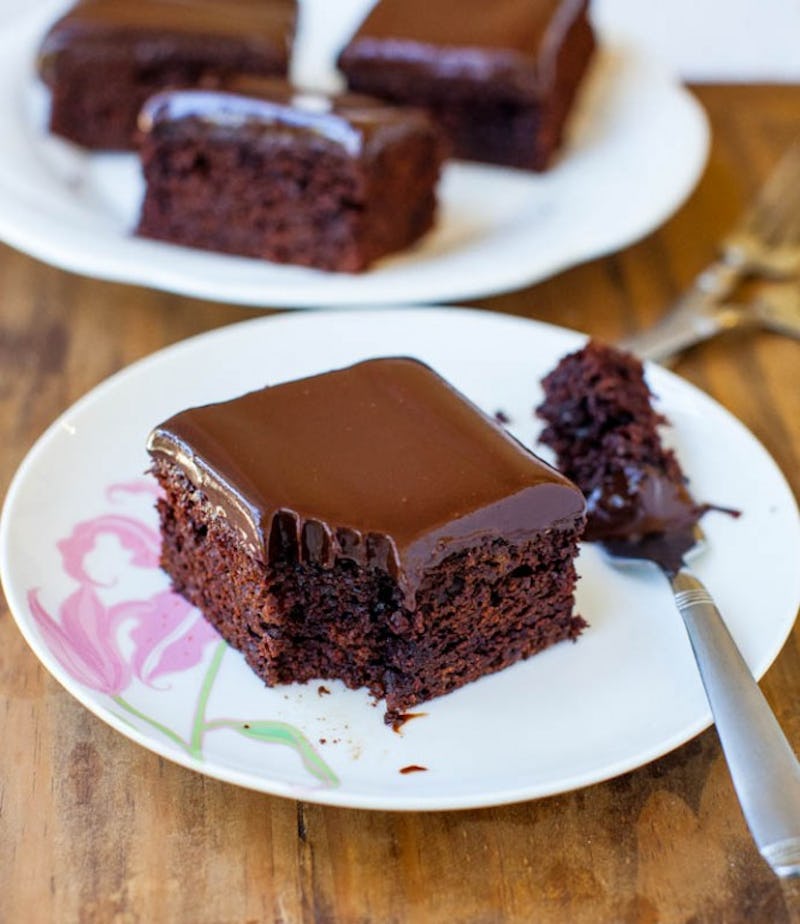 The best part of any meal is dessert. The downside is that most of the best baking recipes out there involve hours of work and waiting. It's about time we got to dessert faster, which is why I've scoured the internet for the best things to bake in under an hour.
I grew up in a family of bakers. My grandma was one of the best bakers I've ever met, and she would pump out these gorgeous cakes, cookies, and anything else your heart could possibly desire from her tiny kitchen. I always loved the carefully crafted art of a perfectly baked dessert, but my impatience tended to win out in the end. This always resulted in underdone cakes, or me burning the roof of my mouth with cookies straight out of the oven. Waiting more than an hour has always been too much for me, so I've managed to collect a vast array of recipes that will get me satisfying my sweet tooth much faster.
From cookies to cakes to pies, I've rounded up my top quick baking recipes that taste even more delicious than those recipes that take you hours to make. Some of these baking recipes will have a piping hot dessert in your hands in less than 15 minutes… You can thank me later for that one.
1. Coconut Peanut Butter Magic Cookie Bars
It's totally obvious there's a ton of magic stuffed into these cookie bars from Averie Cooks. This is the kind of gooey dessert coconut-lovers' dreams are made of.
2. Snickers Chocolate Chip Cookie Bars
When you add chocolate, peanuts, and caramel in a dessert, it's hard to resist not going in for seconds. These cookie bars from My Baking Addiction won't last long once they're out of the oven.
3. Chocolate Cake with Chocolate Ganache
I always thought a cake like this one from Averie Cooks would require hours and hours of work. Instead, this fast and easy recipe gets you your chocolate fix in a snap.
4. Lemon Marshmallow Cake
Floating away on a cloud of lemony marshmallow sounds like the perfect way to end a summer meal, doesn't it? The Kitchn nails the art of quick and easy lemon dessert with this one.
5. One-Minute Chocolate Chip Cookie in a Mug
Yes, you read that right. The Comfort of Cooking serves up an individually portioned chocolate chip cookie in a mere minute.
6. Red Velvet Pizookie
I perfected the art of Pizookie back in high school, but Dessert Now, Dinner Later takes it to a whole other level with this red velvet version. If you need a last-minute dessert to impress with, or to watch endless chick flicks with, this is the recipe for you.
7. Five-Minute Gooey Molten Chocolate Mug Cake
You're only five minutes away from happiness thanks to this mug cake by Half Baked Harvest. I don't know about you, but I'm ready to melt into this mug cake all day, every day.
8. Marshmallow Caramel Oreo Cookie S'mores Bars
These are basically s'mores with caramel and Oreos, but without all that messy fire nonsense. Averie Cooks brings the s'mores indoors, and the gooey deliciousness has never been better.
9. Baked Apples Stuffed with Oatmeal & Brown Sugar
Just because you're baking doesn't mean you have to bust out the fancy mixer and frosting recipes. Opt for this somewhat healthier dessert option from the Kitchn, perfect for ending a massive feast.
10. Buttered Popcorn Chocolate Chip Cookies
If you need a salty sweet baking fix, Joy the Baker's recipe for buttered popcorn chocolate chip cookies is the only thing you need in your life. Sit back with a glass of milk and your favorite movie marathon, popcorn included.
11. Warm and Gooey Deep-Dish Chocolate Chip Cookies
I want to be all up in these gooey deep-dish cookies from the Kitchn. I would call that an individual portion (aka something I don't have to share), right?
12. Ultimate Fudgy Caramel Brownies
Next level gooeyness is the only way I can describe these brilliant brownies from Averie Cooks. They've got chocolate, they've got caramel, and they've got my heart.
13. Almond Cherry Sugar Cookie Cake
Perhaps you're baking for a crowd and really want to impress? Dessert Now, Dinner Later's cookie cake is a delicious option that takes barely any effort, and will really wow your friends.
14. Funfetti Birthday Cake
You wouldn't think a fancy schmancy cake like this one from the Kitchn would be so easy, but it is. Plus, sprinkles make everything in life better.
15. Peanut Butter S'more Cookie Pie
This is the part where I attempt to stop myself from licking the screen. Yes, something this decadent is less than an hour away. Averie Cooks, I thank you.
Turn those ovens on, and get to baking already.
Images: Averie Cooks; My Baking Addiction; Averie Cooks; the Kitchn; The Comfort of Cooking; Dessert Now, Dinner Later; Half Baked Harvest; Averie Cooks; the Kitchn; Joy the Baker; the Kitchn; Averie Cooks; Dessert Now, Dinner Later; the Kitchn; Averie Cooks