11 Surprising Hacks For Radiant & Glowing Skin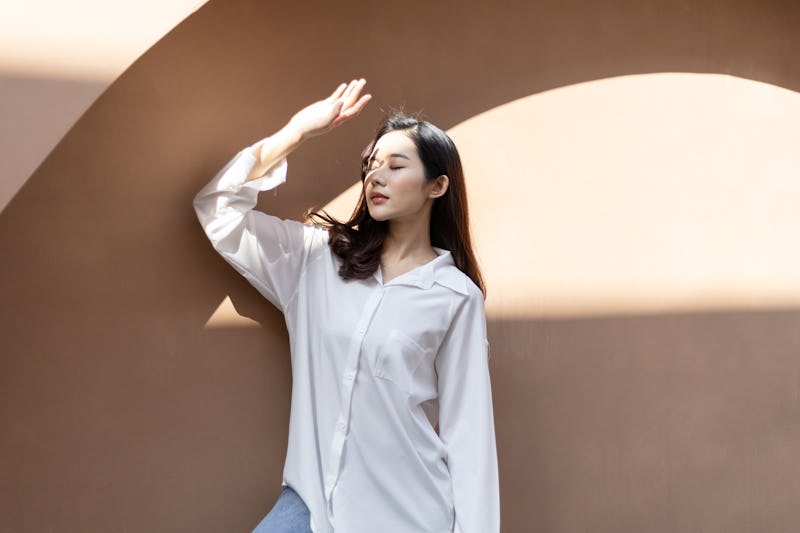 Pongtep Chithan/Moment/Getty Images
There's something about feeling confident about our skin that just feels nice. It's the complexion equivalent of a good hair day. And unlike good hair days, which can seem like lightening in a bottle, there are tricks for heathy, glowing skin that you can count on basically every day.
When I first started wearing makeup in my late teens and early 20s, I definitely didn't subscribe to the less is more philosophy. In fact, it's safe to say that I firmly believed more was more, and I have the cringe-worthy pictures to prove it. As I've gotten older though, I've become more and more taken with simple, clear skin that basically appears makeup-free, and I'm always on the lookout for things that will make my skin look and feel as healthy as possible.
I've found that, much like most things related to health, there unfortunately isn't one "magic bullet" solution that will instantly make our skin perfect overnight. Instead, there's a combination of a lot of little things that we can incorporate into our routines that make a difference over time, which is arguably better than nothing.
If you've been feeling like your skin is dull or lackluster and you're looking to do something about it, here are 11 tips for totally glowing skin. And bonus, none of them are hard to do, or expensive — and who doesn't like the sound of that?
1. Using An Exfoliant
Resist Daily Pore-Refining treatment With 2% BHA, $30, Paulaschoice.com
OK, I know "chemical exfoliant" sounds kind of scary, but they're actually super mild and make your skin look amazing. On her website, skin care specialist Paula Begoun noted that a mild chemical exfoliant lotion, like an AHA or BHA cream, is way gentler than physical exfoliants (AKA the brushes and scrubs that you physically rub on your skin to slough off dead cells). Begoun noted that most people over-use physical exfoliants, which end up being worse for your skin in the long run.
2. Moisturizing (At The Right Time)
Clinique Dramatically Different Moisturizing Gel, $26, Clinique.com
According to the Mayo Clinic, the absolute best time to moisturize is within a few minutes of getting out of the shower, before the water on your skin has time to evaporate. They specifically noted to pat your body until the skin is barely dry before applying.
3. Honey
On her YouTube channel, professional aesthetician Veronica Gorgeous emphasized how amazing raw organic honey is for our skin. It acts as a natural moisturizer and kills bacteria, meaning it makes the perfect gentle mask for breakouts.
4. Turmeric
According to About.com's Health section, turmeric is an anti-inflammatory and antibacterial agent that helps clear up breakouts and skin irritation. Plus, a ton of health food and holistic bloggers rave about it's skin-enhancing properties. If you're curious to try it for yourself, check out the above video for a turmeric mask tutorial.
5. Strategic Highlighting
Highlighting strategic areas of your face is an awesome trick for glowing skin, because unlike some of the others tips, it yields instant results. Check out the above tutorial from YouTube beauty expert Michelle Phan for some expert inner-glow highlighting tips.
6. Tinted Moisturizer
Neutrogena Healthy Skin Enhancer Tinted Moisturizer, $11.29, Drugstore.com
This is a personal tip that I find always gives me an added glow. Instead of a regular, full-coverage foundation, just use a tinted moisturizer to even out your skin tone for a super natural and dewy complexion. Just be careful: certain brands of tinted moisturizer comes with hints of glitter, so watch out if that's not your thing.
7. A Moisturizing Spritz
Gorgeous also has an awesome DIY moisturizing spritz recipe for when you just need that added burst of moisture. The recipe simply entails glycerin and aloe juice, which can be found at most drug and health food stores.
8. Avoid Hot Showers
Andrea Lynn Cambio, M.D., a New York City dermatologist in a piece for Reader's Digest, noted that while hot showers feel amazing, they can be very drying for our skin. If you're going to take one, try to keep your head out of the water to at least protect the thinner and more delicate skin around your face.
9. Invest In A Humidifier
Cane Drop Ultronsonic Cool Mist Humidifier, $49.99, Target.com
That same Reader's Digest compilation piece recommended investing in a humidifier — especially those for dryer winter months. You'll likely notice a marked difference in your skin within just a few days.
10. Eat Yogurt
In a piece for Fitness Magazine, Jessica Wu, MD, a dermatologist in Los Angeles and the author of Feed Your Face, said the protein we get from dairy helps skin to become firmer and more resistant to lines. And if you really want to pack in the protein, try greek yogurt over regular varieties, as it typically has twice the amount.
11. Get Some Zinc
Nature Made Zinc, $4.13, Jet.com
On his website, science and biology writer Jon Brooks noted that studies show that people who suffer from acne also often have zinc deficiencies. "To date, there have been four human studies all showing that zinc supplementation can reduce acne. The effects are not huge (it's not a magic pill), but it will help. It's also fairly cheap," Brooks wrote. If you're struggling with breakouts, it could be worth a try.
Glowing skin doesn't need to be a pipe dream. A combination of healthy daily routines, combined with a few makeup hacks, will give you a fairytale-level complexion in no time (or at least look pretty great).
Images: Getty Images (3); Giphy (1)