15 Crock-Pot Graduation Party Recipes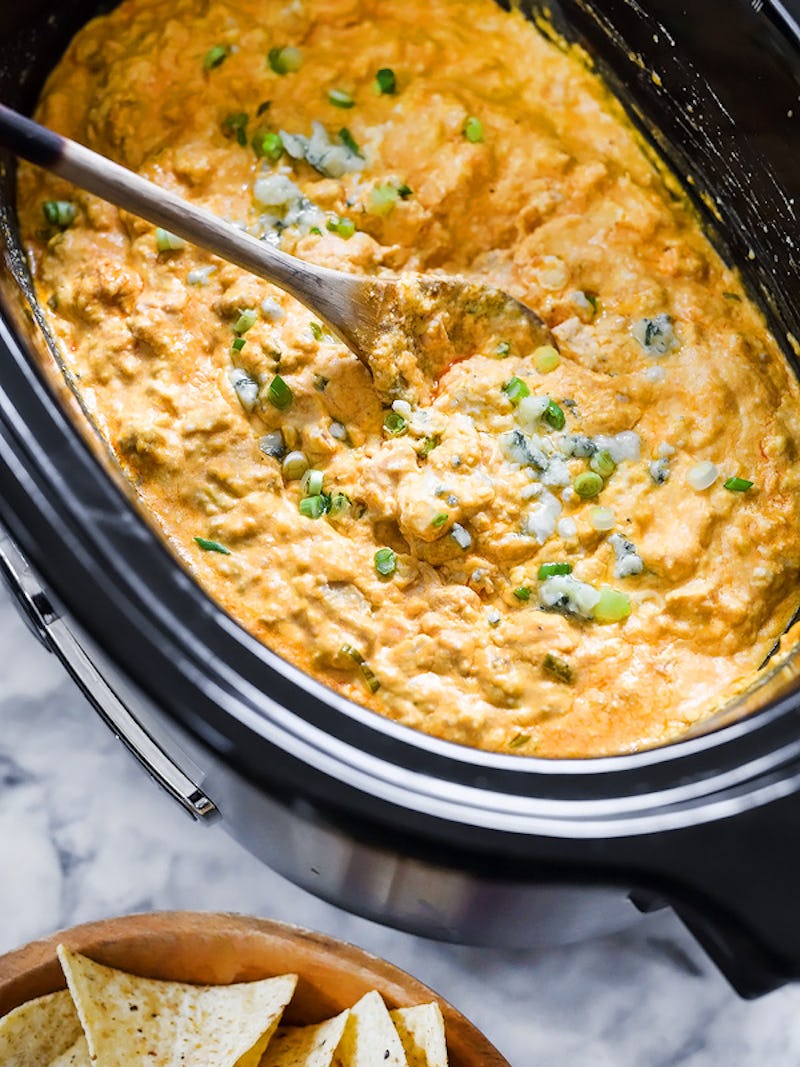 Hear that? It's graduation season. Around every corner you hear kids rejoicing and breathing a huge sigh of relief now that finals are over. Graduation parties are looming and that means only one thing — it's time to scour the web for Crock-Pot graduation party recipes that won't take hours to make.
Honestly, I don't remember too much about my own graduation parties. I remember lots of people and feeling intense relief and terror all at once as I readied myself for the next stage in my life. I also remember the food. There was so much of it my mother and I ended up living off of it for weeks to come. I especially remember the fact that I never had to make any of it. It was one of the few times in my life I never had to cook for a party, so I cherish those memories.
If you aren't the lucky grad who's getting a party thrown in their honor and instead are throwing the party, you are probably looking for something to feed a crowd that won't have you stuck in the kitchen all day. There's cleaning and decorating and preparing to do. I've got you covered with these killer Crock-Pot graduation party recipes that you can just set and forget. They'll be ready in time for your party and all you have to do is set the slow cooker to the right temperature.
1. Slow Cooker Sticky Chicken Wings
Chicken wings go over like gangbusters at any party, and these wings from Damn Delicious are extra juicy. Just be sure to serve them with a pile of wet wipes.
2. Slow Cooker Spinach Artichoke Dip
Warm and cheesy spinach artichoke dip from Taste and Tell is a great party recipe. All you have to do is buy the crudités and pita bread to dip with. Plus you can keep it on low throughout the party.
3. Crock-Pot Chicken Taco Bites
You can make these super simple taco bites from Jelly Toast as an easy poppable appetizer, or let folks build their own bites with a toppings bars that you create.
4. Slow Cooker Buffalo Chicken Cheese Dip
Have a craving for buffalo chicken but want an easy solution? Foodiecrush has you covered with this cheesy, spicy dip that'll be gone in minutes.
5. Slow Cooker Steak Fajitas
Can you say fajita bar? There's nothing like savory, filling fajitas from Brown Eyed Baker to fill the grad's belly. You have to balance out the champagne with something, right?
6. Slow Cooker Cocktail Meatballs
Cocktail meatballs are a staple at parties for a reason. No one can resist them, especially these extra tender, flavorful meatballs from Damn Delicious.
7. Slow Cooker Mango Meatballs
If you're sick of the regular cocktail meatballs, shake things up with this mango version from Baked by Rachel. They are still the juicy tender meatballs you love, with a fruity twist that is perfect for summertime
8. Slow Cooker Asian Short Ribs
Short ribs are generally a pain to make, but it's impossible to deny how delicious they are. Instead of struggling with a pressure cooker, let the slow cooker do the work for these Asian short ribs from Damn Delicious.
9. Slow Cooker Queso Blanco
Queso comes in handy at any party, either as a dip or as a topping for nachos, tacos, and whatever else you might be serving at your grad party. Mom on Timeout's recipe is extra creamy so everyone will be clambering for a taste.
10. Slow Cooker Carnitas Kimchi Fries
If you have a grad you really want to spoil, whip out this insane recipe from Climbing Grier Mountain. The Asian Mexican fusion dish is piled up with everything indulgent.
11. Slow Cooker Stuffed Peppers
These super simple stuffed peppers make a great main course, or you can divide them up and serve them as a snack. Damn Delicious packs some serious hearty flavor into these peppers to keep your guests full and happy.
12. Slow Cooker Goat Cheese Fondue
For the cheese-loving grad in your life, dish up some of this goat cheese fondue from Pass the Sushi. It's a fun way to get extra cheesy with your appreciation and congratulations (see what I did there?).
13. Slow Cooker Cocktail Sausages
Who doesn't love those little weenies? Damn Delicious takes the classic recipe and makes it even more delicious than the one you remember your grandmother whipping out for every party.
14. Slow Cooker Tijuana Chili with Jalapeno Cornbread Croutons & Queso
We may be getting closer to the hot weather, but it's not sweltering outside just yet. Why not get one more chili fix in with this recipe from Climbing Grier Mountain? You can even go the extra mile to serve it up with cornbread croutons and queso since the slow cooker is doing all the real cooking.
15. Slow Cooker Parmesan Ranch Oyster Crackers
These oyster crackers from Damn Delicious are way too addictive, so don't expect them to stay around long. People will be shoving them into their mouths by the fistful, trust me.
Congratulations to all the awesome grads out there. Let's celebrate by stuffing our faces.
Images: Damn Delicious; Taste and Tell; Jelly Toast; Foodiecrush; Brown Eyed Baker; Damn Delicious; Baked by Rachel; Damn Delicious; Mom on Timeout; Climbing Grier Mountain; Damn Delicious; Pass the Sushi; Damn Delicious; Climbing Grier Mountain; Damn Delicious