Wake Up To Smooth Skin With 8 Overnight Hacks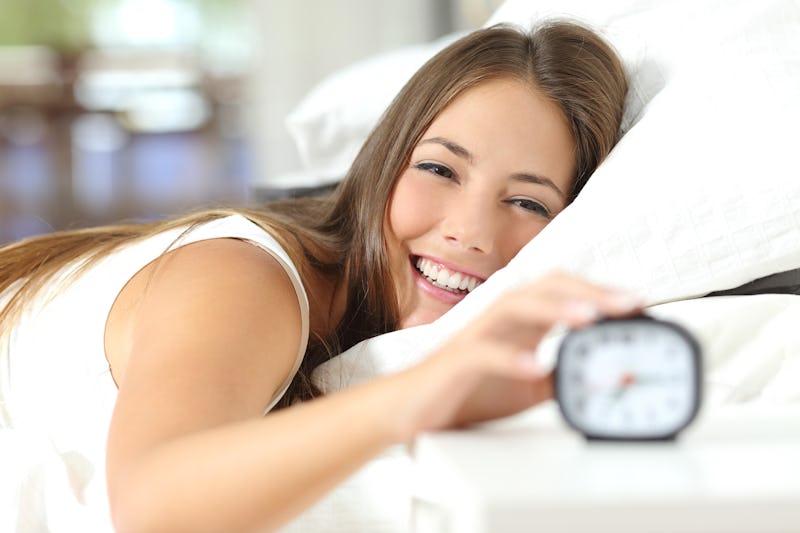 How do the movies always make waking up to smooth skin and completely clear complexions look so easy? While actors have an entire beauty team to fall back on, you actually don't need one to know how to get smoother skin — especially by morning. Waking up feeling refreshed with skin that's even-toned, balanced, and breakout-free starts before your head hits the pillow.
If you're working with an oily-prone complexion come sunrise, you might want to consider cleansing at night with a non-irritating tea tree oil formula that reduces shine, gets you clear, smooth skin, and soothes redness while you sleep. Or, if you've been frustrated by past acne scars or spots that you want to see fade, your nighttime beauty ritual might benefit from a hydrating scar cream that helps heal raised scars, all while you're busy catching Z's.
In other words, I know that waking up is hard to do (and it's even harder to do when you're stressin' over what your skin will be up to tomorrow morning before you've even fallen asleep). Eliminate the extra morning routine steps with these genius overnight ways to get smoother skin by morning.
Exfoliate With Powerful Papaya & Coconut To Smooth Dry Spots
Vasanti Brighten Up! Enzymatic Face Rejuvenator Scrub, $33, Amazon
At night, scrub your face with this rejuvenating exfoliator to improve your skin's texture and bring out the bright, soft skin that's underneath any dark or dry areas on the skin's surface. This product uses papaya enzymes to break down dead skin cells and reveal a nice, radiant glow when you wake up. Plus, aloe vera, coconut, and panthenol hydrate your skin as it exfoliates, so you won't have to worry about your skin feeling dry after you scrub.
Gently Heal Raised Scars & Spots With Almond Oil Formula
This professional-grade lotion was made specially for anyone who has slow-fading acne scars or spots, regardless of if they're fresh or old. This hydrating formula softens and evens out skin, brightening the appearance of any dark scar areas. Just apply it at night, and let it synch up with your natural skin cell rejuvenation cycle while you sleep.
Retinol Night Cream Can Encourage Natural Glow By Morning
For anyone who's heard about retinol's benefits and wants to try it — consider this cream first. It was designed for people whose skin is sensitive to retinol and for retinol beginners, in order to help condition skin to retinoids. This night cream has a gentle, lightweight formula with RoC retinol, which helps skin to glow and feel softer to the touch. It uses hyaluronic acid to lock in essential moisture, which will leave your skin hydrated and renewed when you wake up.
Reduce Shine By Washing With Calming Tea Tree Oil Formula
Before you head to bed, make sure you clear your pores entirely for less overnight bumps. This gel-based tea tree oil facial cleanser removes excess oil and reduces breakouts. Its formula was created to reduce shine, while never over-drying your skin (making it a great pick for nightly use). Bonus: The cleanser's tamanu oil has a soothing effect that calms irritation and redness. One user raves that this is an amazing product because after just a few days, they even began to see an improvement in their acne.
Or Cleanse With All-Natural, Exfoliating Polenta For A Balanced Complexion
This all-natural face cleanser contains maize flour and corn meal to gently exfoliate your face and wipe away rough dead skin cells. It also has some cinnamon powder to cleanse and renew dull skin. But one of the best parts about this cleanser? Its rich, caramel-scented texture, which keeps your skin balanced and sporting a healthy glow throughout the next day.
Soften Skin & Smooth Texture With Vitamins A, C, and E Moisturizer
This smoothing facial cream maintains your skin's moisture balance, all while improving your skin's overall texture. It contains deep-moisturizing lecithin and aloe gel to nourish, and extracts of mallow, cucumber, and arnica work to keep your skin hydrated and free of irritation. After applying this at night, you'll start your morning off with skin that feels supple and strong. Bonus: Antioxidant grape seed extract and vitamins A, C, and E protect the skin against harsh environmental effects.
Hydrate & Calm Rough, Dried Out Skin With Replenishing Cucumber
Peter Thomas Roth Cucumber Gel Masque, $28, Amazon
This calming cucumber gel mask might just be your next "can't live without it" product when it comes to your nighttime beauty routine. It packs a large punch with cucumber extract that nourishes, hydrates, and de-puffs skin, while orange and lemon extract minimize the appearance of pores and chamomile extract soothes your skin.
Brighten Under Eye Circles & Smooth Away Puffiness With Coffee Extracts
Whether you're extra-tired lately from not getting your full eight hours, or your under-eye circles are passed down from a family member, this brightening eye serum will have you waking up looking like you just slept for days. The luminous eye serum is formulated with caffeine from green coffee, which stimulates blood circulation, in order to reduce puffiness and lighten dark circles for a smoother look, overall.
Bustle may receive a portion of sales from products purchased from this article, which was created independently from Bustle's editorial and sales departments.
Images: Fotolia (1); Amazon (8)