Tess Holliday Poses Nude At 7 Months Pregnant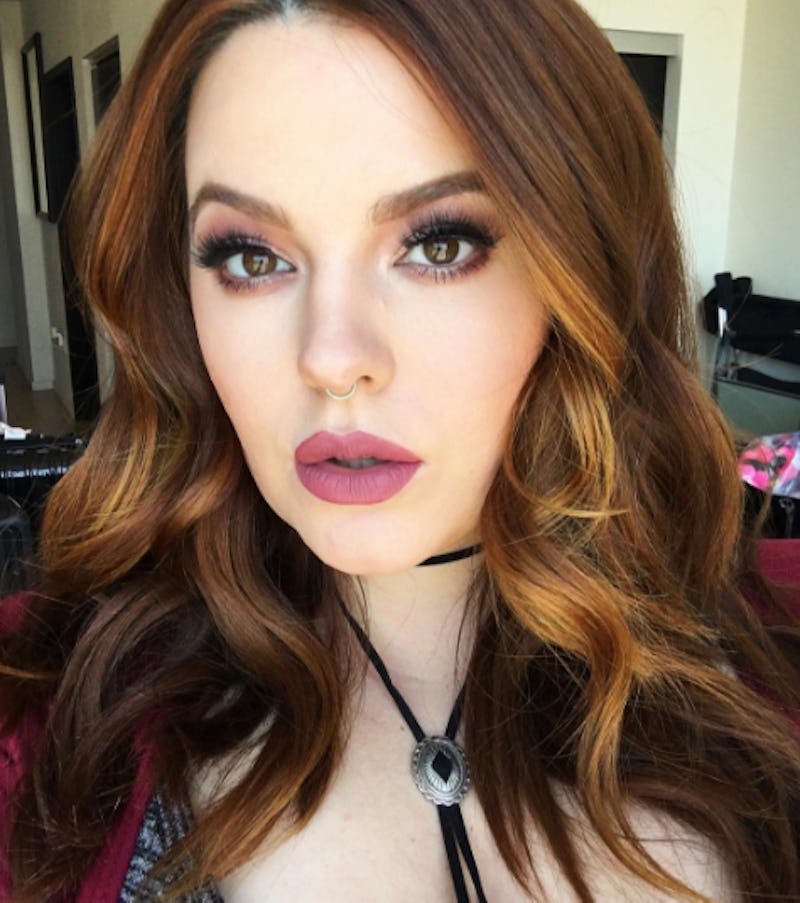 Being pregnant doesn't have to mean you stop working, stop being glam, or stop getting naked — something Tess Holliday's nude shoot for The Telegraph has recently proven. One of the world's most recognized plus size models posed in a draped tunic and undies at seven months pregnant; the images shot by photographer Alex Cayley. The main photo is packed with positive body image, as Holliday celebrates her changing figure as well as the fat body that has arguably helped revolutionize her career and the fashion industry.
The shot, which features Holliday in nude undies and a tunic from her mblm by Tess Holliday range for Penningtons held against her frame, rather than worn, shows a stripped-back babe promoting the Eff Your Beauty Standards mentality. With low-key makeup and a simpler hairdo than is usual for the model, Holliday's casual beauty ties in perfectly with the almost nude shot and the shoot's message that beauty can be found in anyone.
In the accompanying article, The Telegraph's Bryony Gordon gushed over Holliday's beauty, including the photographer's thoughts that she was "completely beautiful" on set. But the moral of the story isn't just that Holliday is a stunning woman, but that "big and beautiful" means so much more in 2016 than it ever has before.
"Just because we're plus size, doesn't mean we have to prove that we're healthy, just as someone who is smaller than us or average size doesn't have to prove they are healthy," Holliday told The Telegraph. "We should be able to exist in our bodies. I am technically healthy, but my body is no more valid than someone's who isn't. I feel like we are held to a different standard because we're living in bigger bodies."
"People say we drain the economy, but I pay for my own health care, and even if I didn't I pay taxes just like everybody else," Holliday added, addressing the debate that has arisen both in the press and on social media about the required "healthiness" of plus size bodies, and confirming the absurdity of the conversation.
What shines through — both in the interview and in the photos — is that Holliday started her career unapologetically plus size. Through politically charged conversations, her openness on social media, and her work as a model, she will continue to stay true to that.
Images: tessholliday/Instagram