8 Best Hair Masks For Revitalizing Your Hair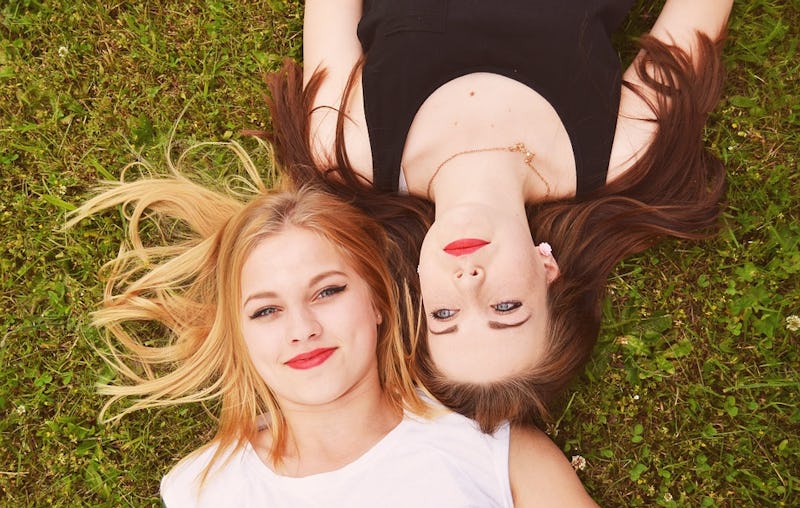 When it comes to my hair, I never turn down an opportunity to make it softer, shinier, or stronger. Knowing the best hair mask for my hair type is a big part of that, as the right mask can lead to significant hair improvement from root to tip. No matter what kind of hair drama you're facing, finding the best hair masks for every hair issue you face could be the end of hair emergencies for good.
If you have dry or damaged hair from one too many sessions with your flat iron, for example, then knowing how to choose the right hair mask can help you hit rewind: A nourishing formula containing sea buckthorn berry will moisturize your hair to make it soft and touchable again. Or if you're working to grow out hair, ensure your split ends are nourished with a highly hydrating formula: Coconut oil and shea butter hair masks could be your complete game changer.
Whether you're new to the hair mask life or you've just never found the perfect one to meet your specific hair needs, this go-to guide to finding the right hair mask for your hair type might just convert you into a total hair mask enthusiast.
For Fine Hair, Restore Moisture Without Weighing Hair Down
This restorative nourishing mask was made specifically with fine-haired girls in mind. How? Its lightweight formula won't weight down fine strands, but it still adds significant shine and body to your hair. One user praises this product for making her hair feel like silk, saying she'll "never be without it," and that it's "so worth the price." Pro Tip: For the best results, apply a quarter-sized amount to towel-dried hair and leave on for five minutes before rinsing.
For Curly Hair, Encourage Bounce With Marula And Sweet Almond Oil
If your curls have been feeling dry or have been falling flat lately, treat them to a mask that contains everything they need to come back to life. Marula, a curl-softening oil from Madagascar, will give your curls great texture while the sweet almond oil works to hydrate your hair, producing great body and a more defined shape. This curl therapy hair mask goes on for five to seven minutes before being rinsed off, and it can be used once a week to several times a week — depending on your hair's needs.
For Color-Treated Hair, Add Vibrancy With Protective Grapeseed Oil
This grapeseed oil-infused hair mask will make your color treated hair shine and with radiant color, like you just stepped out of the salon. With a fresh rose scent, your hair will not only be shiny and soft after using this mask, but it will smell amazing all day. One user raved about this formula, saying "This provides super moisture to hair and does not cause a lot of build up! This has restored my hair when it was severely dry and damaged."
For Dry & Damaged Hair, Nourish With Sea Buckthorn Berry
Whether you're a daily heat styler or you've been suffering through post-chemical treatment hair damage, this nourishing hair mask will give you soft, manageable hair in no time. Its sea buckthorn berry formula restores moisture and increases hair's resistance to breakage, while raw shea butter softens and protects the hair (meaning, you'll be on your way to reversing the damage that's making your hair dull and brittle). One user raves about this mask, calling it the "best hydrating mask" and saying it leaves her hair smelling great all day long.
For Straight Hair, Keep Sleekness In Check With Moroccan Oil
Anyone with straight hair might benefit from making strands smoother and stronger with this deeply penetrating mask. It has a moroccan oil formula that restores elasticity, which fortifies hair and repairs damage that can make it brittle. Plus, it's also formulated with vegetable proteins to make hair incredibly shiny, strong, and healthy.
For Relaxed Hair, Try Intense Revitalizing Olive Oil Treatment
This revitalizing olive oil hair mask deeply penetrates your weakest and most brittle relaxed hair strands, revitalizing them with intense moisture. Olive oil has great stimulating effects on the scalp, which gives hair a natural shine and serious strength. Plus, your hair will feel soft, smooth, and completely detangled for easier styling after using this treatment. One user raves about this mask because of its fresh scent, and said the formula makes her relaxed hair feel "soft, silky, shiny, and beautiful."
For Oily Hair, Soothe Scalp With Dead Sea Black Mud
If your hair has been tough to manage and style lately because it's felt oily at the roots, this mask could work wonders. The Dead Sea black mud in this mask for oily hair soothes and protects your scalp, strengthens your roots, and makes your hair shinier and healthier. Plus, it won't make your hair feel more oily after you apply it because it contains no heavy oils or other ingredients.
For Growing Hair, Repair Split Ends With Coconut Oil, Vitamin E & Shea Butter
Growing your hair out can take forever, so it's important to make the process as efficient as possible by eliminating growth-impairing split ends. This hair mask with coconut oil, vitamin E, and shea butter moisturizes hair, strengthens it, and repairs split ends to help hair grow longer and way faster. Plus, this mask can be used on any hair type, and one user says she uses it because its scent is particularly lovely.
Bustle may receive a portion of sales from products purchased from this article, which was created independently from Bustle's editorial and sales departments.
Images: Amazon (8); Pixabay (1)