17 Plus Size Swing Dresses For Summer Twirling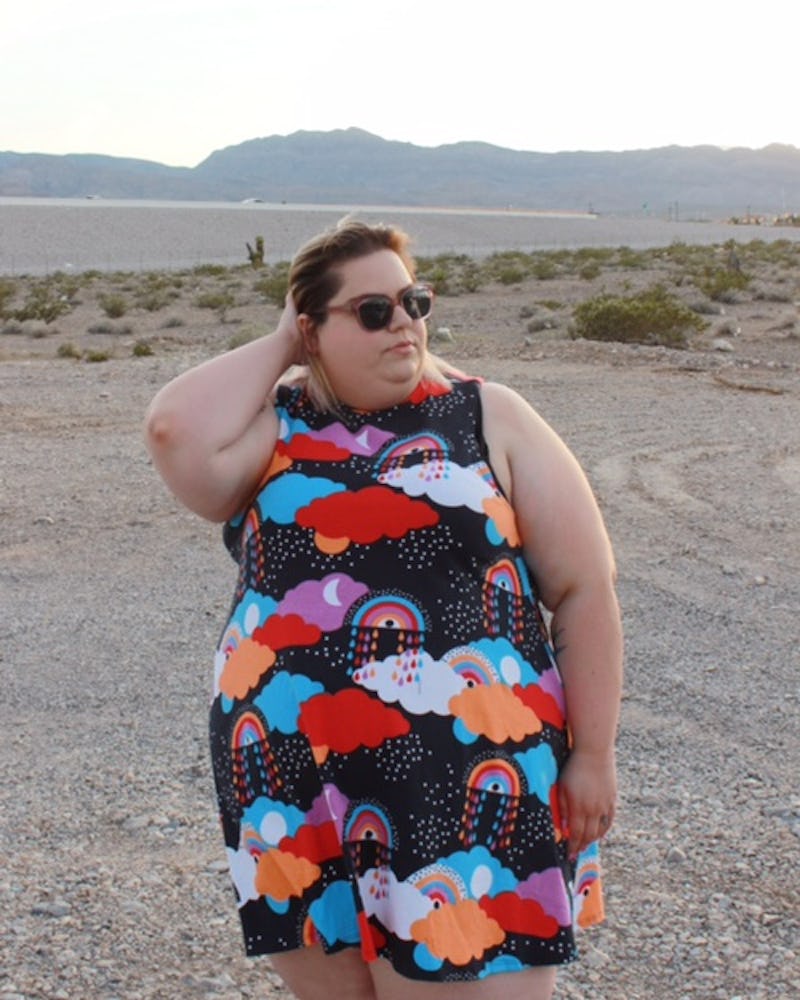 As summer approaches, plus size swing dresses are one way to stay cool in the warmer temps. In the past, summer dress options above a size 16 may have been limited to fit and flare or maxi styles, but what's even better than having one or two go-to summer styles is having options for all sartorial sensibilities.
I spent a lot of summers in my day wearing not necessarily what kept me cool or fit my desired aesthetic, but what I felt I should wear for my body. When I was able to learn to sport bodycon clothing, it felt like a rebellion because of how much of my actual body I was able to show in them. But the greatest feeling is where I am now: I can wear anything I want and my body actually has nothing to do with it at all.
One of the styles that I have learned to adore is the swing dress. Traditionally, it's a style many of us associate with the 1950s that featured plenty of fabric for twirling and usually a fitted bust. However, the term "swing dress" has evolved since then. Today I see "swing dress" typically being used to described a sheath piece that flares out from shoulder rather than the chest.
There's something really freeing about wearing a swing dress to me. The shapelessness represents a level of freedom that I think plus size babes should welcome this summer. And it doesn't hurt that they are super easy and breezy to wear. So here are 17 great options to consider.
1. Paisley
Alice & You Swing Dress, Gwynnie Bee
This paisley swing dress solidified my obsession. I got to try it out through plus size subscription service Gwynnie Bee. The service allows you to try pieces out before you purchase them, so this is a safe way to see if the swing dress style is for you.
2. Ruffle
ASOS Curve Swing Dress With Ruffle Sleeve, $52, ASOS
I can see this swing dress with soft sheer sleeves being worn to a white party on a yacht or a Saturday afternoon wedding.
3. Chevron
Coral Arrangement Dress, $44, Redress NYC
The chevron pattern in coral and pastels makes this swing dress sweet and bold at the same time.
4. Floral
Mosaic Floral Cross Back Dress, $43, Torrid
Available up to a size 6XL, this blue floral swing-style dress also features a cute criss-cross cutout in the back.
5. Ombre
Style & Co. Plus Size Printed Hem Sleeveless Swing Dress, $59, Macy's
The blue ombre pattern on this dress has almost a tie-dye look to it. Add a blazer to wear it to the office or pair it with a floppy hat and wedges for a walk on the boardwalk.
6. T-Shirt
Plus Size T-Shirt Dress, $16, Forever 21
Just looking at this dress, I can feel the comfort. The rayon fabric makes it stretchy and the swing-style makes it breezy.
7. Fire
Isabella Swing Dress, $45, Swak Designs
The fabric on this dress is described on the SWAK site as "fire" and I can totally see how wearing this would show just how hot you are.
8. Island
Sleeveless Swing Dress, $33, Simply Be
It's easy to see how wearing this hibiscus printed dress would have you feeling island-vacation-ready all summer. I hope you saved your PTO for this one.
9. High Low
Roya High Low Dress- Lime, $118, Monif C.
This high low dress is not only bold in color, but the generous cut of the fabric means this one gives you some serious twirl potential.
Want more size inclusivity? Check out the podcast below, and be sure to subscribe to The BodCast for more radical body positivity!
10. Raglan
ASOS Curve Swing Dress With Contrast Raglan, $33, ASOS
This swing dress is a new take on the raglan baseball tees I wore in my days as a softball player. I love the sporty feminine feel. Now, who wants to take me out to the ballgame so I can wear it?
11. Long Sleeve
Rebdolls "Young and Free" Swing Dress, $24, Rebdolls
On a cool summer night, let this blue and white patterned swing dress keep you warm.
12. Rainbow
Across The Cosmos Dress, $98, Proud Mary Fashion
I love the short hemline of this dress combined with the high neckline, because you just don't see this a lot in plus sizes. But it's really the rainbow pattern that makes me want to cry colorful tears of joy.
13. Lace
Elowen Lace Trapeze Dress, $37, Fashion to Figure
This trapeze swing dress features a clear rose pattern in white lace. The sheer lace necklace adds a little extra detail, too.
14. Striped
Ease to Meet You Tunic in Grey Stripes, $35, Modcloth
While this dress is available in sizes S through 4X, I want to see it on a plus size body just to break all the rules this summer. Imagine a double chin in the turtleneck, and a fat body in horizontal stripes and a shapeless silhouette. The fashion rule enforcers are prepping their Twitter fingers already and you'll prove to them that you can wear whatever you damn please.
15. Bell Sleeves
Plus Size Button Front Swing Dress White, $54, Missguided
The bell sleeves and dreamy print give me totally '70s vibes.
16. Laced Up
Alice & You Lace Up Swing Dress, $38, Simply Be
The lace-up trend was so popular for winter 2015 and I don't see it going away anytime soon. When you can wear lace-up dresses in the swing style, why wouldn't you?
17. Patchwork
JIBRI Patchwork Silk Swing Dress, $320, Jibri
This handmade JIBRI dress is the most traditional swing dress cut on this list, but it's likely far from anything you've ever seen before. The luxe silk fabric and pattern are just too good.
I love swing dresses for their ease of wear and for their rule-breaking capabilities. Particularly, I like that I can be comfortable while forcing someone to re-think the way that we police fat women's bodies at the same time. For some, it may just be a dress. But for me, it's a statement: Shapeless or shape-hugging, all dresses are for all bodies.
Images: Courtesy Brands