Here's The Most Size Inclusive Swimwear Collection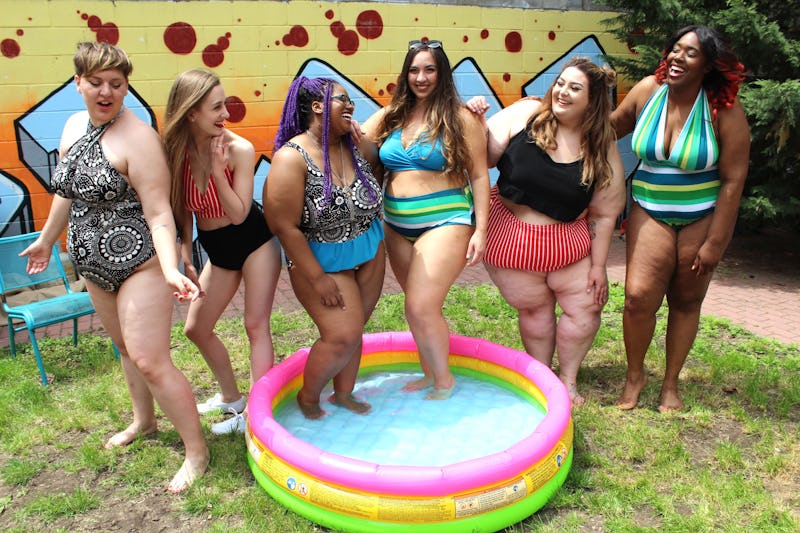 Swimwear doesn't get much more inclusive than this. Ranging in sizes XXS through 6X, designer Mallorie Dunn is back at it again with the launch of SmartGlamour's 2016 swimwear collection. The line features not only bathing suits, but some accompanying summer-friendly clothing that'll make SmartGlamour a one-stop-shop for all your beach and holiday needs this season.
Modeled on individuals wearing sizes XS through 5X, as per the collection's press release, and with an adamant stance against retouching, the body positive brand is blowing inclusive retail out of the water. Although the fatkini has been ruling the world and the internet for a couple of years now, SmartGlamour is pushing for progress in a way that many other stores are not. Designing clothing up to a size 3X simply isn't enough anymore.
By making its designs fully customizable to the proportions or needs of its customers, SmartGlamour has never been about pushing plus sizes because it's trendy to do so. The brand, as proven by this collection, is all about making anyone and everyone feel fabulous and catered to. Not only does SG provide all the sizes, but it provides style, too, all the while eschewing the concept of "flattering" clothing completely.
You may expect these handmade pieces to be entirely out of a budget-friendly price range, but fear not. Affordability and accessibility are cornerstones of the brand.
Ranging from $25 for super cute bikini bottoms to $55 for a convertible all-in-one piece, the bathing suits and cover-ups released by SmartGlamour on May 16 are truly impressive. Especially considering that SmartGlamour will design all of the products by hand and to each customer's individual needs.
Want more size inclusivity? Check out the podcast below, and be sure to subscribe to The BodCast for more radical body positivity!
As for the summer looks, SmartGlamour's dresses can come in as inexpensive at $50, with tops, shorts, and skirts in the $40 region. While the pieces might be more expensive than those of your average fast fashion brand, the point remains: SmartGlamour isn't your average fast fashion brand.
Ethically, this company supports every different type of person in every way it can. Outside of social justice consciousness, SmartGlamour is offering a handmade, customizable service with absolutely stunning designs. If that isn't worth an investment, I don't know what is.
So whether you're just looking for matching swimsuits for you and the girl gang to wear all summer long, or you really want to support a company that uses the body positive label and means it, SmartGlamour is likely the place for you.
Images: Courtesy SmartGlamour