"Rainbrows" Is The Next Big Brow Trend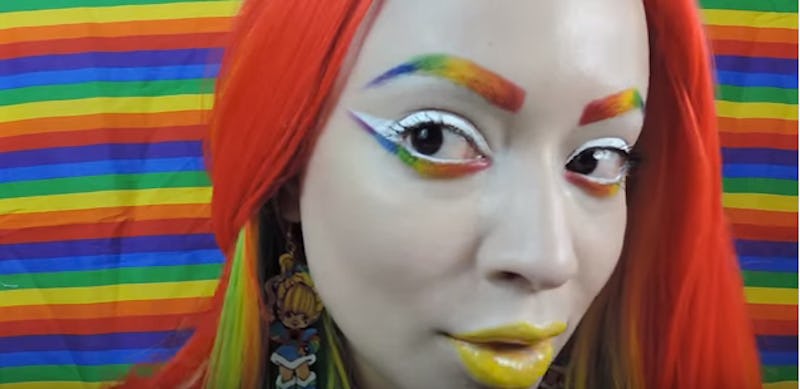 If you were totally obsessed with the glitter eyebrow look that swept across social media recently, then you're going to fall in love with the latest eyebrow trend. It's called "rainbrows" (read: rainbow eyebrows), and it's quite possibly the wackiest, most out-of-the-box eyebrow style I have seen yet. After countless cooky trends like bleached brows, glitter brows, and bedazzled brows, I thought I had seen it all, but rainbrows definitely take the cake for the strangest beauty look ever.
Eyebrows have been a hot topic in the beauty world for as long as I can remember. Ever since Cara Delevingne catapulted #BrowsOnFleek into fame, people can't seem to stop obsessing over different eyebrow looks. So what exactly are rainbrows? It's all in the name, really. The trend is all about rocking bright colors of the rainbow on your eyebrows via one of two ways.
If you want to fully commit to the colorful look you can dye your brows in the colors you want. If you're looking for a less permanent option or just want to experiment with the style for the day, you can opt to use vividly colored makeup to splash some pigment onto your brows.
If you're ready to try the bold look at home, this tutorial by Youtube vlogger Alexandra Merino will help you nail colorful brows in five easy steps.
1. Line Brows With White Eyeliner & Blend
Tracing your eyebrows with some white eyeliner will help lighten their natural color, and therefore make the bright rainbow hues really pop.
2. Outline Brows With Each Color
Rather than just slabbing color directly to the brow, use an angled brush to trace the top and bottom. This will help create a more precise, clean look.
3. Fill In Brows With Each Color
The great thing about this step is that you can control the shape of the brow. If you're into high-arched brows, you can achieve so by filling in more at the top versus straight across.
4. Clean Up The Edges
You can use a pointed sponge or a thin brush to clean the excess powder along the brow line.
5. Apply Highlighter Under Brows
Applying white eyeshadow or your favorite highlighter right underneath the brow bone will help emphasize the rainbow colors even more.
Check out the full tutorial for more detailed instructions.
If you need even more inspiration, here are some of the prettiest examples of rainbrows.
One word: obsession.
The trend was practically made for music festivals like Coachella.
You can match your makeup to your rainbrows for an even more dramatic effect.
Images: AlexandraMerino/Youtube (9)