9 Products That Cover A Hickey In One Step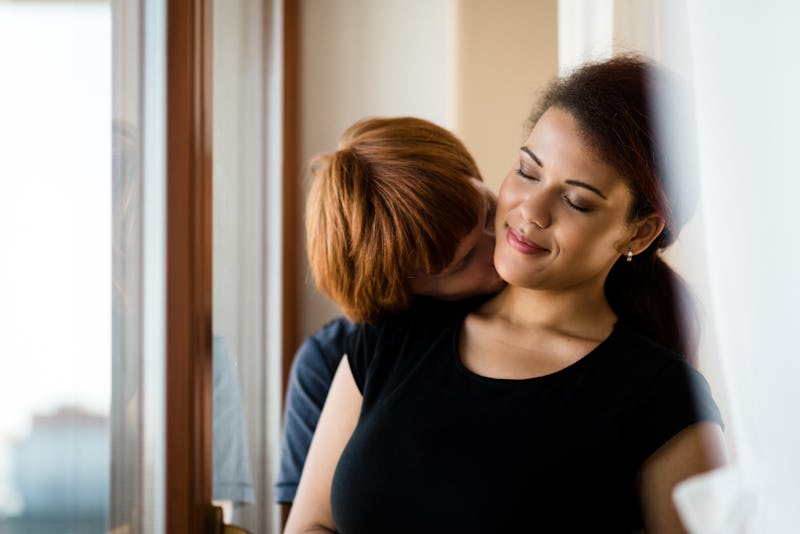 Martin Novak/Moment/Getty Images
You sly dog, you. Things got a little, ahem, heated on your date last night and now a hickey large enough to warrant its own zip code is staring back at you in the bathroom mirror. Whether you're off to yoga with friends or worse, dinner with the 'rents, here are nine products that cover a hickey in one step.
Sucking has its place in the bedroom, but if misplaced can leave some serious bruising and perhaps scars. That's because a hickey is essentially a bruise, which is why you need to heal it first and then conceal. If you have time, apply a cold pack or chilly spoon to the hickey. Pop the spoon in the freezer as you get ready for the day, and then apply to the affected area for 10-15 minutes. Rubbing a vitamin K-packed serum might also mitigate the intense color.
None of those tricks worked well enough to hit the light of day? Not to worry. You can conceal a bruise with some heavy-duty products or a strong makeup technique.
Need something more heavy duty? Here are nine products that cover a hickey in a single step.
Kat Von D Lock-It Concealer, $25, Sephora
This high pigmented concealer is a drier formulation, so it won't settle in your neck creases. Plus, it's designed to cover "blemishes, redness, dark circles, ahem, hickeys — so you can go undercover with confidence!" 'Nuff said.
Dermablend Quick-Fix Concealer, $26, Derm Store
This concealer is designed to cover up serious skin issues, like rosacea, scarring, black eyes — the works. It'll do just fine for your hickey.
Amazing Cosmetics Amazing Concealer, $42, Sephora
This professional-grade concealer is used on movie sets to cover bumps and bruises. Apply and set with a translucent powder so it stays all day.
4. CM Beauty Leg Magic
CM Beauty Leg Magic, $26, CM Beauty
This formula goes on completely opaque, so you won't stain even your whitest button up.
Want more fashion and beauty tips? Check out the video below and subscribe to Bustle on YouTube!
MAC Studio Finish SPF 35 Concealer, $20, Nordstrom
Plan on a summer outing or hitting the gym with that hickey in tow? Keep it concealed with this waterproof formula.
Cover FX Cream Concealer, $27, Sephora
This collection has a huge line of color options, so everyone can find the perfect shade to blend that hickey away.
Benefit Bo-ing Industrial Strength Concealer, $20, Sephora
"Industrial strength" is big talk, and this concealer lives up to its name. It's available in light to deep shades, and never creases.
Tarte Rainforest of The Sea Wipeout Color Correcting Palette, $45, Sephora
As your hickey heals, it will change from red to purple and finally yellow. Cover up in each stage with a multi-purpose palette.
Hard Candy Glamflauge Heavy Duty Concealer, $6, Walmart
This super affordable concealer has a dry formula to prevent creasing, but is blendable enough to look natural.
Images: Martin Novak/Moment/Getty Images; Courtesy of Brands