You Have To See This Colorful Instagram Trend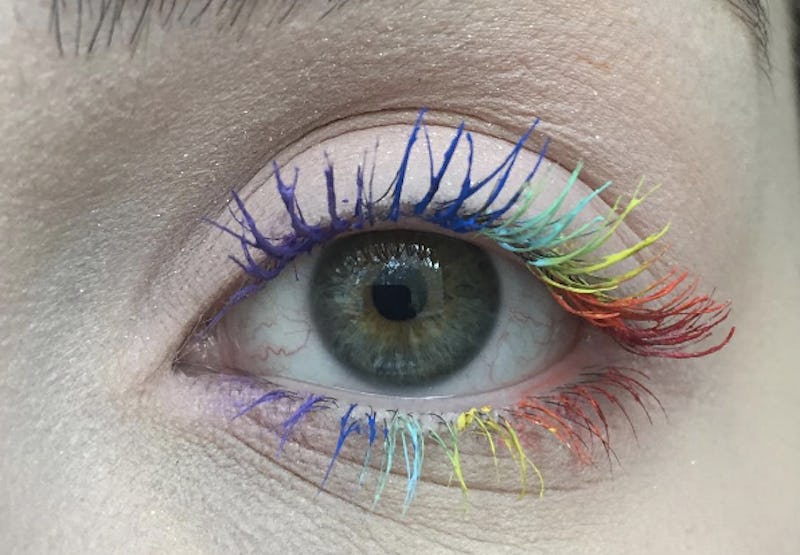 It seems that 2016 is slowly becoming the year of the rainbow beauty trends. From Kylie Jenner's rainbow-colored braids to viral ROYGBIV highlighters, colorful beauty looks seem to be here to stay, and Instagram's latest beauty trend, rainbow lashes, is no exception. These gorgeously-hued lashes are taking over the social media app, and with good reason – they're absolutely sensational! Whether they are DIY'd or done professionally, these beauty looks are definitely catching my eye.
When it comes to replicating the look, there are a few ways that you can go about it. The first way is by using falsies to create the dimensional look. Many party and drugstores carry a wide variety of colorful lashes, so you can either mix and match your own or select a pre-designed lash. Either way, using false lashes is a simple, easy way to create the fun look.
If you're looking channel your inner beauty guru, then this look can also be done using colored mascaras or colorful eyeshadows. Brands like NYX, Benefit Cosmetics, and Sephora, all carry brightly hued mascaras that would be perfect for creating this look. If you don't feel like buying individual mascaras, simply wet an eyeliner brush and dip into your favorite ROYGBIV colors. Layer the eyeshadows onto your lashes to create your own stunning look.
Now, these lashes are definitely a show-stopper. They would be perfect for any LGBTQ Pride Day, or days when you want to support the international LGBTQ community.
If you're unsure of creating this lash look on your own, you can always head to an esthetician to recreate the look. The esthetician can place the specifically colorful lash extensions to your natural lash line to give you a long-wearing look.
Look how fierce these lashes are?
Now, go out there and slay with your new lashes!
Images: marielreilly/Instagram