15 Things To Bake In A Crock-Pot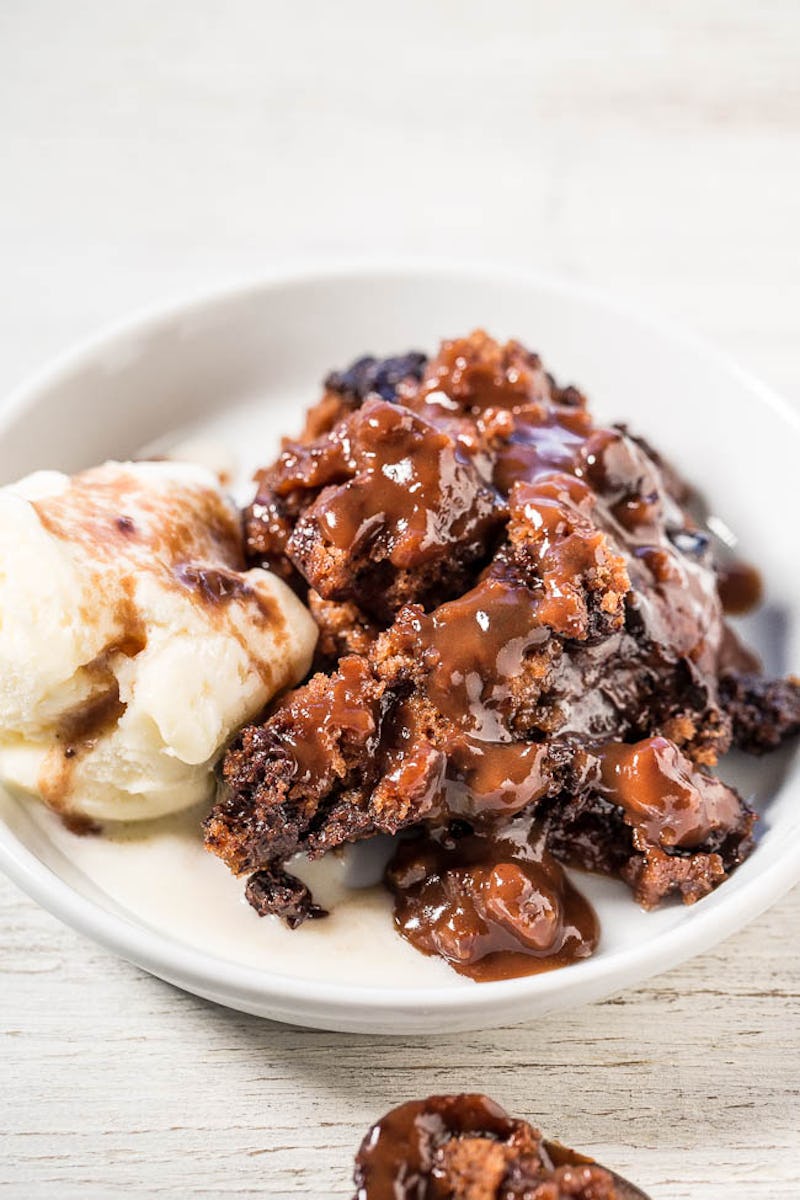 Are you a lazy baker? Do you wish you could just magically have delicious baked goods appear before you with little to no work? If so, you're going to want to take notes on all of these easy things to bake in a Crock-Pot.
When the weather turns warmer, you might think that it's time to retire that Crock-Pot to the depths of your lower cabinets after working them hard all fall and winter. All I can say is, you couldn't be more wrong with that move, especially if you have a sweet tooth that is anywhere close to being as strong as mine.
I don't know about you, but work tends to get more difficult to get through when the weather is warmer. All you want to do is ditch your responsibilities and go sit in a park somewhere, staring up at the clouds and drinking a nice cold brew. When I get home on a Friday after a particularly long week, I just want something baked warm and fresh to curl up with and get myself into weekend mode.
This is where I bust out the Crock-Pot. These Crock-Pot baking recipes are ridiculously easy to master, and they taste just as good as, if not better than, those complicated baking recipes that take hours to master in the kitchen. Ready for baking bliss? Read on, my friends. Read on.
1. Slow Cooker Bread
There's nothing quite as satisfying as the first bite of freshly baked warm bread. Now you can do it without the fancy bread maker or complicated recipe thanks to The Kitchn.
2. Slow Cooker Baked Oatmeal with Bananas and Nuts
Wake up to a freshly baked breakfast, even if you are single and living with your pup. Foodiecrush's baked oatmeal has all the flavor and texture you desire to get your morning started right.
3. Blueberry Maple Slow Cooker Cake
Berries are everywhere this time of year, so take advantage of the freshness without all the work. This slow cooker cake from Healthful Pursuit will have everyone thinking you spent hours on it, when really the Crock-Pot did all the work.
4. Slow Cooker Triple Chocolate & Peanut Butter Cake
Calling all chocolate and peanut butter-obsessed folks. This rich, gooey cake from Pass the Sushi is just the chocolate fix you need, without having to head to a fancy restaurant for one of those molten lava cake things.
5. Slow Cooker Apple Crumble
With the all-American holidays coming up, take a break from apple pie and go for an easy apple crisp from How Sweet It Is. Serve with extra vanilla ice cream and a side of fireworks, please.
6. Crock-Pot Brioche
You can make that fancy brioche bread in your Crock-Pot, can you believe it? Crepes of Wrath makes it so with her soft and dreamy recipe for bread that'll totally one-up anything you can get at the grocery store.
7. Slow Cooker Hot Fudge Chocolate Cake
Imagine coming home to a pile of this fudgy chocolate cake from Averie Cooks, and a heaping helping of ice cream to top it all off with. Excuse me while I wipe the drool from my chin.
8. Gooey Slow Cooker Caramel Blondies
Not everything dessert has to be chocolate. If you are a caramel lover, Taste and Tell has a gooey sticky dessert that will have you swooning.
9. Slow Cooker Hot Fudge Peanut Butter Pudding Cake
Who needs weekend plans when you can cuddle up with a bowl of this hot fudge peanut butter cake from Mel's Kitchen Cafe?
10. Easy Strawberry Pineapple Cake
Get fruity and tropical with your Crock-Pot baking this summer. Mom on Timeout combines fresh strawberries and pineapple in this cake to really blow your mind with summery goodness.
11. Four-Ingredient Slow Cooker Coconut Cake
Willow Bird Baking makes this dreamy coconut cake the simplest thing in the world to make. I mean, there are only four ingredients. It doesn't get much easier than that.
12. Slow Cooker Banana Bread with Brown Sugar Sauce
Banana bread is one of my all-time favorite things to devour for breakfast, and Averie Cooks just made it possible in a Crock-Pot. I've never been so excited to wake up in the morning in my life.
13. Slow Cooker Cobbler with ALL the Berries
When I eat my cobbler, I like my berries with a side of berries on a pile of berries. Cram all the berries into your Crock-Pot, and watch the magic happen with this super simple recipe from Food Fanatic.
14. Crock-Pot Peanut Butter Cup Cake
The addition of little peanut butter cups in this cake makes Cookies & Cups the queen of my dessert-loving heart. Whatever you were planning to make this week, just scrap it. This is all you need in your life.
15. Slow Cooker Peanut Butter Brownies
Just in case you weren't sold on this whole peanut butter and chocolate idea, I've got one more recipe from Mom on Timeout to convince you to keep that Crock-Pot running all year long. These brownies are a work of chocolaty, gooey art.
What are you waiting for? Get that sweet tooth satisfied.
Images: The Kitchn; Foodiecrush; Healthful Pursuit; Pass the Sushi; How Sweet It Is; Crepes of Wrath; Averie Cooks; Taste and Tell; Mel's Kitchen Cafe; Mom on Timeout; Willow Bird Baking; Averie Cooks; Food Fanatic; Cookies & Cups; Mom on Timeout