15 Picnic Recipes Perfect For Memorial Day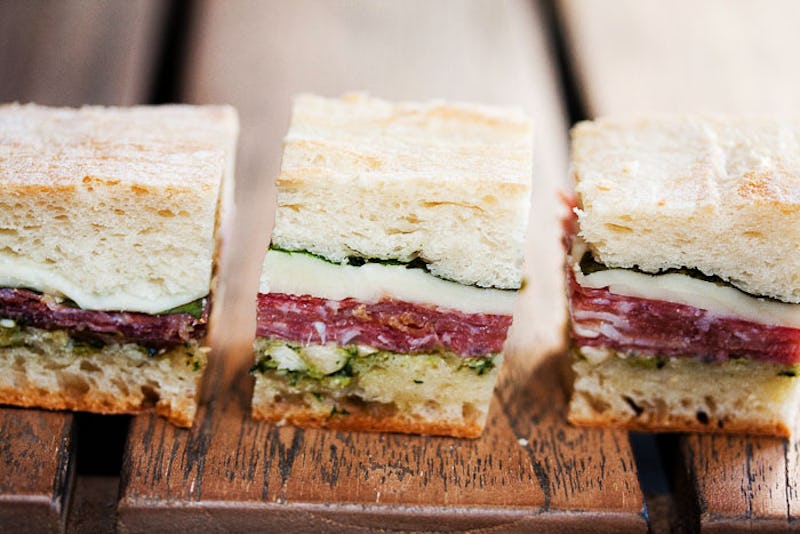 Memorial Day is coming up, and if your family is anything like mine, you're planning to hit the park, dig into some seriously good food, and get ready to usher in the beginning of summer. To do this properly, you will need Memorial Day picnic recipes that are irresistible, and oh-so easy to create.
My family has had the picnic tradition on Memorial Day for decades. Most of my mom's family was in the service, so Memorial Day was an important part of our family get-togethers. It was always a sign that summer was truly starting for me. You'd grab some lemonade, a few sandwiches, and chow down with everyone you love to celebrate in true family style. Most of our celebrations revolved around food when I was growing up. It's no wonder I turned out to be such a crazy foodie.
Don't let Memorial Day come and go without taking time to celebrate and enjoy some delicious food. I know you normally don't need an excuse to do so, but hopefully this roundup of favorite picnic recipes will inspire you to get outside and enjoy the warm weather as summer finally begins to set in. Don't forget extra lemonade, a few beers, and a big ol' picnic blanket.
1. Herby Picnic Potato Salad
An herbaceous potato salad like this one from Green Kitchen Stories is synonymous with picnics in my opinion. All that flavor pairs perfectly with a grilled up hot dog.
2. Picnic Wraps With Feta & Quinoa Salad
Picnics require recipes that are easily portable and easy to eat in a casual setting. That's why I'd love to reach for one of these delicious wraps from Love & Lemons this Memorial Day.
3. Picnic Cake
You can't forget dessert, ever. This easy picnic cake from Bake Love Give is an easy, transportable recipe that'll stand up to a hot summer day.
4. Red White and Blue Potato Salad
Get a little patriotic with your potato salad this Memorial Day. Baked by Rachel crafts up a stunning recipe that'll have you singing red, white, and blue anthems all day long.
5. Pressed Picnic Sandwiches
The only thing these sandwiches from Crepes of Wrath are missing is a giant glass of lemonade and some homemade chips.
6. Baked Zucchini Chips
Isn't it about time you switched up your potato chip routine for something more exciting? Get your crunch on with this zucchini variation from A Spicy Perspective. It makes the perfect side for anything you have planned.
7. Crunchy Chicken Salad Sandwiches
This ain't your momma's chicken salad, that's for sure. Big Girls Small Kitchen packs in the flavor and texture with this recipe. Everyone will be asking for seconds, so be sure to bring extra helpings.
8. Oatmeal Peanut Butter Snack Squares
Picnic days at the park need a little something to hold you over while you're waiting for the main event. These easy snack squares from How Sweet It Is will satisfy your tummy so you don't end up hangry.
9. Parmesan Pesto Chicken
This Parmesan pesto chicken from A Spicy Perspective is a great addition for salads, or just throw it in between a couple slices of bread. It's a versatile way to let people build their own sandwiches or salads in the park. Less stress for you is always a good thing, right?
10. Country Picnic Oven "Fried" Chicken Sandwich
Oven "fried" chicken sandwiches from The Scrumptious Kitchen make fried chicken in the park possible. There's nothing more all-American than that.
11. Spinach Pesto Pasta Salad
Generally I'm not a huge pasta salad fan, but this recipe from Baked by Rachel has me standing at attention. Pair it with a burger and a cold brew, and I'm in picnic heaven.
12. Strawberry Lemonade Fudge
This sweet and tart dessert recipe from A Spicy Perspective is a delicious way to finish out the picnic on a high note.
13. Watergate Salad
I'm calling it now! These gorgeous marshmallow-filled salads from My Baking Addiction are going to be a crowd favorite.
14. Fireworks Pasta Salad
The bold flavors in this pasta salad from Kitchen Confidante will break up all the heaviness of all those grilled meats and sandwiches.
15. Chocolate Malt Brownie Parfaits in a Jar
Make your desserts ahead of time in individual portions. A Spicy Perspective really satisfies your chocolate craving with these adorable jars of happiness.
Images: Green Kitchen Stories; Love & Lemons; Bake Love Give; Baked by Rachel; Crepes of Wrath; A Spicy Perspective; Big Girls Small Kitchen; How Sweet It Is; A Spicy Perspective; The Scrumptious Kitchen; Baked by Rachel; A Spicy Perspective;; My Baking Addiction; Kitchen Confidante; A Spicy Perspective