Blondes Need To Know About These Brow Products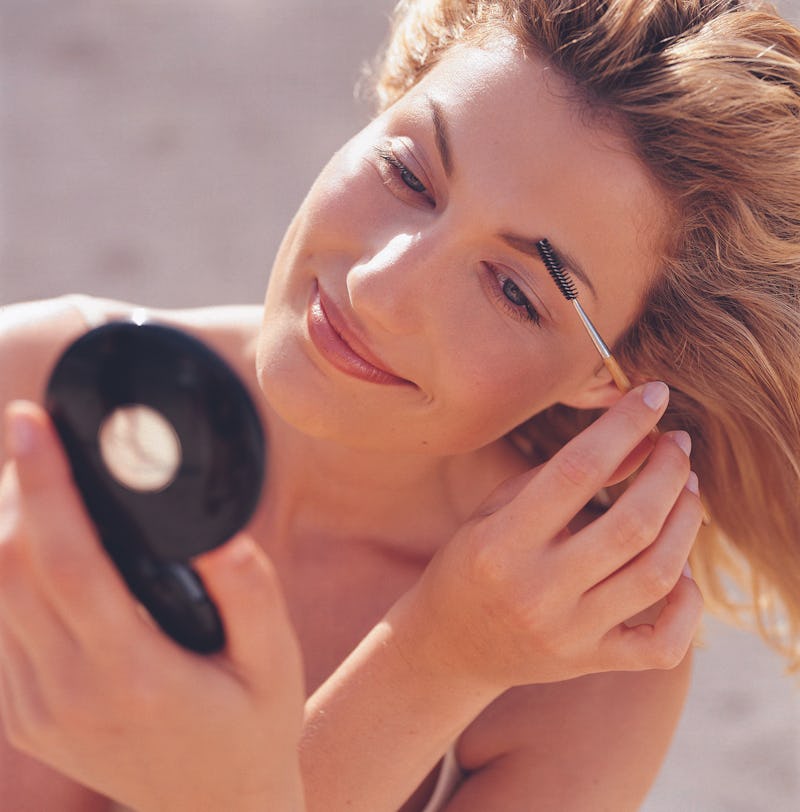 Stockbyte/Stockbyte/Getty Images
Hands down the most transformative makeup product I've ever used is brow mascara, and I absolutely swear by the product to make my blonde brows stand out. If you have blonde hair or light eyebrows, you know exactly what I'm talking about, which is why you need to shop the best eyebrow products for blondes. They are designed to enhance your natural brows in a way that looks like you were born with them, instead of dark and harsh.
Although my blonde hair, which was way lighter when I was a kid, has darkened over the years, my eyebrows have unfortunately not followed suit. They're naturally super light, and when summer comes around, the sun bleaches them even lighter. It's taken me years to find the right brow product, but luckily I've tried a lot of great ones.
From gels to pencils to pomades, brow products can come in a million different forms. Which one you choose is all about personal preference — pencils can be more precise, pomades have great pigmentation and gels are the quickest way to get defined brows. There's a product or everyone on this list, and I promise you'll fall for one of them.
Lorac Pro Brow Pencil, $19, Amazon
This super precise brow pencil from Lorac comes in a great blonde shade and a slightly darker light brown shade if you want a little bit more definition. It also comes with a great brush end to help your brows look a little less harsh and brush them into place.
Revlon Brow Fantasy, $7, Amazon
I love this product from Revlon because it's a two in one product. It comes with a pencil to use first, then a brow pomade with a brush on the other end. For days when you want to swipe and go, you can use that end and be out the door in 30 seconds. Or, use the two products together.
Anastasia Brow Powder Duo , $23, Amazon
Anastasia Beverly Hills is one of the biggest brow product shops in the game, and its brow powder duo does not disappoint. It comes in 11 shades, and there are several that could work for blondes, no matter what shade your brows are. It also comes with two shades per duo, so it can perfectly blend to match your exact brow color.
Want more fashion and beauty tips? Check out the video below and subscribe to Bustle on YouTube!
Glossier Boy Brow, $16, Glossier
Glossier Boy Brow is my latest favorite product, and I'm absolutely obsessed with how easy it is to use. Word to the wise — if you have super light brows, this will probably be too dark for you. But if you're looking for a one-step brow product that stays in place all day, this is perfect for you.
Benefit ka-BROW! Eyebrow Cream-Gel Color, $24, Sephora
I love how fun Benefit's product names are, and this new one is no exception. It's not technically released yet (it comes out June 24), but I had to include it because if it's from Benefit, it's guaranteed to be great. It comes in six shades, and at least two are perfect for blondes. It's a hybrid cream/gel and its angled brush is perfect for precise application.
NYX Sculpt & Highlight Brow Contour, $13, Amazon
This brow pencil also comes with a highlighter on the other end, so after defining your brows with the pencil, you can use the highlighter on your brow bone to make them pop even more. It comes in eight shades, so you'll be sure to find one that matches your brow shade.
Wunderbrow, $22, Amazon
If you self-identify as a lazy girl, you will appreciate this product. Having on-fleek brows 24/7 is hard, but you don't have to commit to tattooing or microblading. Thanks to this semi-permanent product from Wunderbrow, your brows will look natural and last through showers and workouts for days.
With these brow products, yours will be looking amazing in no time.
Images: Stockbyte/Stockbyte/Getty Images; Courtesy of Brands