11 Beauty Products To Help You Wake Up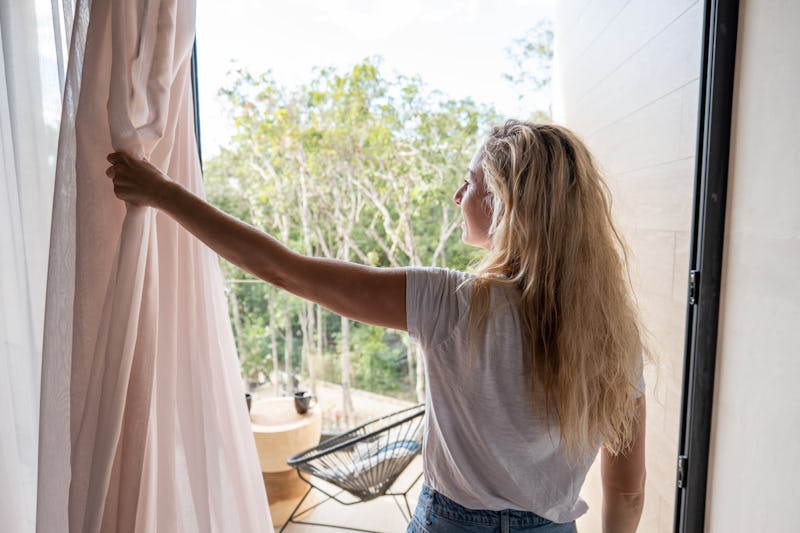 Mystockimages/E+/Getty Images
Getting up in the morning can be such a drag. Give your skin a wake-up call by using energizing beauty products that will help to wake you up. Whether it's their stimulating formulas or their invigorating smells, there are tons of skin and hair care products that are perfect for giving your morning a little boost. Just like your favorite cup of joe, these products are going to wake you up and keep you going.
When it comes to perking up tired skin, it's always great to reach for products that are a little outside the box. Personally, I love using products with invigorating formulas. For instance, using oxygen-based masks or bubble masks are the perfect way to start the day for me. The foaming sensation feels amazing against tired skin, and helps to stimulate all of your senses. Plus, a morning face mask gives you the perfect excuse to close your eyes for a few more minutes, while it processes. It's a win-win. Wondering what other products are perfect for a morning wake-up call? Here are 11 beauty products that are perfect for stimulating your senses, and leaving you feeling energized. They're the best thing to happen to your morning routine since coffee.
1. Bliss Triple Oxygen Instant Energizing Foaming Mask
Triple Oxygen Mask, $56, Amazon
Give your skin a boost of oxygen with this gentle foaming mask. It's perfect for waking up the skin, and giving you a glowing, youthful complexion.
2. Origins GinZing Energy-Boosting Moisturizer
Moisturizer, $28.50, Sephora
Get glowing in the early morning with this energizing facial moisturizer. Packed with ginseng and coffee beans, this cream is just the wake up call your skin needs.
3. LUSH Cup O' Coffee
Face and Body Mask, $11, Lush
Stimulate your senses with this coffee scented face and body mask.
4. PLANT Body Wash
Wake Up Body Wash, $20, Amazon
Give your morning shower an energizing boost with this rosemary and lemongrass scented body wash.
5. Clinique Pep-Start Eye Cream
Give your eye bags an early morning pep-talk with this peptide infused eye cream.
6. Belmondo The Rain Facial Cleanser
Face Cleanser, $33, Rodale's
Kick up your morning skincare routine with this invigorating facial cleanser. Formulated with gentle lavender and rose, this cleanser stimulates your senses, while cleansing your skin.
7. Clean & Clear Morning Burst Hydrating Gel Moisturizer
Hydrating Moisturizer, $5, Amazon
Jump start your morning by using a refreshing moisturizer to hydrate your skin.
8. LUSH Dirty Springwash Shower Gel
Shower Gel, $10, Lush
Perk up your shower with this spearmint scented body gel.
9. Sephora Collection Jelly Mask Moisturizing & Energizing
Jelly Mask, $19, Sephora
Rev up your radiance with this hydrating jelly mask. Formulated with tons of vitamins, this mask is perfect for awakening tired skin.
10. Davines Naturaltech Energizing Shampoo
Stimulate your scalp with this energizing shampoo. The product works by boosting the circulation in your scalp to promote new hair growth.
11. Lancôme ÉNERGIE DE VIE Dullness Relief & Energy Recharge Daily Lotion
Lotion, $50, Sephora
Help promote a healthy, youthful glow with this lightweight cosmetic water. The formula helps to revive tired skin, while boosting hydration.
Later, tired skin. Hello, gorgeous glow!
Images: Mystockimages/E+/Getty Images; Courtesy Brands