Stop Ruining Your Hair By Breaking These 9 Habits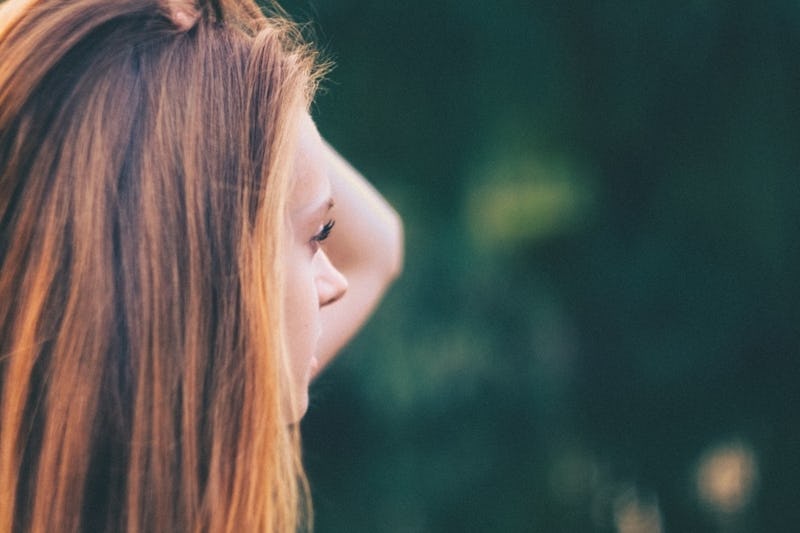 If you've noticed your 'do has been acting all kinds of crazy lately, bring things back on track by learning how to stop ruining your hair by breaking certain daily habits. Chances are, some of these habits are things that you never even knew were causing harm to your hair, and when you learn how to change them, you'll notice instant results that will improve the look and feel of your hair.
For instance, if you have certain hair products that you can't go a day without — you may not realize that you're actually doing your hair harm by weighing it down with too much build-up at your scalp. If you're not willing to put down the hairspray or styling mousse, make sure you cleanse your hair with a heavy duty clarifying shampoo that wipes away any trace of leftover product from your scalp. After you start doing this, your hair will have a major boost of volume and shine.
Or, if you hop out of the shower and head straight for your blow dryer, you'll want to let your hair dry first, by wrapping it in a soft, extra-absorbent microfiber towel before you apply heat. This will reduce the time that your strands have sit under high temperatures and give you a finished style that has way less frizz and way more shine. Read on for the hair damaging habits you need to break and for all the daily ways to improve your hair's health.
You Don't Save Your Hair From Sun Damage — Use A Protective SPF Leave-In Spray
Even in the winter, UV rays can wage war on your hair by fading your color, drying out strands, and giving you some harsh split ends. This 3-in-1 leave-in spray will condition your hair with coconut oil and banana leaf, while it detangles and protects against damage from the sun. Whether you're putting it on before a day at the beach or for extra protection before you walk to work — your hair will be frizz-free and healthy will a high-gloss shine.
And Keep Hair Hydrated With A Deep Conditioning Mask After A Day In The Sun
This made-in-Israel hydrating mask has a weightless formula that deeply conditions hair that's been dried out after a day under the sun or from the stress caused by exposure to really cold temperatures. It's secret is its high infusion of argan oil, which is known to restore dull hair and give it the essential nourishment it craves to be in its best and healthiest state. For the best results, apply this to your hair once or twice a week for five minutes, and watch as your hair's texture improves in no time.
You Sleep On Scratchy Cotton — Switch To Hydrating Silk Pillowcases
Sleeping on regular pillowcases causes major tension on hair when you toss and turn during the night, leaving you waking up to dried out strands that are weak and more prone to breakage. By sleeping on 100 percent silk pillowcases, you're giving your hair a safe surface to rest on that will keep it hydrated, soft, and smooth while you snooze. Bonus: These pillowcases are machine-washable, so you can be sure to clean them often to remove any dirt or oils that could sneak onto your scalp and weigh down your 'do.
You Heat Style Daily — First, Prep Your Hair With A Thermal Protecting Spray
ArtNaturals Thermal Protectant Spray , $14, Amazon
Constant heat styling is no friend to strong and healthy hair. Before picking up your curling wand, mist a thermal protectant onto your hair to create a shield over your strands that repels frizz, dryness, and breakage. This spray uses natural oils to protect your hair from sun and heat damage, and the formula can even double as a leave-in conditioner.
And If You Iron Regularly, Stick to Moisturizing Ceramic Tourmaline Plates
An iron with ceramic plates and tourmaline technology produces ions that lock moisture into your hair, which keep it from becoming lifeless and brittle after you smooth out your hair. Plus, this flat iron will run smoothly through your strands and make your styling time much faster — giving you soft and touchable results, especially when combined with a thermal protectant spray. One user gave this one-inch iron five stars because of its speedy heat-up time.
You Blow Dry Soaking Wet Hair — First, Towel Dry With Best-Selling Microfiber Towel
To prevent damage and the need to over-dry with heat, dry hair 50 percent of the way with a safe, breakage-free microfiber towel before you pick up your blow dryer. You'll expose your hair to less heat, which will make hair shinier and healthier over time, and you'll get the same results — as your hair locks a style in from the damp stage to the dry stage. Users prefer these soft microfiber towels over traditional terrycloth towels because they don't create friction when you rub them onto your hair, and they absorb water much faster.
You Massage Conditioner Into Roots — Apply Lightweight Conditioner On Ends Only
Wella Elements Conditioner, $23, Amazon
Too much of a good thing definitely exists when it comes to conditioner. In the shower, make sure to prevent your hair from being weighed down later in the day by only applying conditioner on your ends — never your roots. With this natural-smelling conditioner's lightweight formula, your hair with be softer and healthier without being heavy and oily after you dry. One user raved about this formula's results on fine hair and light moisturizing effects.
You're Overdoing It With Products — Cleanse Hair With A Clarifying Shampoo Infused With Apple Cider
Speaking of too much of a good thing — amazing products can be one of the easiest things to overuse. If you don't properly wipe your hair clean of products regularly, then you could have build-up forming that is causing your hair to be out of whack. Cleansing your hair with the right clarifying shampoo (particularly one containing apple cider) treats your scalp to a deep clean. It'll kick any product build-up out of the picture, giving you more manageable hair that looks healthier and shinier. Users rave about this shampoo because it makes greasy hair more balanced, and it smells delicious, too.
You Pull Your Hair Back Too Tight — Use Snag-Free Elastics To Safely Secure Style
When you have a busy schedule, the easiest thing to do is to throw your hair up into a tight topknot bun or high ponytail. That's totally understandable and definitely a cute look for an on-the-go day, but doing that too often can cause major breakage — especially if you're using tight hair ties that snag on your strands. If you need to do an up-do, use these snag-free elastics, instead. They'll hold your style without hurting your hair as they easily glide on and off without pulling or getting stuck
Bustle may receive a portion of sales from products purchased from this article, which was created independently from Bustle's editorial and sales departments.
Images: Pexels (1); Amazon (9)