8 Tricks for Fuller Lips Without Using Lipstick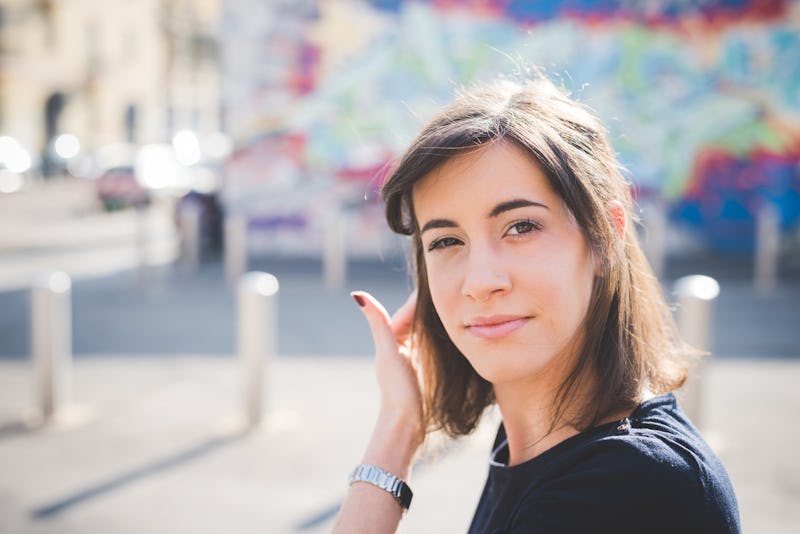 While it's always a good idea to embrace your natural pout (no matter what shape or size it is), it can also be fun to test a few ways to make lips look bigger without using makeup. While there are seemingly a million beauty products that can be used to create the Kylie Jenner-esque puckers, there are also ways to make lips look plumper with no matte glosses or lip contouring necessary. By incorporating these makeup-free tricks into your daily beauty routine, you'll easily master the makeup tricks that give you fuller-looking lips, in addition to saving your wallet from a certain popular celebrity lip kit.
When your lips have dry skin laying on their surface, that could stop them from looking bright, vibrant, and full. To prevent this from dragging down the appearance of your lips, scrub on a natural sugar exfoliator. It will wipe away dead skin and bring out your pout's natural shade, making your lips' shape looked more defined. (It won't be hard to make this a daily habit, either, after tasting the excess bubblegum-flavored sugar.)
If you're looking for an instantly noticeable, more extreme boost of volume for your lips, you can also try an intense plumping formula that dilates blood vessels for a pillowy-soft pout. So, before you sit down for a YouTube tutorial on lip liners and highlighters — learn how to condition, hydrate, and moisturize lips to make them full, bright, and totally kissable, instead.
Wipe Away Dry Skin With A Tasty Exfoliating Lip Scrub
If your lips are dried out and hidden underneath dead skin, they won't look as full and bright as they will after you rub on this exfoliating lip scrub. It contains exfoliating fair trade sugar and moisturizing jojoba oil that will bring out your lips' rosy tint and prep them for any balms or lipsticks you apply to help them go on smoother. Plus, after you scrub your lips, you can lick off the excess, and you'll love the little treat of the delicious bubblegum flavor.
Or Try An Exfoliator Balm For A No-Mess Scrub
If you want an exfoliator that works well on-the-go, try it in the form of a conditioning and exfoliating lip balm that is compact and has a mess-free application. The natural oils in the balm will soften and condition your lips, while micro-crystals will gently exfoliate any dry chapped skin that are laying on the surface of your lips. Within seconds, your lips will look way more vibrant.
Keep Lips Hydrated With A Beeswax & Vitamin E Infused Lip Balm
Pineapple Brown Sugar Lip Shit Lip Balm, $8, Amazon
Keep your lips looking full and pouty by keeping them hydrated with a moisturizing lip balm. This compact balm is infused with nourishing beeswax and vitamin E, and it has a yummy pineapple and brown sugar flavor that will make you want to reapply it all day along. Without adding any unwanted color to your lips, it will only give your kissers a simple, natural shine.
Give Your Pout A Boost With A Plumping Gloss That Increases Circulation
This clear plumping gloss increases circulation to your lips with cinnamon, ginger and essential oils — giving them a tingly sensation and an instant boost. Plus, the transparent gloss will bring out the natural color of your lips and define their shape to enhance your gorgeous pout.
For An Extreme Boost — Use Gloss That Has Blood Vessel Dilator Technology
Whether it's for a special event or you just want the biggest boost for your lips that you can get, this intensely plumping gloss with technology that instantly dilates blood vessels will definitely do the trick. It promises to make lips appear 40 percent fuller, while it conditions and hydrates with avocado and jojoba oils. One user even calls this lip volumizer "second best to fillers."
Revive Your Lips' Natural Shade With A Color-Awakening Lip Balm
Christian Dior Dior Addict Lip Glow Color Awakening Lip Balm, $35, Amazon
When lips have a more saturated color, they can tend to appear bigger. This color-awakening lip balm contains multi-reflective light particles that draw out your lips' natural shade, giving your lips a nice glowing effect. Bonus: This balm even contains SPF 10 to protect lips from becoming dry when you head outdoors.
Protect Lips From Drying Out In The Sun With A SPF 25 Lip Therapy
This lip balm therapy contains natural mint, shea butter, and antioxidants to give your lips lasting moisture that makes them look plump and healthy. Plus, it contains a strong SPF that will shield your pout from the damaging effects of the sun or the wind, which can shrink the appearance of your lips and make them dry and irritated. Bonus: The mint in this balm keeps your breath smelling fresh all day long (even after that fourth cup of joe).
Use A Lip Enhancer That Fills In Lip Lines
With botanical ingredients, vitamin E, shea butter, and jojoba oil, this moisturizing lip enhancer adds volume to your mouth while decreasing the look of fine lines that can form from environmental damage. Your lips will feel softer and more conditioned and will look full and enhanced with a clinically approved Maxi Lip technology, which won't give you the uncomfortable sting that comes with other plumping products. One user called this a "cosmetic that delivers" because it "leaves lips feeling soft and moist with a nice, natural sheen" and is non-greasy with an even application.
Bustle may receive a portion of sales from products purchased from this article, which was created independently from Bustle's editorial and sales departments.
Images: Fotolia (1); Amazon (8)