15 Vegan Desserts For Memorial Day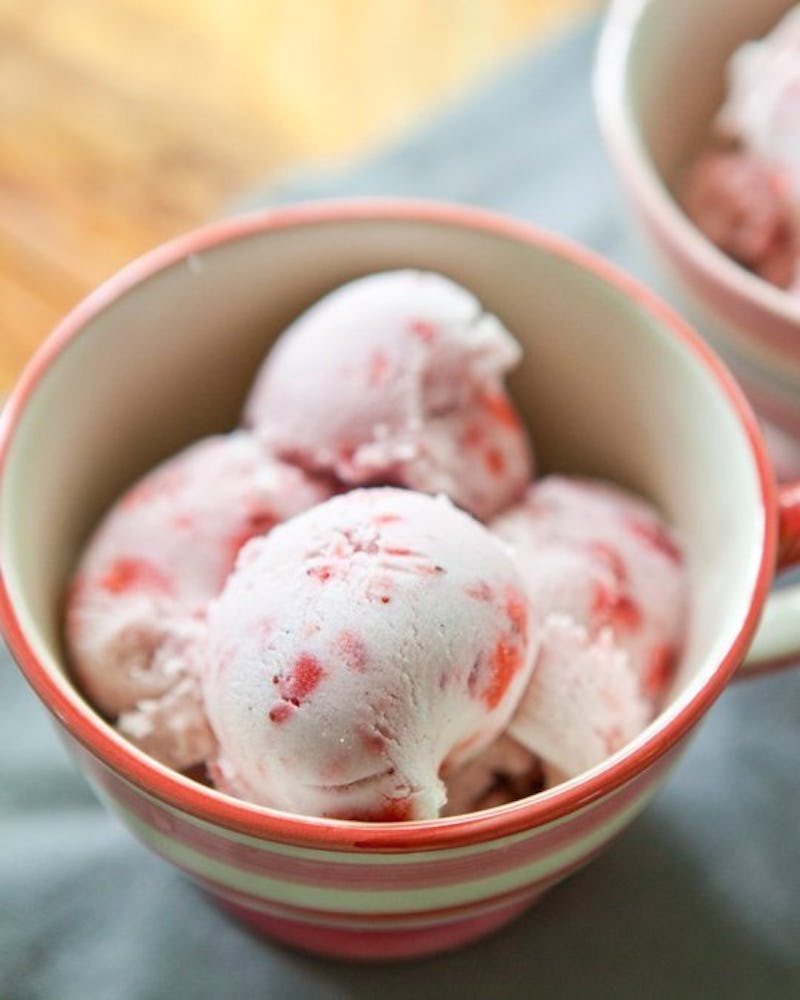 Memorial Day is the unofficial start of summer, and when summer kicks in, the frozen treats are everywhere. You start hearing those ice cream trucks roll around the neighborhood and for some vegans out there, it's torture. This holiday weekend, fear not dear vegans, because I've got vegan Memorial Day desserts that are beyond amazing, and don't involve any dairy.
There is nothing like a cool, creamy bowl of something light and refreshing to make a summer afternoon infinitely better. It's pretty hard to beat, especially when this weekend will be filled with all those meats and treats honoring Memorial Day. So the question remains, how can you make your Memorial Day vegan dessert stand up to all the competition?
This roundup of summery vegan desserts is just what you need to win over friends and family, whether they are on the vegan bandwagon or not. These desserts will bring the sweet to satisfy any sweet tooth out there, and I bet you no one will even be able to guess these desserts are vegan. There won't be a single person in the crowd wishing they could substitute in an ice cream cone after they take their first bites of these killer recipes.
1. Cherry-Strawberry Chia Seed Fool with Vanilla Bean Coconut Whipped Cream
This cherry strawberry packed dessert from Oh She Glows is topped off with a divine whipped cream that no one will realize is dairy-free.
2. Vegan Deconstructed Boozy Mocha Drenched Grilled Banana Coconut Cream Pies
You might have me convinced to be vegan forever if you put one of these bad boys from Half Baked Harvest in front of me. It's like an over-the-top ice cream sundae, minus the ice cream of course.
3. Vegan Red Velvet Cupcakes for Two
Want to squeeze in a little red, white, and blue for the holiday? Grab the blue sprinkles to go with these red velvet cupcakes from Food Fanatic, and you and your boo can spend the night canoodling by the fire pit.
4. Banoffee Pie
Banoffee pie is something I seriously love. Oh She Glows makes this vegan version that everyone will devour in seconds after they've chowed down on their BBQ.
5. Vegan Strawberry Swirl Ice Cream
Sometimes only fresh strawberry ice cream can satiate that sweet tooth. Thank you, The Kitchn, for making a version all vegans can indulge in.
6. Vegan Peach Berry Crumbles
The peach and berry combinations are finally back in season, and these crumbles from Joy the Baker are the perfect way to celebrate. Plus they travel well so you can bring them to the Memorial Day picnic festivities with ease.
7. Vegan and Gluten-Free Chocolate Cake Balls
Get patriotic with these chocolate cake balls from Oh She Glows by using some red, white, and blue sprinkles. These are so much fun; no one will be able to resist popping two or three (or 10) in their mouths.
8. Vegan Matcha Cake with Vanilla Lemon Cream Frosting
If foodies are going to surround you for Memorial Day, really wow them with this fancy matcha cake from Making Thyme for Health. I'd make this for the vanilla lemon cream frosting alone.
9. The Big Vegan Banana Split
I scream, you scream, everyone screams for (vegan) ice cream. This banana split from Oh She Glows really hits the old nostalgia spot for everyone from kids to grandparents.
10. Mini Vegan No-Bake Chocolate Mocha Fudge and Coconut Tarts
These little tarts from Half Baked Harvest take chocolate and coconut decadence to a whole other level. It's like melting into a candy bar with every bite.
11. No-Bake Vegan Strawberry Pie
When strawberries are in season, I can't resist. I will make everything from pies to cakes and more. Making Thyme for Health makes a vegan strawberry pie with vegan gelatin for the ultimate Memorial Day meal closer.
12. Sticky Orange Cake with Marmalade Glaze
Bright notes of marmalade and orange float throughout this vegan cake from The Kitchn. It's perfect for a daytime shindig or an evening soiree.
13. Cherry Chocolate Cake
'Tis the season to combine chocolate and fruit in all your desserts! With cherries popping up at the stores, you can't find a good reason not to make this cake from Cookie + Kate.
14. Chilled Dark Chocolate Pie with Toasted Almond Crust and Strawberry Vanilla Compote
Cool off with a big slice of this chocolate pie from Oh She Glows and be sure to add extra compote on top. The bright fruity flavors with the dark chocolate in the pie make the ultimate chocolaty combo.
15. Thick Raw Lemon Bars
If you need to add a little sunshine in your life, these lemon bars from Oatmeal with a Fork are the answer to your prayers. The raw bars take no time to put together and they will brighten up anyone's holiday get-together.
Happy Memorial Day!
Images: Oh She Glows; Half Baked Harvest; Food Fanatic; Oh She Glows; The Kitchn; Joy the Baker; Oh She Glows; Making Thyme for Health; Oh She Glows; Half Baked; Harvest; Making Thyme for Health; The Kitchn; Cookie + Kate; Oh She Glows; Oatmeal with a Fork