15 Memorial Day Recipes That Feel Patriotic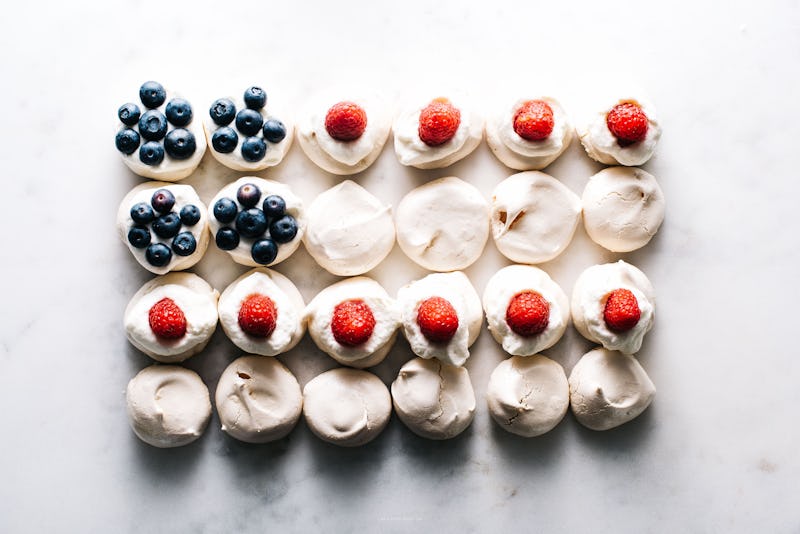 Memorial Day weekend is finally here. While you are barbecuing away the days, soaking up the gorgeous sunshine, and paying homage to our brave men and women in uniform, you will definitely need some Memorial Day recipes to keep you full.
Yes, there will be burgers, dogs, beer, and all the other all-American standards to get your backyard barbecue off to the right start, but you can't forget about those red, white, and blue recipes. Those are the cute recipes everyone oodles over and the drinks that people will hold up and take infinite Instagram photos of throughout the weekend. Don't let your friends and family down this holiday by copping out and buying some bargain cookies or a plain old cake. It is about time we reached into our cooking brains, and made something a little different this year.
That is why I have pulled together the best red, white, and blue Memorial Day recipes out there to celebrate with. From desserts to drinks, salads to snacks, you will find a little bit of everything in this list. No matter what, I guarantee you will find the perfect recipe that is missing from your current lineup for Monday's festivities.
1. Mini Red, White, and Blue Star Cheesecakes
These little cheesecakes from Baked by Rachel are just too darn cute to resist making. Just look at those perfect red, white, and blue layers…
2. Red, White, and Blue Salad
Red, white, and blue foods aren't just reserved for desserts. Foodiecrush makes this fresh and fruity salad that is the perfect partner for those tasty meats you're planning to grill up.
3. Red, White, and Blue Sangria
Kick back in style with this gorgeous sangria from My Baking Addiction as you enjoy the warm weather and good company. I can only imagine how amazing that fruit tastes after soaking up all that yummy wine.
4. Angel Food Bundt Cake
A light, refreshing, pillow-soft cake from Baked by Rachel will even bring the anti-dessert eaters out of the woodwork for a taste. Pile it high with red and blue berries to really set the mood.
5. Red, White, and Blue Mocktail
Don't leave the kids and non-alcohol drinking guests out of the drinking fun. This red, white, and blue mocktail from The Merry Thought is the best way to make sure everyone is having fun and enjoying their refreshment.
6. Red, White, and Blue Whoopie Pies
If you are heading to the park for Memorial Day, don't forget to pack up these whoopie pies from Food Fanatic. They will definitely steal the show once you set them out on the picnic table.
7. Red, White, and Blue Layered Finger Jell-O
There's not much more all-American than Jell-O, except perhaps these layered stars from Brown Eyed Baker.
8. Fudgy Patriotic Brownies
You thought red, white, and blue desserts meant no chocolate, didn't you? You couldn't be more wrong. A Farmgirl's Dabbles makes a brownie so patriotic, you'll stand up and salute after the first bite.
9. Wine Sparklers
These bubbly glasses of deliciousness from The Kitchn will fit right in with all those patriotic desserts and grilled meats. You won't be able to stop at just one, that's for sure.
10. Red, White, and Blue Baked Doughnuts
Starting the celebration early on Memorial Day? No problem. Get patriotic with baked doughnuts from Taste and Tell.
11. Red, White, and Blue Berry Sorbet Floats
Root beer floats just got one-upped by these sorbet floats from Kitchen Confidante. The colorful floats will satisfy that sweet tooth and keep you cool in the blistering sun.
12. Red, White, and Blue Mini Pavlovas
I can't believe how adorable these mini pavlovas from I Am a Food Blog are. If you go for the flag design here, I bow down to you in awe.
13. Red and Blue Velvet Cake Pops
Cake pops are a great party treat and you can easily get your red, white, and blue on with this recipe from Taste and Tell. They'll be gone before you know it.
14. Limoncello Cheesecake with Biscoff Crust
A cool, lemony cheesecake paired with berries is the stuff Memorial Day desserts are made of. A Spicy Perspective makes this cheesecake look so incredibly tasty, I want to lick the screen.
15. Red, White, and Blue Toast
Don't skip breakfast. Taste and Tell even makes your morning meal get all-American with this recipe, and I'm all about it.
Images: Baked by Rachel; Foodiecrush; My Baking Addiction; Baked by Rachel; The Merry Thought; Food Fanatic; Brown Eyed Baker; A Farmgirl's Dabbles; The Kitchn; Taste and Tell; Kitchen Confidante; i am a food blog; Taste and Tell; A Spicy Perspective; Taste and Tell