How To Feel Fresh Without Having To Shower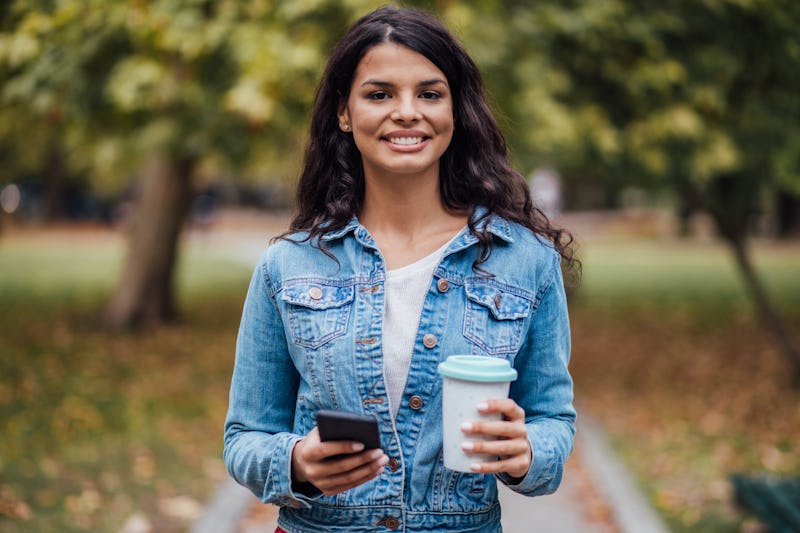 MixMedia/E+/Getty Images
Showering daily sounds great, but when your schedule gets crazy, sometimes there just isn't enough time to prioritize it — and that's totally fine. There are ways to feel freshly showered when you haven't, so you never have to compromise that just-stepped-out-of-the-shower mood when you have a million things to check off of your to-do list.
A few no-shower tips will definitely come in handy, if you spent your afternoon running around doing errands on your day off. Want to feel like you bathed without getting in the shower? Keep sweat and oils from lingering with a little hair fragrance mist — yep, that's a thing, and it's not the dry shampoo you already have in the cabinet. It'll add a little shine and a delicious smell that makes your style look and feel completely refreshed without even getting wet. No rinse and repeat necessary.
Or if your face tends to become oily by the time you head out for your lunch break, there's zero need to bring backups of every step of your morning beauty routine to work with you. Simply stash a few effective oil-absorbing papers onto your face to remove unwanted shine without smudging anything, or feeling like you've dried out your face. So, no worries: Stress-free days of using freshening up your skin and hair without showering are ahead.
Spray Your 'Do With A Shine-Inducing Hair Fragrance Mist
When you're too busy to head into the shower for a shampoo, spritz your hair with this sweet-smelling fragrance mist that not only makes your hair smell like delicious vanilla cream, but actually deposits a luminous shine into your hair, keeping it static-free. One user raved about this mist, giving it five stars and saying, "it softens my hair, leaving it shiny, and with a scent that is light, without being overwhelming."
Stay Cool With A Lightweight, Moisture-Wicking Body Powder
This lightweight body powder has a fresh, delicate scent and wicks away moisture continuously during the day to keep you dry and cool — so come 5 p.m. after work, you can head straight back out again with your friends. Plus, this powder not only makes you feel refreshed, but it gives your skin a nice, healthy all-over glow.
Face Feeling Hot During An Afternoon Outdoors? Keep Pocket Peach Spray Nearby
TonyMoly New Pocket Bunny Moist Mist, $9, Amazon
This pocket size hydrating mist has rave reviews from users, who say the fragrant peach spray "feels refreshing and smells lovely!" The adorable packing doesn't hurt either, though the hydrating mist's moisturizing texture is what will keep you coming back for invigorating spritzes throughout the day.
Freshen & Plump Your Roots With An Ultra-Absorbent Dry Shampoo
Bastiste Dry Shampoo (Blonde) , $10, Amazon; Batiste Dry Shampoo (Brunette), $9, Amazon
Dry shampoo is the best way to absorb any excess dirt, oils, or sweat that is left sitting on your scalp during the day. By massaging one of these absorbent sprays into your roots, you'll give your hair an extra boost of volume and have hair that feels clean and refreshed, especially if you skipped the rinse-off today. One user said of Batiste, "I will never use another dry shampoo you just can't beat this and the price is amazing."
Control Oil With Absorbent Facial Blotting Papers
On your busiest afternoons, keep your makeup looking fresh and matte by dabbing one of these blotting papers on your skin to absorb unwanted oil without smudging and ruining your look. With its powerful oil-absorbing properties, you won't have to worry about dealing with unwanted shine by having to wash your face during the day or double up on tinted powder applications. One user calls these papers the best she's ever used, and says, "after 30 years of oily skin, I have never found a better blotting paper."
Feel Completely Refreshed After Using No-Rinse Bathing Wipes
Keeping these hypoallergenic, no-rinse wipes in your office drawer, gym bag, or glove compartment will make it easy for you to give yourself a quick refresher at any time during the day. The wipes deodorize, moisturize, and refresh skin, so you can feel fresh without having to step into the shower. Users love these wipes and say that one single wipe can be used on your entire body — which makes these packs seem to last for ages.
And Use Makeup Remover Wipes With Cucumber To Stop Breakouts Between Washes
Removing your makeup after a long day or wiping away sweat and oils after a gym sesh is key to keeping your face feeling fresh and looking clear without needing to take time to wash your face with soap and water. These soothing facial wipes contain organic cucumbers that are soothing and reduce puffiness, all while getting rid of dead skin cells. They also contain aloe vera, a gentle moisturizer, and green tea to treat breakouts.
Clean & Refresh Feet With Eucalyptus-Scented Foot Wipes
Clean Feet Eucalyptus Foot Cleaning Wipes-25 Count Package, $13, Amazon
When you're on your feet all day, it's no wonder your feet can start to feel less-than-great, no matter your choice of footwear. If you're sporting your new sandals to the bar after a tough gym session in your sneakers, try running one of these foot-cleansing wipes over your feet to remove dirt and sweat and keep them feeling fresh with a eucalyptus scent. Users say they're worth the price and work much better than simple baby wipes.
Bustle may receive a portion of sales from products purchased from this article, which was created independently from Bustle's editorial and sales departments.
Images: MixMedia/E+/Getty Images; Amazon (8)