9 Overnight Hacks for Glowing Skin All Over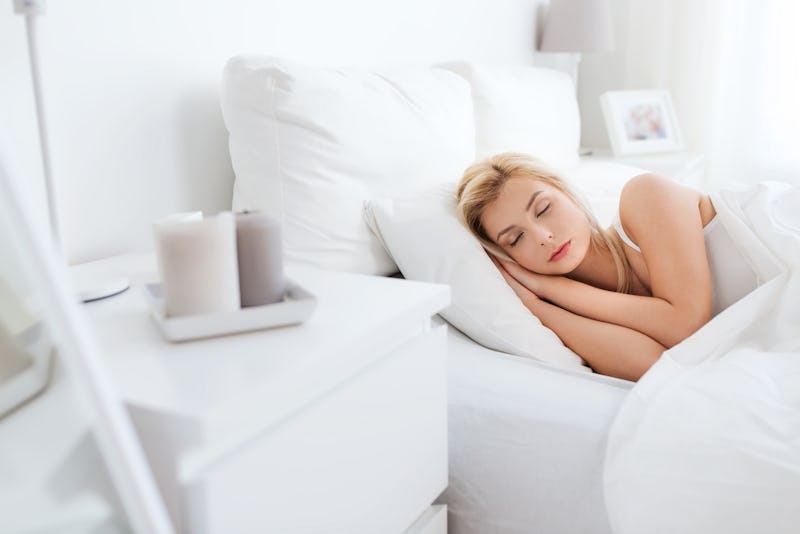 Some people might think that when it comes to waking up with clearer skin, nothing major is going to happen overnight. But knowing how to get glowing skin overnight from head to toe starts with a handful of simple tweaks to your nighttime skincare routine. Incorporating just a few overnight skin tips for brighter, clearer skin becomes much less of a headache when you're using some of the most effective products, which can be tailored fit to suit your particular morning skin concerns.
If your current skin woe is that you've been working overtime and have dark circles to prove it — stop waiting until you wake up with them to do something about it. You can actually brighten dark circles and get radiant skin while you sleep by applying a powerful overnight eye balm after washing your face at night. This balm will firm the area around your eyes and make your eyes look brighter, which will have you looking wide awake by sunrise morning (even before your morning caffeine fix!).
Or, if you feel a pimple developing before you head to bed, take a few tips from Kylie Jenner: She's documented herself using a special fast-acting drying lotion before, which will shrink down any freshly forming whitehead while you sleep. With these two simple overnight skincare hacks and a few unexpected others, you'll wake up tog lowing skin, from head to toe.
Nourish & Repair Skin With A Vitamin E-Enriched Night Cream
You skin is at its most receptive while you're sleeping, so it's the best time to apply this nourishing formula and have it replenish your moisture levels. Also, this body cream revitalizes dull skin with its all-natural and moisturizing vitamin E infusion. Users say the application is super easy, and one reviewer with acne-prone skin said this cream helps skin feel soft and moisturized, especially after using harsh acne treatments.
Wash Your Face With A Gentle Cleanser Every Night To Prevent Clogged Pores
This gentle foaming facial cleanser and make-up remover is a great pick to use before you snooze because it works for most skin types and removes even the most stubborn makeup. The gentle formula won't strip skin of the essential oils it needs to stay smooth and hydrated when you wake up — which will help skin look vibrant, instead of dull. Plus, it has wheat amino acids that strengthen skin, while it offers antioxidant protection with vitamins A, C, and E.
And Use An Electronic Face Scrubber With Interchangeable Attachments For A Deeper Clean
An electronic facial brush offers a way deeper clean than the washing your hands can give you. This skin scrubber with interchangeable brush heads does everything from massaging (to exfoliate your skin) to improving circulation with three different rotating speeds. Plus, this gadget is waterproof, so you can take it with you into the shower and let the gentle bristles lift away dull skin cells keeping your skin from looking its best.
Wipe Away Your Body's Dead Skin With A Gentle Grapefruit Exfoliator
This gentle exfoliating scrub is loaded with antioxidants and all-natural ingredients that wipe away dead skin, dirt, and oils that clog pores and dull skin. By using this grapefruit scented scrub on your face and body before you go to bed, you're setting yourself to have a brighter complexion and softer skin when you wake up in the morning. (Plus, if you're wearing makeup, it will be much easier to apply when your skin is clean and smooth.) Users suggest this scrub as ideal for anyone with acne-prone skin, too, to reduce future breakouts anywhere on your body.
Quench Thirsty Skin With An Intensive Overnight Hydrating Mask
The all-natural ingredients in this overnight mask, like shea butter and rose water, work to hydrate your skin while you sleep and give you soft, glowing skin by the time that dreadful alarm goes off in the AM. If you often head to bed with dry, dull skin, let the powerful formula renew your complexion overnight, helping your skin to stay moisturized throughout the day, instead. One user gave this mask rave reviews, saying, "It's great for dry, dry, dry skin...my skin is so dry that I use this mask both morning and night. It's not greasy and I've had no breakouts. AND it really does moisturize!"
Shrink Whiteheads Overnight With A Fast-Acting Drying Lotion
One of Kylie Jenner's go-to skin care products, this drying lotion contains salicylic acid, calamine, and other quick-drying ingredients that shrink whiteheads and remove acne spots overnight. Unlike other harsh spot treatments and drying lotions, this product work to keep sensitive skin completely free of irritation.
Brighten Your Skin Tone With A Best-Selling Retinol Moisturizer
Retinol Moisturizer Cream for Face, $19, Amazon
Retinol has been suggested to shrink the appearance of pores through exfoliation, in addition to hydrating for a more balanced skin tone. After using this intense moisturizer nightly, skin can become softer, leading to a more radiant glow by the time you wake up. How? Its combination of nourishing ingredients like organic aloe, green tea, jojoba oil and shea butter rejuvenate skin cells. Users report having skin that looks and feels vibrant, while having a much more clear and even complexion after continued use with this retinol-rich cream.
Unclog Pores At Night With A Purifying Avocado & Oatmeal Clay Mask
Leaving any dirt and excess oils on your face at night can cause major breakouts to pop up while you sleep. Clay masks are one of the best solutions to this problem, as they deeply penetrate skin to pull up blemish-causing toxins. This purifying clay mask is one of the best because it contains avocado and oatmeal, which combine to leave your face looking and feeling firm, soft, and nourished. For the best results, apply this mask at night, and leave it on until it dries completely. Then, gently wash it off with a splash of warm water when you're all done.
Look More Awake After Using A Moisturizing Overnight Eye Cream
After you're done cleansing your face at night, apply this fragrance-free eye balm treatment that nourishes and smoothes the skin around your eyes while you sleep. Even if you have sensitive skin, you can apply this gentle shea butter product to wake up with eyes that look brighter and more awake. One satisfied reviewer said, "This winter didn't stand a chance on drying me out with this stuff handy. Who knows what a second jar will bring."
Bustle may receive a portion of sales from products purchased from this article, which was created independently from Bustle's editorial and sales departments.
Images: Fotolia (1); Amazon (9)