Velour Lashes New Naked Collection Is Coming Soon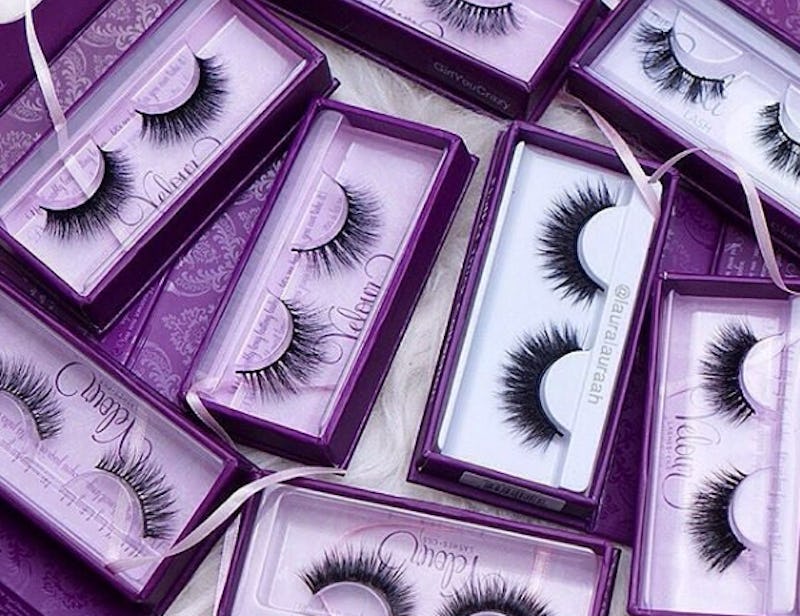 Just when you thought the beauty creations couldn't get any better, a brand new product is thrown into the mix. Velour Lashes is coming out with a completely new, invisible lash band to make for a more au naturale look. When does the Velour Lash Naked Collection come out, you ask? The new addition to the falsie family will be here just in time for all those bright summer liner shades.
As if Velour Lashes weren't already a top contender in the faux lash industry, they're proving that they're ahead of the game with their summer collection. You might know them for their mink or silk lashes, but they're about to be known for something even more exciting. According to an Instagram announcement, the company is launching a brand new style of lashes that have an invisible band just in time for summer.
Why is that important? Well, normally the lashes have a black band, which doesn't always blend the best with the natural lash line. Apparently that will change with the new product. "Never before done INVISIBLE BANDS," Velour Lashes' Instagram post reads. "Get ready for the most seamless look that any pair of lashes can achieve."
Not only is the new formula perfect for a seamless look, but it's great for summer hues as well. Colored liner is getting popular, which means that you won't have to deal with the big black line of faux lashes messing up your neon lash line.
I can only imagine that this will be better for the beauty newbies as well. Putting on lashes is no easy feat, but it'll be easier now that you don't have to struggle with blending in the band.
Here's what the normal lashes look like for comparison:
Although Velour Lashes is the first high-end brand to dabble with the invisible band, there are a few other options out there. If you're looking to play around with the clear-rimmed beauty add-ons before Velour's summer launch, here are some budget-friendly options.
Ardell Fashion Lashes #113, $3, Madame Madeline
The band on these babies is thinner than ever, making for easier application every time.
SL21 5 Pairs Natural Extension Thick Clea Band False Lashes, $1, eBay
These party lashes are a little stiffer than the high-end finds, but they're perfect for experimenting with length.
Eylure Naturalities Volume No. 100, $5, Madame Madeline
For a more natural looks, try out these guys.
Individual False Lashes, $10, Sephora
What's better than a clear band? No band at all!
Thick Black Mink Eyelashes Clear Strip, $4, Light In The Box
These ones are mink, just like the new Velour Lash collection.
Reese Robert's Beauty Black Strip Lashes With Clear Band, $7, Amazon
While these don't have the thickest band to work with, it will give you the same seamless feel.
Marina Natural Messy Clear Band Lashes, $4, Amazon
What better way to try out the trend than with 10 pairs?
I'm excited to see how the high-end brand compares!
Images: VelourLashesOfficial/Instagram (1)