How To Pick Your Perfect Foundation Brush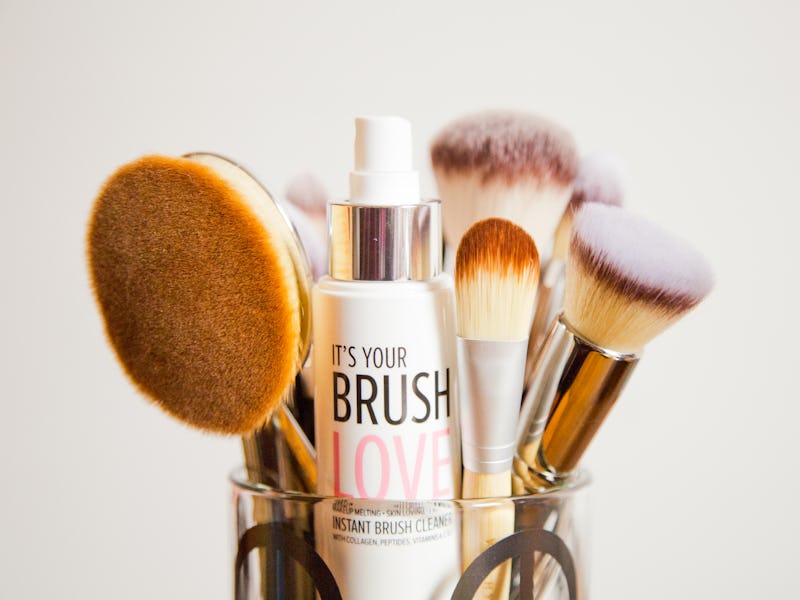 It seems like today everyone that makes makeup also makes makeup brushes. This oversaturation of tools makes it really confusing for the novice consumer to navigate. Hell, it makes it hard for even a pro to navigate! IMO, watching YouTube tutorials does no favors for the lost. Generally, you just end up diving deep into a black hole of conflicting information and climb out with 25 expensive recommendations but no real technique.
While many YouTubers are down for some real talk, a lot of these review videos seem overly cheery to me. What started out as a wealth of free information disseminated by passionate people has turned into a whole industry where everything is positive and the truth happens when the webcam is off.
Makeup artists don't go to YouTube for their foundation tools, and they certainly don't exclusively use expensive tools. If something is a little pricier, it's worth it! To get the lowdown on the best tools to use for your foundation application, I asked a few of my favorites for their advice on how to choose and use each type to get a flawless finish, no matter how much coverage you like.
1. Sponges & Cushions For Glowing Light Coverage
Clockwise (from left): Your Skin But Better CC+ Beauty Fluid Foundation, $38, It Cosmetics Sonia Kashuk Blending Sponge, $11, TargetOriginal Beauty Blender, $20, Sephora
If you want a skin-like finish, a spongey applicator is the way to go. Jessica Scantlin, Blushington Makeup & Beauty Lounge's Director of Artistry, recommends applying a facial oil first, then using a beautyblender to apply foundation in a stippling motion. "I think the oil gives the best surface for people that want a dewy glow," Scantlin tells me.
Both the original Beauty Blender and Sonia Kashuk's Blending Sponge stamp on product at the perfect pressure to cover evenly, quickly, and uniformly. Dampened sponges help to stipple liquid product and melt in primers and moisturizers like fingers could never do. Dry sponges help to remove product, which is great if you make a goof — like me every single time I use cream blush. Blending sponges require cleaning after every use, so keep in mind when deciding what's truly convenient for you.
Cushion products that come with the makeup built in, like this It Cosmetics CC+ Veil, are pigment blended with nourishing ingredients. This delivers a creamy finish that's not too dewy, in part because you are first pressing some product on the provided sponge, then onto your face. This provides a soft masking of any discoloration, but still lets your skin shine through.
2. Flat Brushes For Full Liquid Coverage
Clockwise(from top right):Flower Beauty Ultimate Liquid Foundation Brush, $11, WalmartAqua Luminous Perfecting Foundation, $44, Becca Cosmetics Ultra HD Invisible Stick Foundation, $43, Make Up For Ever The One Perfecting Brush, $49, Foundation Brush, $30, VMV HypoallergenitcsRevlon Foundation Brush, $10, Artis Oval #6, $57, Plush Paddle Foundation Brush, $48, Flat Top Buffing Foundation Brush #6, $48, It Cosmetics
If you want a coverage that would hold up to the paparazzi, go for a flat foundation brush. "For events or red carpet, I prefer painting tools for more precise application," Scantlin says. Flat foundation brushes closely resemble a painter's brush, and they work best with a similar medium: liquid foundations. Cheapies like Revlon's under 10 dollar foundation brush work incredibly for this. Since synthetic brushes don't hold on to as much product more makes it onto skin. Natural bristle brushes do a slightly better job of blending but hold onto more product. Tightly packed bristles cause the product to flow onto the skin in a more opaque line, but any streaks can easily be fixed with a blending sponge.
If you're looking for some extra oomph, my favorite move is to apply a few extra drops of a medium coverage foundation like Becca's Perfecting Foundation to a luminous click pen like ByTerry Light Expert's ($65) magic before working into skin in upward circles to wake up complexion.
Flat-top brushes are powerhouses and great multi-taskers. You can use for just about any medium, from dusting powder blush to blending a cream contour. Stick makeup such as Make Up For Ever HD Stick are absolute full coverage, but if you apply them wrong they can look mask-like. Blending is essential and makes this foundation even HDTV worthy.
I also love using a flat bristle like Becca's The One to work in foundation that you've dabbed on with fingers. It has so many bristles that you only need a few strokes, which means you won't screw up your concealer!
3. Powder Brushes For Lightweight Coverage & Shine Control
Clockwise (from top right): Terrybly Densiliss Foundation, $95, By TerryBye Bye Pores Pressed, $29, It Cosmetics MUA P ro Pressed Powder Brush, $7, CVSWand Ball Powder Brush, $48, It Cosmetics Flower Beauty Ultimate Powder Brush, $13, WalmartArtis Oval #10, $77, Artis
You've seen those trendy oval brushes, right? Turns out, they're especially great for powder lovers. "They look intimidating at first," makeup artist Nicole Sievers tells me. "But they're as soft as can be and the handles make for fool-proof application." Since the Artis brushes come in loads of sizes, you can use them for everything from your foundation to blush and highlight.
Finding that sweet spot of removing unnatural shine while allowing skin to have some life is very tricky, and those cheap powder puffs that come with most drugstore powder compacts do not cut it. Whether you're using a luxurious silk and peptide infused diddy like the above or $2.99 worth of translucent tub, the right brush can do it all from helping you bake to covering a zit. Oval brushes like those from Artis have a twofold effect: They apply powder in an even manner, and they help blend your entire setup with gentle pressure, so you're not over blending.
Ball-type brushes are the most common powder brushes. They come in a fanned model or even with tapered bristles to allow targeted but blendable strokes. My fav is a crazy affordable brush from Drew Barrymore's Flower Beauty. This brush is synthetic, so it doesn't pick up more powder than you need. It's foolproof and under $15!
When you're using a ball-type brush, Laramie Glen, Founder of Book Your Look, emphasizes the importance of tapping the excess makeup off. "Pick up a generous amount of powder and shake off the excess," Glen says. "The finest particles are what's left on the brush and blend better." To avoid a cakey look, she recommends only powdering where you feel the shiniest — usually your T-zone and jawline.
Artis Oval #10, $77, ArtisBrush Love Brush Cleaner, $20, It Cosmetics
Buying the right tools for your foundation needs can fit any budget. Target and Walmart are now just as well equipped as any Space NK or Sephora with a variety of tools to make your foundation application easier, faster, and more consistent. That means you can have one of each of these brushes on hand — just like a real makeup artist would.
Photos: Maria Penaloza