10 Comfortable Sports Bras You Can Wear Every Day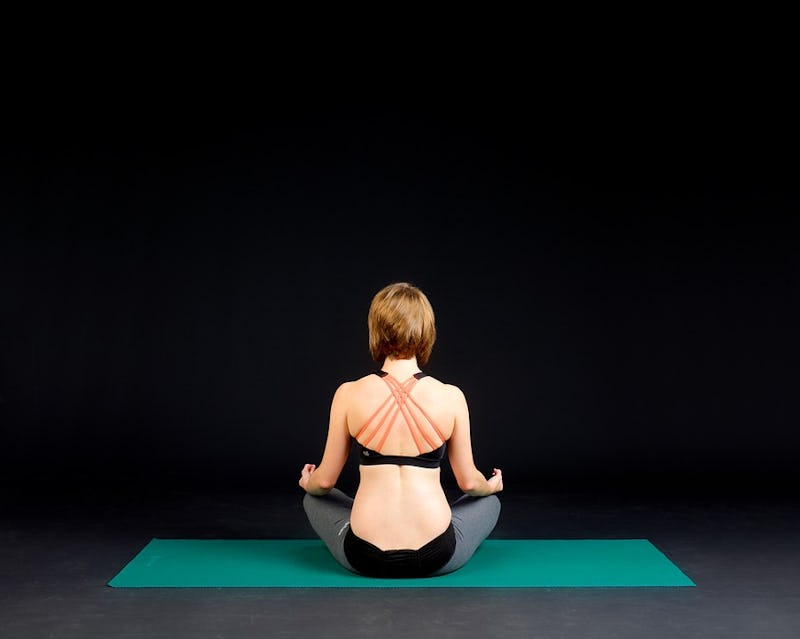 After a long day, it feels amazing to ditch an uncomfortable bra and let your girls free. If you feel stuck wearing the same bras every day, I've rounded up some of the best, most comfortable sports bras you can wear all day under everyday clothes. They're not only amazing for the gym with moisture-wicking fabrics, awesome support, and unbeatable comfort — but these sports bras for everyday wear might add another style element to your look.
If your top has a cute low-cut back, then you can rock a sports bra with a fun back detail. It will add an eye-catching touch to your look, and you'll stay comfortable while it effortlessly pulls your look together. If you prefer rocking a low cut in the front, there are cute sports bras with front details for under that, too. You'll want to snag one with a great front detail, like one with mesh, that will take your look from 0 to 100 real quick.
Or, if you want to take a cue from style-savvy celebs like Kendall Jenner, wear an ever on-trend '90s fashion powerhouse — the Calvin Klein logo bralette will looks great under a crop top, T-shirt, or even worn solo. So, check out the best sports bras that you can wear whenever, and be prepared to have your most comfortable (and stylish) week ever.
This Sweat-Wicking Yoga Bra With A Mesh-Front Detail
If you love wearing tops with a low-cut front, add a cute detail with a mesh front yoga bra that will definitely take your outfit up a notch. On those hot mornings when you're running late for work, this sports bra has you covered with a sweat-wicking fabric and ventilation holes. The straps are padded with gel to stop them from digging, the molded cups support and lift without wires, and the color options are virtually endless — choose from over 35 eye-catching combinations.
Or An Adjustable, Supportive Racerback With A Gorgeous Print
If you're looking for a well-made and extra supportive sports bra that you can show off under a tank or T-shirt, you'll find a new favorite in this one from Victoria's Secret. Its racerback design keeps the straps put while you move, but they're fully adjustable — a feature you rarely find in these types of bras. It even has cushioned, flexible underwire, extremely breathable padding, and over 25 gorgeous and colorful patterns to choose from. "It's also made really well," says one reviewer, so it won't snap or stretch out.
Classic Racerback Sports Bra With A Trendy Logo Band
This racerback sports bra has a classic cut and a logo band that has become a look that's super on trend with celebrities, bloggers, and pretty much everyone else who loves bras that are cute and comfortable. It has a cotton and spandex blend that will feel soft and supportive under basic tees or when worn alone with high waisted pants — or even your favorite pair of short-alls for a fun weekend look. Users love this bra for being a cozy option that fits perfectly, and a few recommend that you hand wash it for the best lasting results.
Paisley Print Bra With Front And Back Details
This sports bra gives you the best of both worlds with front separating straps and an intricate crisscross design in the back. That, combined with the bright paisley print, makes this a great eye-catching choice to throw on under any outfit. (Bonus: This comfortable bra also gives you the option to remove the padded cups for customized support.)
Full-Coverage Sports Bra With A Fun And Stylish Camo Print
Perfect for your next day trip walking around a new city or a night out to grab drinks at your favorite restaurant; this full-coverage camo print sports bra will not only keep everything in place while you work out, but it offers a great printed layer under your favorite tank. Plus, it has removable padding and quality fabric for an extremely affordable price. "I never wear a shirt over this one because it's way [too] cute to hide," one reviewer says.
Double Support, Machine Washable Sports Bra
For anyone with a bigger cup size, to be truly comfortable it helps to have extra support to keep your girls locked in. This black and white Champion bra doesn't sacrifice style for comfort and has two discreet layers of outer cups to give you twice the amount of support as your average supports bra. Plus, there's a rigid lining that controls movement and wide adjustable straps that make it easy to customize the fit for more or less support.
Or A Machine Washable Bra With A Stylish Strappy Front Detail
This stretchy sports bra will add a subtle touch of style under your outfit with a shiny fabric and a front criss-cross design. It's machine washable and has removable pads to give you whatever amount of support you need for your day. Plus, it has a quick dry fabric that makes life way easier by keeping you cool.
Zip Front Plus-Size Bra With Pink Detailing
This cute pink-accented bra is built for ultimate comfort, featuring a breathable mesh fabric, adjustable straps, and a keyhole back design. Moisture-wicking fabric will keep your body cool while you sweat, and the front-close, flat-lying zipper is specifically created to stay put whether you're working out, running errands, or out on the town.
Quick-Dry Sports Bra With Unique Lattice Back Design
The crisscross, lace-up back detailing on this unique sports bra makes it anything but average. That's why it's great for wearing under a dress or a tank with a low-cut back. If you're spending the day outside at a music festival, this quick-dry bra also has a moisture-wicking fabric that will keep you feeling cool — plus it has removable pads and nine designs to choose from, whether you prefer solid colors or intricate patterns.
Or A Chafe-Resistant Criss-Cross Yoga Bra With Moisture-Wicking Fabric
This fabric on this criss-cross back sports bra is super lightweight and breathable, and it's made to be moisture-wicking and keep you extra-cool as you go through your day. Plus, it was designed with flat seams, which eliminates uncomfortable chafing. One fan of the bra gave the style top ratings for having a super-soft fabric that also looks really cool.
Bustle may receive a portion of sales from products purchased from this article, which was created independently from Bustle's editorial and sales departments.
Images: Pixabay (1); Amazon (10)