12 Comfortable & Stylish Heels You Can Walk In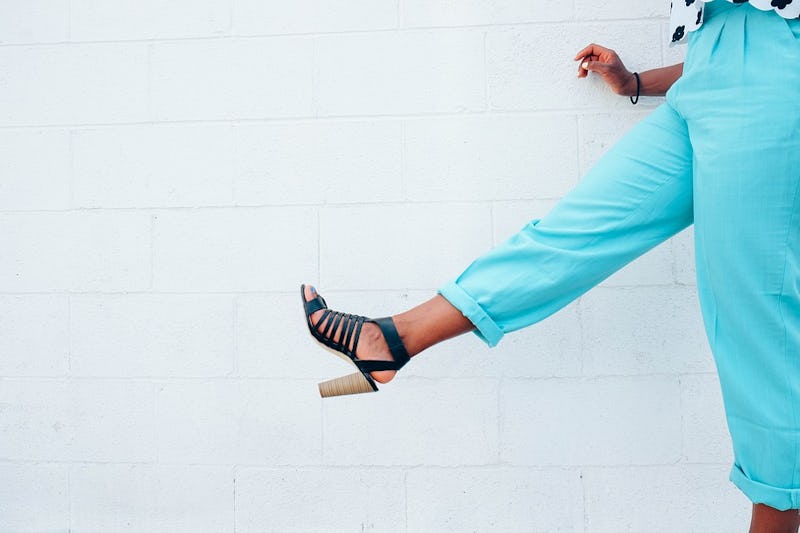 Sure, sky high stilettos can be a really fun look, but they're not exactly practical when it comes to finding a shoe that gives you height without sending you falling to the ground (or limping the whole way home). But the concept of comfortable, stylish heels you can walk in and wear all day long isn't a myth. You can actually make your feet extra happy with comfortable high heels that won't sacrifice a single bit of style in the process.
When you're well versed with cute heels that won't destroy your feet, you can find a pair for anything you have on your schedule this month. If you're headed to a big work event, there's a chic and sophisticated designer leather shoe with a low heel that will let you take the focus off of balancing and back to the task at hand. If you snagged tickets to see your favorite band in concert, you can get yourself a pair of black leather chelsea mules, so that you'll actually be able to see the band over the person in front of you.
So, whether you're all about heels but are done with suffering through unnecessary pain, or you've been avoiding them altogether and opting for flat shoes instead — find your pair of heels that are good for your feet. Ahead, 12 cute and comfortable heels you'll wish you knew about sooner.
Effortlessly Chic Smooth Leather Mules With A Simple Stacked Heel
Look on most Instagram feeds, city streets, or popular fashion blogs, and you'll see a girl rocking a pair of mules. With a killer pair like these black leather chelsea mules, it's not hard to understand why. The open back elongates legs, while giving your feet more coverage than some other open style heels. Plus, the smooth leather won't rub against your feet, and the stacked heel makes them so simple to walk in. (Styling Tip: Heading to see your favorite band this weekend? These mules will give you a cool girl look when you wear them with your favorite pair of cropped flares or DIY-hemmed jeans and a band tee.)
Leather Ankle Strap Sandal With A Comfortable Block Heel
This strappy sandal with a block heel is a great alternative to slim heels that are harder to walk in, which can cause some major discomfort. Plus, with an adjustable ankle strap, this leather shoe won't slip off — no matter how many blocks you have to walk across to make it to the office in the morning. Reviewers of the stye agree: One fan gave this pair of heels five stars, saying, "the heel makes them a little more comfortable for walking and standing for long periods of time." (Styling Tip: Wear these with your favorite T-shirt dress to take it next level.)
Easy-To-Walk-In Peep Toe Gladiator Booties With A Trendy Lace-Up Detail
Lace up shoes are everywhere right now, and this gladiator style bootie is a great variation of the trend to add to your closet. It has a cute and subtle peep toe detail and exposed heel that also make it a great transitional shoe between seasons. Plus, they're comfortable enough to wear on an afternoon shopping with your girls with a supportive block heel that's super easy to walk in. (Styling Tip: Rock these with your favorite pair of boyfriend jeans for an effortless day look.)
Classic & Comfortable Patent Nude Wedge Pumps With A Subtle Peep Toe
If you're looking for an option that's different than the average pair of pumps, the wedge heel on this patent shoe is a great option to give you a little height boost without sacrificing your comfort. The nude shade will go with any outfit, and the peep toe and open sides will show off your new pedi (they also make these kicks appropriate for almost any season). (Styling Tip: Wear these pretty pumps with a pencil skirt and chic blouse to keep your style looking sharp at the office. )
Printed Cut-Out Shoe With Adjustable Strap & Block Heel
This pair of black and white heels is a great choice for a Friday night with a slightly edgy print and fierce cut-outs. The back strap and block heel will have you dancing all night without having to limp the whole way home. (Styling Tip: For a feminine and edgy look on your next night out, pair these with your favorite pair of black, self-hemmed skinnies and a moto jacket.)
Simple-To-Slip-On Minimalist Heels With A Low Heel & Zip-Up Back
These Franco Sarto leather heels are totally worth the splurge — they're easy to take on and off with a zip-up closure, you can walk for days in them with an ultra-low heel, and they're incredibly chic with a sophisticated minimalist design. Plus, the thick ankle strap gives you that added touch of style you want to complete your look. (Styling Tip: These sophisticated designer heels will pair perfectly with a sleek culotte jumpsuit for your next big work event.)
Fun & Flexible '90s-Inspired Transparent Jelly Heels
Jelly heels are a '90s classic that have made their way back around, and the best part about them is that they're crazy comfortable. Just like the name, they're made of a flexible PVC material that makes them feel like jelly on your feet. Trust me, you'll want to walk miles in these kicks just to show them off (and you'll be pain-free while doing it!). (Styling Tip: The transparent design makes them perfect to wear with ankle socks in the colder months and fun to wear with a retro romper or high-waisted light wash denim for a major Saved By The Bell-esque outfit.)
Elegant Slingback Heels With A Special Cushioned Footbed
These leather heels have an elegant slingback closure design and a small block heel for all of the height with all of the comfort. The inside of these shoes feel heavenly with an Ortholite cushioned footbed that gives your feet awesome support — no matter how many miles you're clocking on your fitness tracker. Users give these heels rave reviews for having a unique design that combines a pointed toe, slingback closure, and low heel. (Styling Tip: Wear these during wedding season with a classic A-line dress for an easy, elegant look.)
Comfortable Chambray & Leather Clogs WIth A Chunky Wooden Heel
These summer-appropriate chambray and leather strap clogs have a chunky heel that gives you a little boost of height without giving you a hard time walking around. One fan gave these shoes rave reviews, saying she wore them for half a day at Disneyland, and "It feels like you are walking on clouds!" (Styling Tip: wear these with a cute romper for a playful look that's perfect for warmer weather.)
Essential Nude Pump With a Soft Lining & Memory Foam Insole
I think every girl could use at least one pair of nude pumps in their closet, and this simple pair comes packed with some amazing comfort features like a soft jersey lining and memory foam insole. You'll be so comfortable that you'll want to wear these everywhere, and you can, because there's nothing you can't match with them. One reviewer gave this pair five stars because of the comfort for the affordable price, and she also loved the walkable heel height. (Styling Tip: Rock these nude pumps with a bright dress to Sunday brunch with your family for a comfortable and polished outfit.)
Soft Suede & Leather Heels With An Ankle Wrap Tie Closure
These heels have are made with soft suede and leather and have a tie that goes up around the leg to keep them in place, while giving you added details that make your look stand out from the crowd. Plus, the small, wide heel offers you amazing support as you go through your day or night. (Styling Tip: Sport these chic heels with your favorite LBD for a classic night look that looks awesome — no other accessorizing necessary.)
Cute Floral Print Pumps With A Double Padded Memory Foam Insole
This floral printed pump isn't your average "comfort heel," as it proves you can absolutely slay without making your feet feel like they're going to fall off. The interior is designed with double padded memory foam insoles, which will make you forget you're not wearing your most comfortable pair of flats. Plus, they were designed with heel rest technology that distributes your body weight back toward your heel, instead of from the ball of your foot. One fan calls this "the only pump [she'll] ever buy." (Styling Tip: Sport this heel when the weather starts to warm up with your favorite plain midi or maxi dress.)
Bustle may receive a portion of sales from products purchased from this article, which was created independently from Bustle's editorial and sales departments.
Images: Amazon (12); Pixabay (1)