9 Korean Beauty Products That Brighten Dry Skin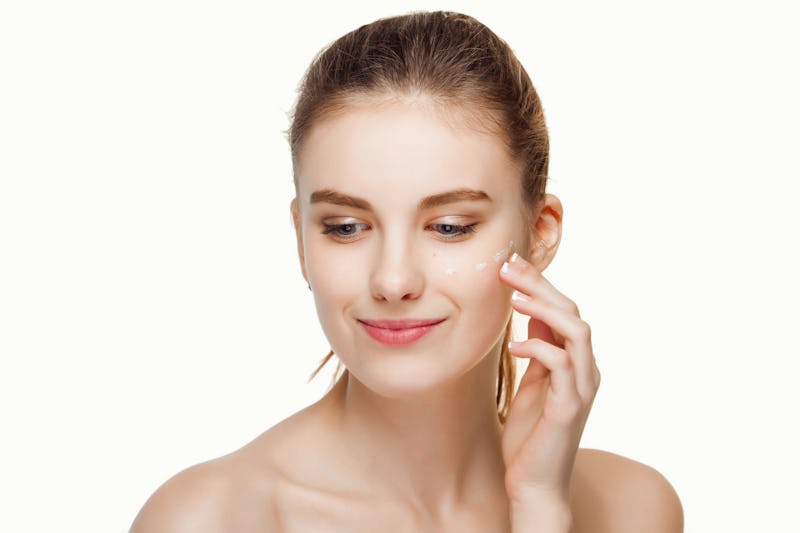 Whether it's winter or summer, it seems like my skin is always at risk for falling victim to the weather conditions, whether it's quickly becoming dry and dull. On the bright side (literally), there are many Korean beauty products that will brighten dull, dry skin. The best Korean skincare products for dry skin can help you get excited about whatever season is ahead — without dreading the dehydrated or chapped skin woes that come with it. Trust me, they're truly game changing.
So, what's the secret behind these Korean moisturizers, cleansers, and other skin improving products? First of all, the Korean skincare regimen is all about taking your time and completing all of the necessary steps it takes to truly cleanse and treat your skin. Instead of all-in-one formulas that are common in American regimens, there is a more distinct focus on using separate and specific treatments to heal your skin. Plus, many of the Korean skincare products have gentle and unique textures that wipe away dead skin and give you your brightest and healthiest face.
As a bonus, they never leave your face feeling oil or bogged down by excess residue that's left behind. So, if you've never tried a Korean beauty product, give an at-home aloe mask or an eggplant eye makeup remover cotton swab a shot. You can definitely thank me later.
Smoothing & Brightening Blush Cream
If you're in need of a quick brighten-and-go, this cream blush will give you an instant pop of color while it lends some hydration to your face. (How many blushes can say that?). Plus, it's super easy to blend with an applicator sponge, and it's enriched with vitamin E and floral extracts to infuse skin with some essential nourishment.
At-Home Aloe Mask for Replenishing Moisture
Facials that effectively brighten dull skin can be pricey, so if you're on a budget, it can be better to stick with a powerful at-home aloe mask, instead. Aloe moisturizes skin and is one of the best ways to prevent future breakouts, as it softens all of your skin's dry areas without feeling greasy. (Pro Tip: To use, tear open the packet and apply this to your face for 20-30 minutes before rinsing. Users are loving the light and fresh scent, too!)
Use Snow Fungus to Hydrate Skin Overnight
Natural ingredients in this night cream (like white willow bark) mix with other skin-improving ingredients (like hyaluronic acid and ceramide) to hydrate your skin and make it look much more radiant the next day. For the best results, wash your face with lukewarm water, apply moisturizer, and then rub this hydrating cream onto your face and leave it on while you sleep.
For Sensitive Skin, Cleansing Oil Gently Rids Skin of Impurities
A face wash that moisturizes skin while it cleanses? Talk about a match made in skincare heaven. This oil cleansing balm comes as a cream and quickly turns into a liquid cleansing oil when you apply it to your skin. This innovative formula is super gentle on skin and will wipe your skin of any excess dirt and oils or leftover makeup that could cause you to spot new breakouts. Plus, your skin will never be deprived of any of the essential oils it needs to stay healthy and moisturized. One user gave this product five stars as a makeup remover, saying it's great for making her skin feeling clean but never dry.
Lightweight & Protective Sunscreen
The Face Shop Natural Sun Eco Sebum Control Moisture Sun SPF 40, $10, Amazon
Many Korean beauty regimens swear by using sunscreen every single day — after all, you can still damage your skin on those overcast days. To follow in those footsteps, apply this lightweight and protective SPF 40 sunscreen that contains Korean native cotton seeds, effectively keeping your skin safe without making it feel oily or clogging your pores. Any skin type can use this gentle sunblock, and users rave about it because of its soft consistency.
Gently Wash Away Waterproof Makeup, Too
Before you snooze or reapply makeup during the day, it's essential that you wipe your face clear of all traces of makeup. This gentle makeup remover is very powerful in that it does work on even your most waterproof eyeliners and mascaras. Plus, it's a favorite among its beauty product users for how effective it is without rubbing on the skin or irritating it.
Multitasking BB Cream
This lightweight BB cream offers users UV protection that creates natural-looking coverage, all while treating dark spots and preventing fine lines caused by too much sun exposure. By using this product on your face, you won't have to worry about taking a lot of time in the morning on your makeup routine — this multitasking formula can replace any usually heavy products, like liquid foundation.
Just Worried About Eye Makeup? Pre-Soaked Eggplant Extract Swabs Get the Job Done
This unique eye makeup remover gently removes all of your eye makeup by using eggplant extract that also softens your skin. Whether you use these pre-soaked cotton swabs during the day when you want to refresh your look, or you use them at night before bed to clean your face — you'll look much brighter when you don't have leftover dark eye makeup lingering on your skin.
Prep Skin With Toner Containing Aloe & Salicylic Acid
Before using moisturizer, prep your skin with a toner that contains aloe and salicylic acid, so your skin will be ready to absorb your favorite moisturizer. Plus, with those ingredients, your skin will quickly be soothed and clarified. One user gave this toner five stars, saying it's "refreshing and moisturizing. It doesn't dry your skin like harsh drugstore toners/astringents such as witch hazel."
Bustle may receive a portion of sales from products purchased from this article, which was created independently from Bustle's editorial and sales departments.
Images: Fotolia (1); Amazon (9)